Things get spooky with the AV Club
The Audio-Visual (AV) Club focuses on creating videos not only for contests and festivals, but for entertainment as well. The club, consisting of over 25 people, meets every Wednesday in room 120, TV and Broadcasting teacher Raymond Moskal's room.
"It's basically… a freestyle workshop environment," Moskal said. Most of the work is done at home, since the meetings are only around 30 minutes to an hour long, which isn't much time to make a movie.
Club members create films for many different festivals. These include a State festival (when the group travels to Jackson, NJ to create a film based off of a prompt for a contest), a Holiday, Valentine's Day and the upcoming Halloween film festival.
The club will gather on Oct. 31 in Moskal's room to kick off the festival. Student made, short, comedic Halloween-themed films will be displayed on a laptop and food and drinks will be served.
Each film is around five minutes long and there are five movies being filmed and edited for the festival. Here is a short description of each film:
Potty Poopers was created by junior David Shulman and seniors Jacob Shulman and Nicole Scrano. "[It is] a horror film that uses pumpkins as a means of fear," David Shulman said "It's basically what hallucinations on Halloween would look like." In the film, the characters get high off of cat medication.
The Murdering, a film in the works by freshmen John Vangli, Eli Horgan, Marco Trujillo, Delani Connolly, Michael Hagopian and Andrew Seith is a stereotypical slasher film.
Sleepy Hollow Riff is a voice-over of an Old Ichabod and Mr. Toad cartoon. The students behind this intriguing film are part of a larger group: juniors Lindsey Magee and Meghan Aversa, and sophomores Ben Freedman, Mac Ferrone, Anthony Cammarano, Jake Niessen and Makailia Acampora.
Recording… by freshman Jacob Jablonski and Julian Martin is a film that follows two ghost hunters investigating haunted woods.
And last but certainly not least, an unnamed film is being created by sophomores J.J. Dionisio, Anay Basu and Matt Sabony, and seniors Jack Pederson, Nick Dionisio, and David Kloepfer. In the film, a group is creating a movie when something unfortunate occurs that involves murder.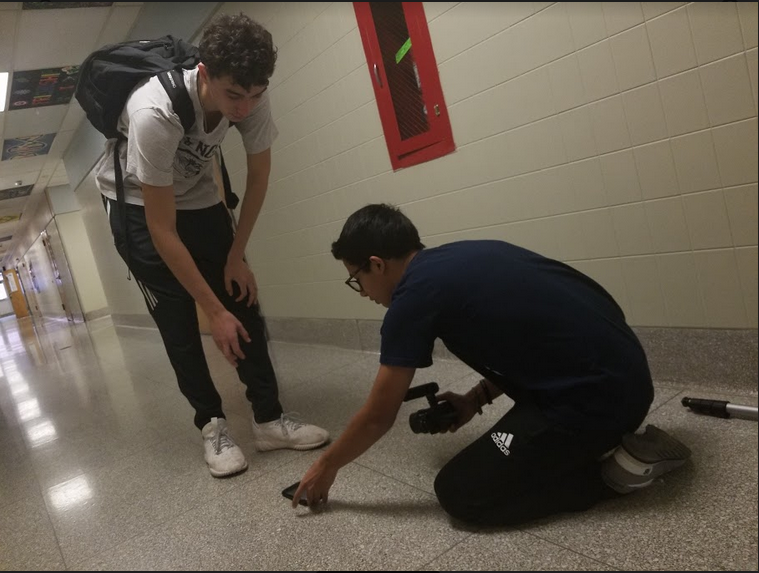 Seniors Nick Dioniso and Josh Sklarin working on a hallway shot for their film.
All are welcome to stop by room 120 after school on Halloween to watch the short films, eat, drink, and just have a good time. The trailer of the 7th Annual Halloween Film Festival is linked below:
https://youtu.be/QdO7rTu8Aa4