The 2nd presidential debate is moved virtual, Trump says it is a "waste of time"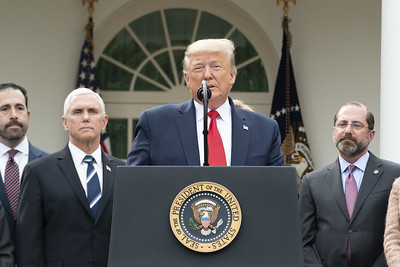 On the morning of Oct. 2, 2020, Americans were broken by the news that President Trump and many of his staff, including Melania Trump, tested positive for COVID-19. While President Trump has frequently reassured people of his increasing health, one major question is circulating: what does this mean for the second presidential debate on Thursday, Oct. 15? On the morning of Oct. 8, it was announced by the Commission on Presidential Debates that the second presidential debate will be held virtually.
Trump recently announced that he would refuse to participate. However, the Trump campaign announced that they would participate if the second debate was pushed back a week and thus the final debate would be pushed back another week as well. The Commission has yet to respond.
Matthew Walsh, a political science major at Brown University, feels that a virtual debate is the best course of action for the safety of everyone involved.
"Trump has been reckless, even after receiving his positive test result, so I fear that allowing him to do anything in person will put too many people (debate preppers, secret service, White House aides) at risk," Walsh said.
And that is true. At least 20 members of President Trump's team or anyone in his vicinity have since tested positive for COVID-19. However, Walsh does not feel that Trump's aloof and relaxed stance on the pandemic will seem to change in his debates or interviews.
"I think he's so committed to his narrative about COVID-19 that he does things to be consistent in that narrative that hurt him electorally," Walsh said.
On the political side of things, History I teacher at Scotch Plains-Fanwood High School, Elyse Freudenfels, also fears that Trump will continue downplaying the pandemic even after his experience with it.
"He has been downplaying saying 'this is nothing to be scared of,' and I wish him a speedy recovery, but I [also] wish for him to acknowledge this is not the flu," Freudenfels said. "I think it is going to be very much like, 'I was sick before and now I'm fine!' Like, you get a cold, and it sucks, but then you get better. So I still think he is going to downplay the severity of COVID."
While the second and third presidential debates are in jeopardy, election day is still around the corner. President Trump's diagnosis is controversial, but the country needs voters now more than anything. The situation will progress as time goes on, but registering and voting is the most important task for all citizens.