Fall Sports Preview: Boys Soccer
photos by Peter Warren

When you are one of the top sports programs in the state, you have high expectations. The Scotch Plains-Fanwood High School boys soccer team is no exception.

"Year after year, our goal is always the same," head coach Tom Breznitsky said, "That's to put the number 15 on each of the banners."

The Raiders almost accomplished this feat last year. The 2014  team won the conference, county, and state sectional championship, but had a  heartbreaking loss to Washington Township in the Group IV state final.

The last state title for the Raiders was in 1998. Since then, they have won 13 conference titles,eight county titles, and ten sectional titles. But, they have not been able to capture the ultimate prize.

That might change this year. The team is a preseason favorite for the Group IV title and the coaches and players believe this year's team has the potential to win the so-far elusive eighth state title.

Fourteen lettermen return from the 2014 squad, including senior co-captains Zach Halma, Jake Longo, and Ari Rosenzweig. The team has also added new, talented underclassmen to the mix, including two freshmen and four sophomores.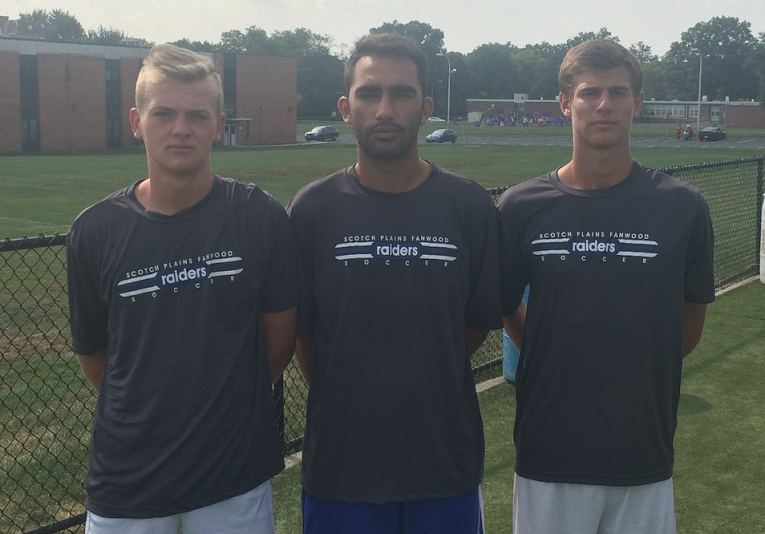 "Whether you're the best guy or the twenty-fifth guy on the roster, everybody on this team is able to play soccer," Longo said, "We have the ability to really get somewhere with the talent we have.

Skill is not the only thing going for the team. The team chemistry from last year's team has carried over to this year's squad as well.

"With 14 retuning guys, the chemistry is what it was last year," said Rosenzweig, "And these newer guys are fitting in perfectly, just like pieces in a puzzle."

Due to the success of the soccer program, the team is known throughout the state. And as a result, other teams always give their A game when the Raiders come to town or they come to SPFHS.

"Everybody we play is their biggest game," Breznitsky said, "You look down our schedule: Westfield, Elizabeth, Union. Whoever it may be, it is their biggest game because of the success that our program has had."

The players are also aware of this fact and are up for the challenge. "By having the Scotch Plainst-shirt on your back you also have a target on your back," Halma said.

In the end, it all comes back to one thing: winning and having their names written in the history books.

"We are trying to change the course of history," Longo said, "get the first Group IV state championship for our school and have fun doing it."

Boys Soccer Regular Season Schedule
9/5/15 – Home – JP Stevens – 11:00
9/10/15 – Home – Union – 4:00
9/15/15 – Home – Summit – 4:00
9/17/15 – Away – Governor Livingston – 4:00
9/19/15 – Home – Westfield – 4:00
9/21/15 – Home – Elizabeth – 4:00
9/24/15 – Away – Hunterdon Central – 6:30
9/26/15 – Home – Bridgewater-Raritan – 3:00
10/1/15 – Away – Union – 4:00
10/3/15 – Away – South Plainfield – 2:00
10/6/15 – Home – Plainfield – 4:00
10/10/15 – Away – Colombia – 4:00
10/13/15 – Home – Governor Livingston – 4:00
10/15/15 – Away – Westfield – 4:00
10/20/15 – Away – Elizabeth – 6:15
10/22/15 – Home – St. Joe's – 4:00
10/27/15 – Away – Linden – 4:00
10/29/15 – Away – Cranford – 4:00
Continue to check thefanscotian.com throughout the season for updates on the boys soccer team.