Surreal Creamery: Unlike Anything Else
Surreal Creamery, Westfield's newest ice cream shop, certainly lives up to its name. 
I'm a huge ice cream fan; I had been waiting weeks to try the creamery. When I walked in on Jan. 3 alongside my best friend, I was immediately greeted by the staff and an array of toppings that lined the counter. 
The shop was empty, aside from a little girl and her father, so I got to enjoy the creamery sans extensive lines or crowds. However as we took a seat, teenagers gradually filtered through the shop, eager for a delicious after school snack. 
Although they were exciting, the wide variety of choices on the menu was a bit overwhelming for a first-timer. As I stood at the counter, a seemingly easy decision — what ice cream to order — felt impossible. 
Two of the most popular items are the Signature Mason Jars and Floteas (bubble tea, lattes and slushies).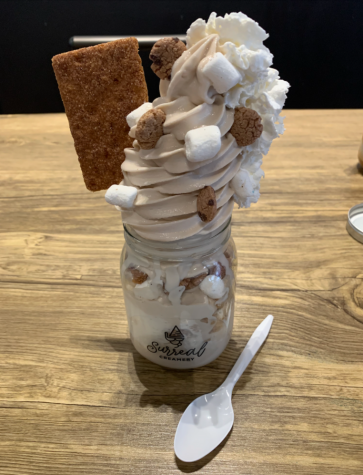 After minutes of consideration, I finally landed on a make-your-own mason jar. My taste buds watered with delight as I selected soft-serve vanilla ice cream, along with various toppings to achieve the perfect combination. 
When the masterpiece was complete, my jaw dropped; my expectations were far exceeded. The mason jar stood before me, overflowing with smooth ice cream that was topped with graham crackers, cookies, marshmallows and of course, whipped cream. It was well worth the $10.75 price tag.  
When I first arrived at the shop, I expected to order any average ice cream cone, but Surreal Creamery delivered so much more. 
As I took my first bites, pure happiness evaded my body: it was truly heaven in a mason jar. Before I even finished my ice cream, my friend and I were dreaming of our next visit. 
Surreal Creamery is located on E Broad street in Westfield. This modern and unique creamery is the perfect place to hang out and enjoy a tasty treat.