Third Quarter Collapse Haunts Raiders in Tough Loss to Westfield
The Scotch Plains-Fanwood Raiders (4-10) two-game win streak was broken Tuesday night after a 59-51 loss to their arch-rivals, the Westfield Blue Devils (11-3). Despite the major collapse early in the second half, the Raiders might have played their best game of this season outside of the 84-58 beat-down they gave Warren Hills last week. 
The Raiders found themselves — just like on Saturday — with an eight-point lead at halftime (31-23). In both games, the Raiders were outscored in the third quarter; however, they could not recover from Tuesday night's third quarter collapse that left them outscored 19-9; and 36-20 for the second half. 
"Unfortunately, I think we turned the ball over a little too much in the third and fourth quarter," coach Steve Siracusa said. "They hit their shots and we kind of went a little cold and I think that was really the difference where they kind of came back in the game and got some more confidence and momentum." 
While the Raiders improved drastically from the last time these two teams met (a 56-20 loss), turnovers, discipline and scoring were once again issues. The Raiders outscored the Blue Devils 14-4 in the second quarter, but failed to take that momentum into the second half. 
Major halftime adjustments by the Blue Devils neutralized the Raiders offense while their backcourt destroyed the Raiders. Defensively, the Blue Devils took away the low-post looks the Raiders capitalized on in the first half by moving to a 1-3-1 zone that dared the Raiders to shoot from the perimeter. 
"We were really getting the ball down low a lot and pounding them in a paint [in the first half]," Siracusa said. "They definitely played a lot better post defense. The looks we were getting in the first half they really tried to take away in the second. I think that was one key aspect and then they went a little 1-3-1 zone, 2- 3, 3-2 zone to throw us off rhythm a little bit." 
After scoring a career-high 20 points on Saturday, SPF junior Hayden Widder was held scoreless. Although sophomore Jaden Carter lead the team with 12 points, he also lead the team with seven turnovers. With the Raiders starting backcourt struggling, the team relied on senior Justin Guy, junior Liam Mahr, and senior Justin Fletcher along with other role players. 
"Liam played his heart out tonight," Siracusa said. "He gave everything he had and he was so tough down-low. Even the Westfield coach said that was the toughest big man they had played all season and they play a lot of very talented teams."
The Raiders struggled with discipline on a night where they had to be as close to flawless as possible. The Blue Devils took advantage of the opportunity and shot 88% from the foul line (14-16). 
"They hit 14 of 16 free throws, you have to give them credit," Siracusa said. "We just were fouling them a little bit too much. I guess on offense they were taking it to the paint more. We have to stop playing with her hands as much and more just staying in front of our man. They earned most of those fouls." 
Although the Raiders suffered a tough loss, Guy believes there is still much more to prove. 
We just have to keep on pushing," Guy said.  "We're on the right track. We were this close tonight and We just gotta put it all together. Everything. Everybody's been doubting us, we're four and ten, but our record doesn't tell the story. We're trying to prove something to people."

Photo courtesy of Mason Glod.
About the Writer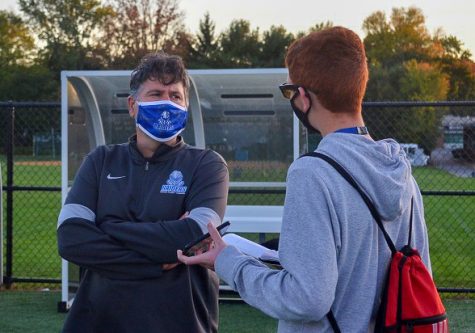 Matthew Levine, Sports Editor
Fanscotian Sports Editor Matt Levine is a junior at SPFHS who also writes for TAPinto and has a podcast called The Matt Levine My Generation podcast out...