Girls basketball easily takes down Governor Livingston
photo by Josh Axelrod
Lady Raiders faced off against the GL Highlanders in an aggressive, high-energy game ending with a score of 52-35.

In the first quarter, the girls established a lead through their rapid passing and strong teamwork and held onto it for the rest of the game. They ended this quarter with double the other team's score, at a solid 14-7.

Sophomore Erika Muskus commended her team on their togetherness and determination. "Today we went into the game knowing that we needed to win in order to clench a seat in the state tournament and that's how we played," said Muskus. "We all fought like this was our last game and we were non-stop encouraging each other to keep working."

As the pace quickened, the home team was able to hold off GL, while widening their lead. Muskus, in top form, sunk a 3 at the end of the second quarter. Not losing any momentum, she kept up a superb performance in the third and fourth quarter, making another 3, stealing from the Highlanders and diving for rebounds to assure the win.

Head Coach Ryan McKenna was particularly proud of Muskus and sang her praises. "Erika Muskus came off the bench and she was terrific," said McKenna. "She scored a career-high 17 points."
"I step on the court knowing I have one job, to fight for my teammates, coaches and the fans. The determination from my teammates was my motivation throughout the game and the feeling of winning is the reason I play the sport." – Erika Muskus
The girls maintained a ferocious offense throughout the entire game and darted back and forth on the court. Senior Caroline Babis, a furious dribbler, assisted in many key plays, making smart passes. Senior Micaiah Battle was also playing her best, making all eight of the foul shots she threw.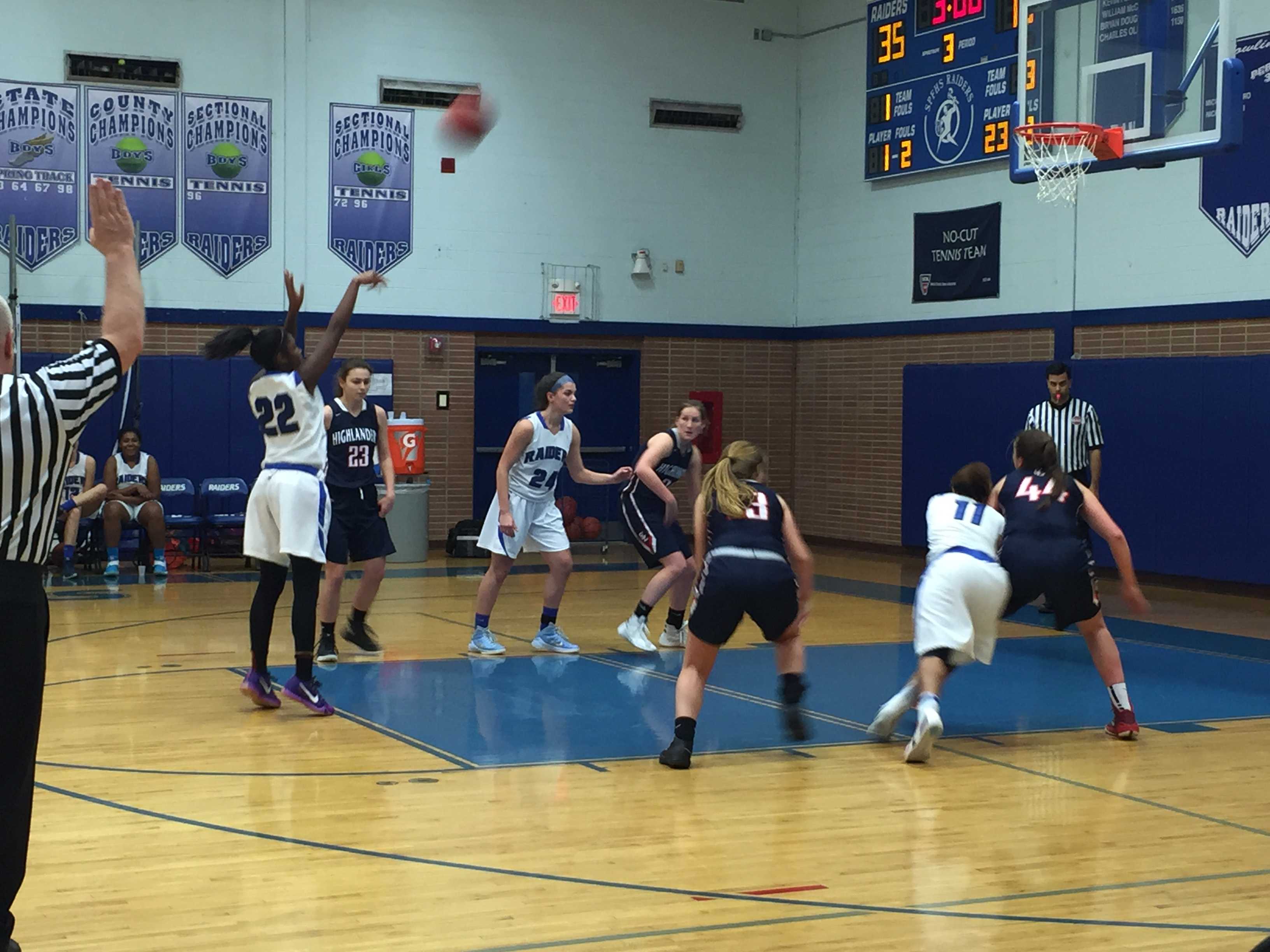 photo by Josh Axelrod
A strong team dynamic was the key to the game's victory, with players in high spirits, fixed on winning a pivotal season game. The Raiders will next face off against Summit on February 2nd, for what will surely be an exciting Groundhog's Day game.