The Gems of SPFHS: Blue Diamonds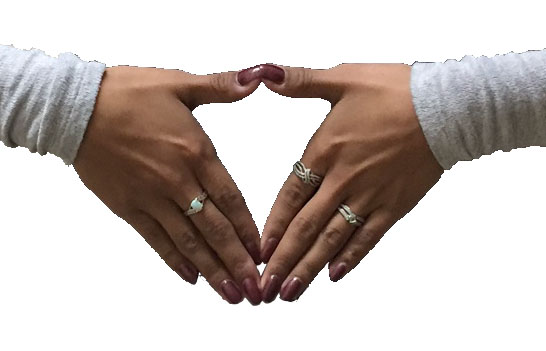 BLUE DIAMONDS! This signature call belongs to none other than the Blue Diamond Step Team of SPFHS.
Stepping is the making of music, beats, and rhythm through a series of stomps, slaps, claps, jumps, and shouts. It requires a lot of strength, energy, precision, and attitude.
"Stepping is a constant hitting of the body and moving the body in ways that you're not used to," said Tashira Wheeler, Blue Diamond Step Team advisor. "But the team is very excited to come in and learn."
A good team must have members that support and respect each other, but the Blue Diamond Step Team is more like a family.
"As a group, the friends make it special," said co-captain Kiara Cruz. "It's an activity that I can say I love coming to. We give each other support and get all of the funny stuff out the way, then we focus."
The two captains, senior Brianna Young and junior Kiara Cruz, and Wheeler are responsible for carrying out practice every Tuesday and Thursday after school and Saturdays. The Blue Diamond Step Team are remarkable, but they have plans to further improve the team and the steps this year.
"I would like to make our steps more intense and more complex," said Brianna Young. "I would like to have a moment in the show that people will remember."
Blue Diamonds Step Team Performance
The Blue Diamond Step Team participates in state competitions under the New Jersey State Step Association. The Blue Diamonds' first competition will be January 23rd at Bayonne High School.
"From there," said Tashira Wheeler. "We will be going to Camden, Union City, Colonia, and Summit."
They also plan to host a competition here at SPFHS on February 27, 2016. Practices for competitions are arduous and long.
"We don't have a time limit when it comes to competition. We finish when we finish," said Brianna Young.
It takes time to master stepping, but anyone is able to do it.
"The first day was really nerve-wracking because everything was new," said Kiara Cruz. "I had no clue what stepping was. I liked it, so I just kept practicing."
Anyone can learn how to step; the team is always looking for new members.
"We would love any and everybody to be in step," said Brianna Young. "You don't have to be black, white, Hispanic; we accept everyone and try to tell everyone that too. It's a really great activity that everyone should partake in."
The Blue Diamonds Step Team will continue to shine as the steppers of SPFHS!