Senior Year: various sports games, prom, graduation, and yes,the infamous college app process.That span of months, or one all-nighter, when a senior prepares to apply for the next four years of their life.
Last year, The Fanscotian documented this important process for one year alumna Mykala Porter who went under the alias: Pamela. This year, another SPFHS senior allowed The Fanscotian to follow her through her special journey towards the next four years of her life. In order to give the senior privacy through her course, she will go under the alias, Penelope
Unlike most seniors, Penelope started her process in mid-August. "It's never too early to start." said Penelope.  "It really pays off because senior year just gets tougher.". Her determination and persistence pays off because she is currently editing her essays and is set to submit her applications any day now.
Despite the  millions of hopeful students applying for college, she has made sure to stand out in her applications. Throughout high school, she has been a part of numerous school activities like Medical Club and MUSE. Penelope is also a writing technician for SPF's very own writing lab. Outside of school, Penelope has made service a priority, volunteering at both the Plainfield Boys and Girls' Club and Summit Overlook Hospital. "I like volunteering because it is a way for me to help the community," said Penelope. "I have made bonds with many kids at the Boys and Girls Club, and I get healthcare experience at the hospital."
Penelope has also kept her major in mind with her extensive course list; she has also been a part of numerous summer programs. With a pre-med track in mind, Penelope  has taken AP Chemistry, AP Biology, Sociology and Psychology. She has also spent her summers in programs with a focus on healthcare and medicine.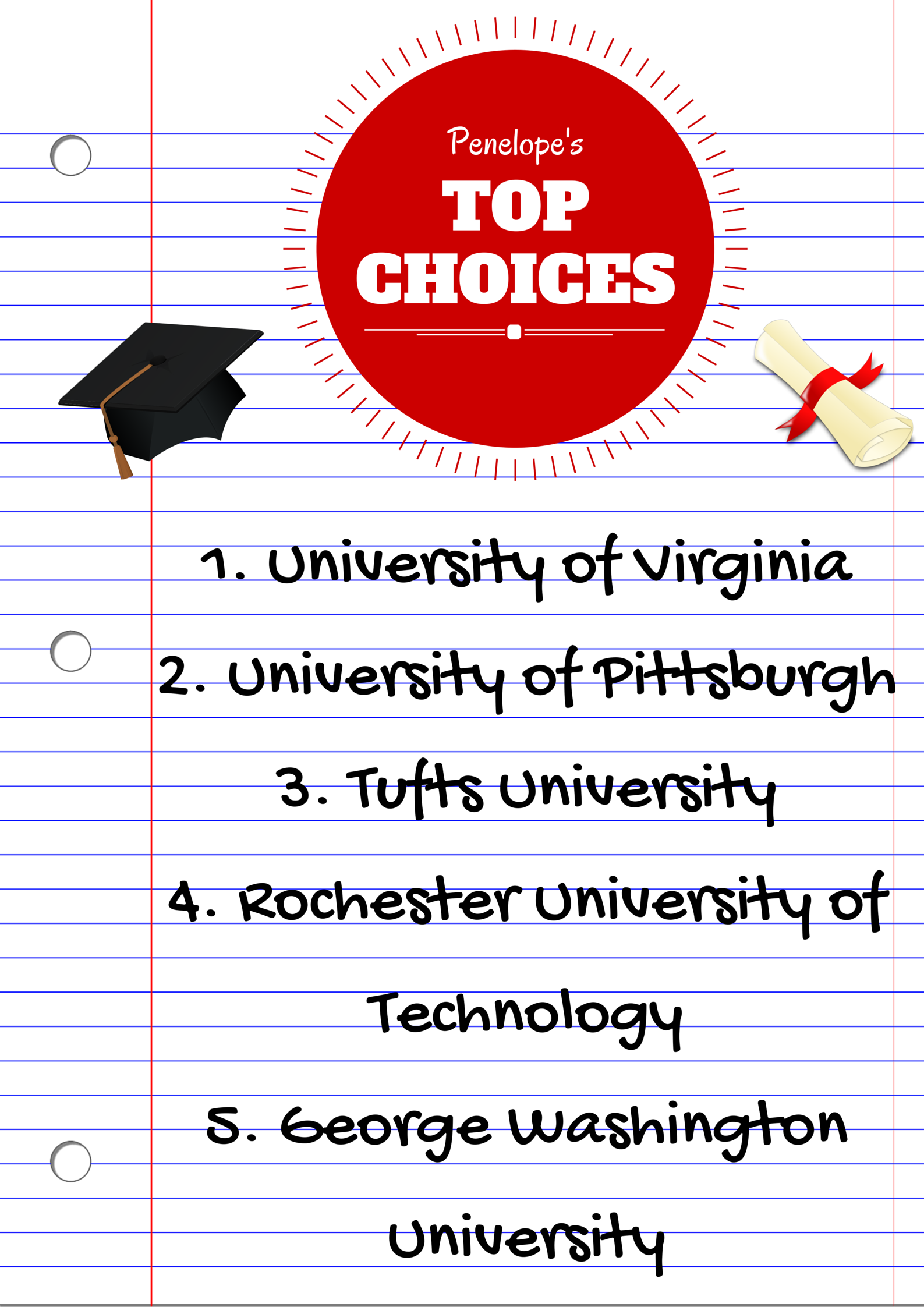 infographic by Alexa-Jada Nelson

When choosing which colleges to apply to, an important factor for Penelope was finding colleges that had medicine programs. "I applied to schools that either had a good medical school or good public health school, somewhere  that would help me out in the future." Penelope also chose schools close to home particularly  in the Northeast. The University of Virginia and Tufts are  her dream schools. Other factors were the ambiance of schools and the food provided.
Like any senior, Penelope is feeling the pressure of the college application process, "It's a lot of work and on top of it senior year with all of your AP classes," said Penelope. "It becomes a lot."But despite the weight of the stressful process, Penelope remains optimistic and looks forward to college, "I can't wait to go to college. I'm really excited for all of the new opportunities that I will have."