Fall Sports Preview: Cheerleading
photo by Saleena Nival

After a summer full of dedicated work, there seems to be a cheerful future for the Scotch Plains-Fanwood High School cheerleading squad. With more serious goals, complex stunts, and the first ever boy on the team, the cheerleaders are expecting a solid season.
In the past, the cheer squad has cheered for the SPF football and basketball teams and will continue to do so in the upcoming year. However, this is not where their dreams end. "My goal is to have them go to a competition," said head coach Melinda Toto. "We are going to an expo [a cheer competition] in November." Last year, the cheer team finished in second place, and Toto is ecstatic for the upcoming season. "They've done more in the past week than they have in the past two years, so I'm really excited for them to show everyone what we've been doing."
The cheerleaders have been training more rigorously to prepare for the anticipated competitions. Senior cheer captains Bridget Van Natta, Isabella Bernardo, and Bianca DeMaria lead the rest of the team in tougher stunts which include more tumblers than previous years. "Stunting is my favorite part [of cheer,]" said DeMaria. "We're doing kick twists, baskets, kick twist hitches, and more pyramids that are different than lifts."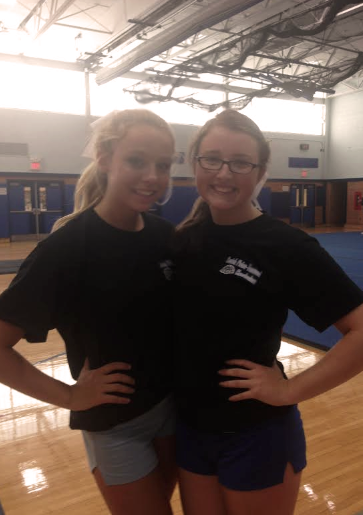 "The team looks very good this year," said Van Natta. "Bella, Bianca, and I have been working to make sure that everyone is in shape. We are doing more for the team to ensure that everyone is ready and connected." She and other teammates are especially excited for their newest member, Shakir Philippe, the first boy in history to join the SPF cheer team. "He just started this year, so he should add a lot of strength for our team," said Van Natta.
The upcoming season is sure to see a stronger dynamic between cheerleaders. "I think this is the best year so far," said Toto. "I'm very proud of them."
The cheer season starts in September. Continue to visit thefanscotian.com for coverage of the pep rally, homecoming, and future competitions.