Hannah's Guide to The Spanish Exchange Trip
"No one realizes how beautiful it is to travel until he comes home and rests his head on his old, familiar pillow."
 -Lin Yutang

The Barcelona Exchange Program helped me leave my familiar lifestyle behind for a time  and endeavor into a more exciting, adventurous, and intoxicating way of life. I experienced a different culture, different beliefs, a different way of life. In order to adapt to Spain's way of life, I had to make several adjustments in my daily lifestyle. I no longer ate lunch at 12:30 p.m. and dinner at eight p.m., I now ate lunch at four p.m. and dinner at 10:30 p.m. I did not go home right after school, but walked to the mall or took the metro to Park Güell.  I stayed out until nine p.m. on a school night and four a.m. on a weekend. There was ham everywhere: ham museums, ham in caesar salad, a roasted pig sitting on display on a kitchen counter. When walking on the city streets, I had to be extremely careful to avoid getting pick-pocketed, and to not stare too long at people in order to avoid getting my head smashed into the pavement or a wall. Experiencing the city-life in Spain was exciting, enticing, full of adventure, and ever-lasting. I would go back in a heartbeat.


Day 1- Thursday, February 12, 2015
We arrived at Madrid-Barajas Airport at around eight a.m., and met Joan, our very own Spanish guide and a representative sent from our pen pals' school in Barcelona. My lack of sleep on the plane ride left me ill-prepared for the full day to come. After dropping our bags at the hotel and cleaning up, Joan led us on a walk to the Royal Palace. The Palace was only a fifteen-minute walk away from our hotel, and it was beautiful. The Palace featured an expansive garden with statues and a fountain, as well as 2,800 rooms. We took a tour of the palace, but were only shown 20 of the rooms. Unfortunately, we were unable to obtain an English-speaking tour guide, and instead we were given a substitute of a guide who only spoke Spanish. Joan was nice enough to translate the things we did not understand. The rooms in the palace were lavish with detail, and the ceilings featured beautiful paintings by an Italian artist. After the tour we walked back in the direction of our hotel, and ate lunch at a mall directly across the street. At night we went to the Mercado San Miguel for dinner, which is similar to the Chelsea Market encased in a glass building. I ate amazing paella and churros with chocolate. We went back to the hotel and crashed.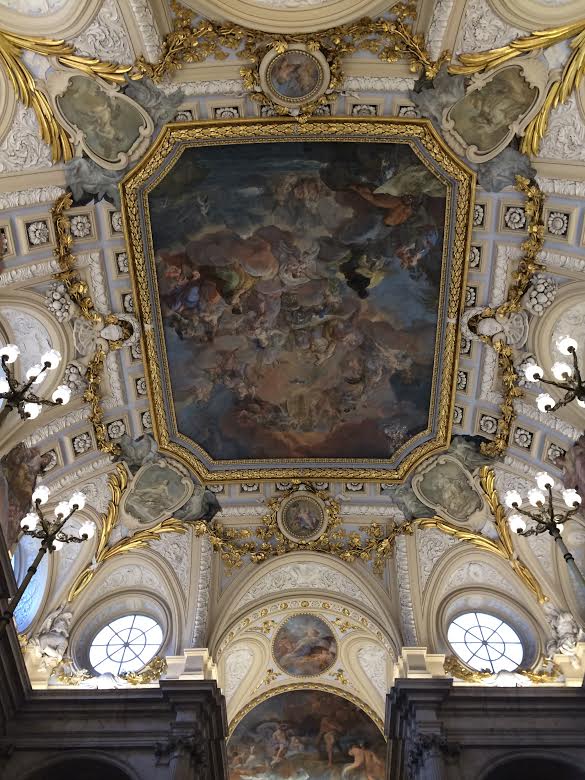 Day 2- Friday, February 13, 2015
The day started off with a bus tour around the city of Madrid, traveling to all of its different neighborhoods. The bus stopped at Santiago Bernabéu Stadium, where the soccer team Real Madrid plays, as well as Las Ventas, the bullring in Madrid where bull fights still occur. After the bus tour, we walked to a buffet-style restaurant for lunch, and were offered paella, pizza, salad, and frozen yogurt, among other things. From lunch, we walked to the Parque del Retiro, which featured a big, beautiful fountain in the middle and a huge monument with two larger-than-life horses. At the park, there were two native kids passing a soccer ball, and a caught-in-the-act pickpocket. It was very exciting to finally see a pickpocket rather than only hear about it, because Spain is known for its pickpockets.
We went to two museums after the park. The first one was the Museo del Prado, which is similar to the Metropolitan Museum of Art. The same woman who gave us the bus tour around Madrid led us around the museum. The tour was focused around three main painters: El Greco, Diego Velázquez, and Francisco Goya. I loved this museum because I love the kind of paintings that it featured. At the museum, we saw "Las Meninas," the very famous painting by Diego Velázquez. After the Museo del Prado, we went to Museo Reina Sofia, which is a modern art museum. We saw works by Picasso and many artworks about the Spanish Civil War, which raged from 1936 to 1939. The most famous work that we saw on the Spanish Civil War was from Picasso, titled Guernica. For dinner we went to a tapas bar and ordered a classic tapas dish: patatas bravas, which is a potato platter with a spicy tomato sauce.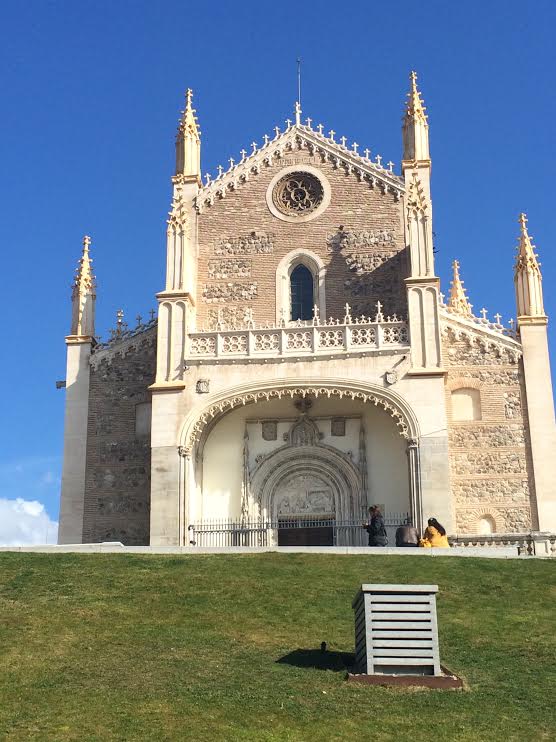 Day 3- Saturday, February 14, 2015
Today was the day we were finally going to see our pen pals. To get to Barcelona, we took the AVE high-speed train. The train ride was only about three hours, and it had a plane-like feel to it. There were assigned seats, TVs, and a woman who brought drinks and snacks down the aisle in a cart.
In order for you to fully understand what I am talking about as you read further, here is some background: last year I joined the exchange program with my friends, Laura and Naomi. Because we had already hosted our pen pals last year, we were already very close with them. When we got off the train, my pen pal, Nerea, and Laura and Naomi's pen pals, Lidia and Carla, were all waiting for us with an American flag they had bought last year in New York City. The other pen pals were waiting behind them. Laura, Naomi, and I ran to greet our pen pals and it was all very exciting. Nerea, Lidia, Laura, and I all shared a cab that dropped Nerea and I off at her apartment. Upon entering the apartment, I was greeted by Nerea's parents and fourteen-year-old brother. I arrived around 4 p.m.: lunchtime. Nerea's mom had made pasta with some kind of cream sauce and ham. For dessert after lunch I was offered an array of different types of cookies, including Oreos. At night Nerea and I went out to dinner with all of Nerea's friends at a nice restaurant to celebrate Nerea's eighteenth birthday, which occurred a few days before my arrival. Laura and Lidia were at the restaurant, and Laura and I both ordered Barbacoa (barbecue) pizza, which was amazing. The pizza had bacon, onions, and corn along with barbeque sauce on it. Interestingly in Spain, pizza is not delivered pre-sliced. You have to slice it yourself. I noticed this another time when we ordered pizza in for dinner one night. We ended up staying out until two in the morning. It is very common for teenagers in Spain to stay out late into the morning without any repercussions from parents because it is part of the Spanish culture.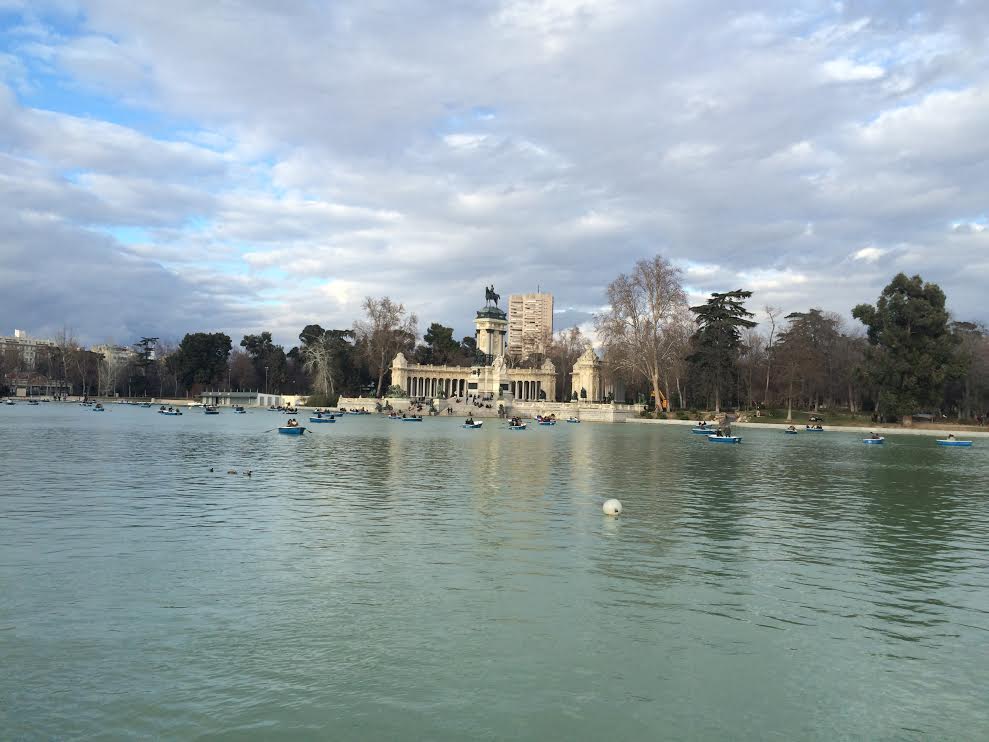 Day 4- Sunday, February 15, 2015
We slept in today to catch up on much needed sleep, waking up just in time for an "early" lunch. Nerea's grandparents and uncle were over for lunch to celebrate Nerea's birthday. Lunch was HUGE. The first course consisted of roasted peppers, artichoke, and eggplant stuffed with meat and vegetables. Altogether it was very filling, and I thought that was the main course, but then Nerea's dad cleared the table and brought out more food! He brought out potatoes, meat that looked like a lamb chop, and bread. For our final course, or what I thought was our final course, was the same array of cookies from the first lunch I had with Nerea's family and fruit. The finale to what felt like The Last Supper was a birthday cake. Just as we do in America, we sang "Feliz Cumpleaños" and Nerea blew out candles. After lunch we walked to a nearby movie theatre and saw a movie in spanish with Lidia, Laura, Naomi, and Carla. At night we took the metro and walked to the Port of Barcelona, which was very beautiful lit up at night. There was a mall next to the port where we shopped and got dinner at a sandwich place. We walked on the beach for a little bit after dinner, and the Mediterranean looked like a deep, dark bottomless pit that could swallow you whole. I got to see a completely different side of it the next day.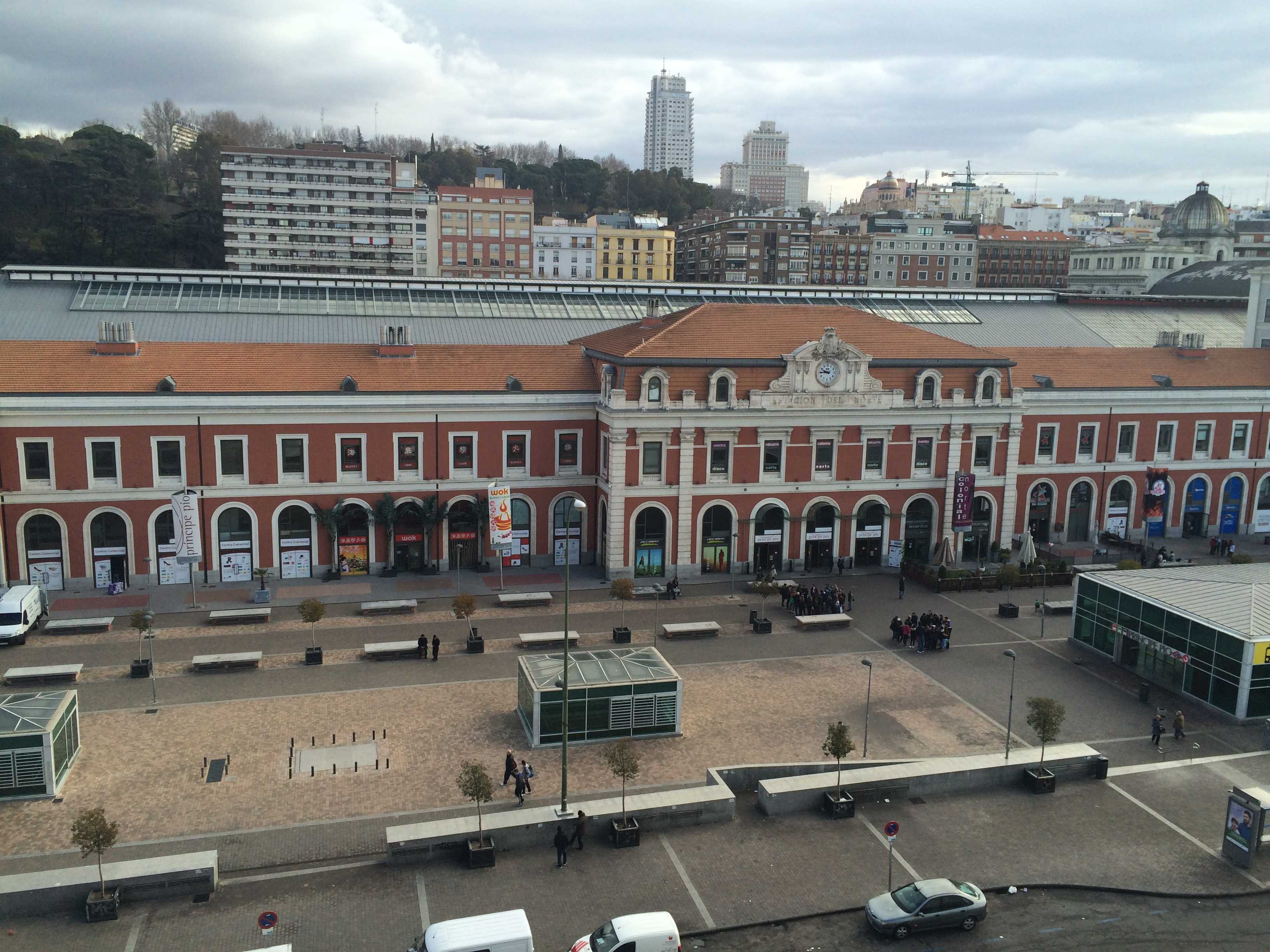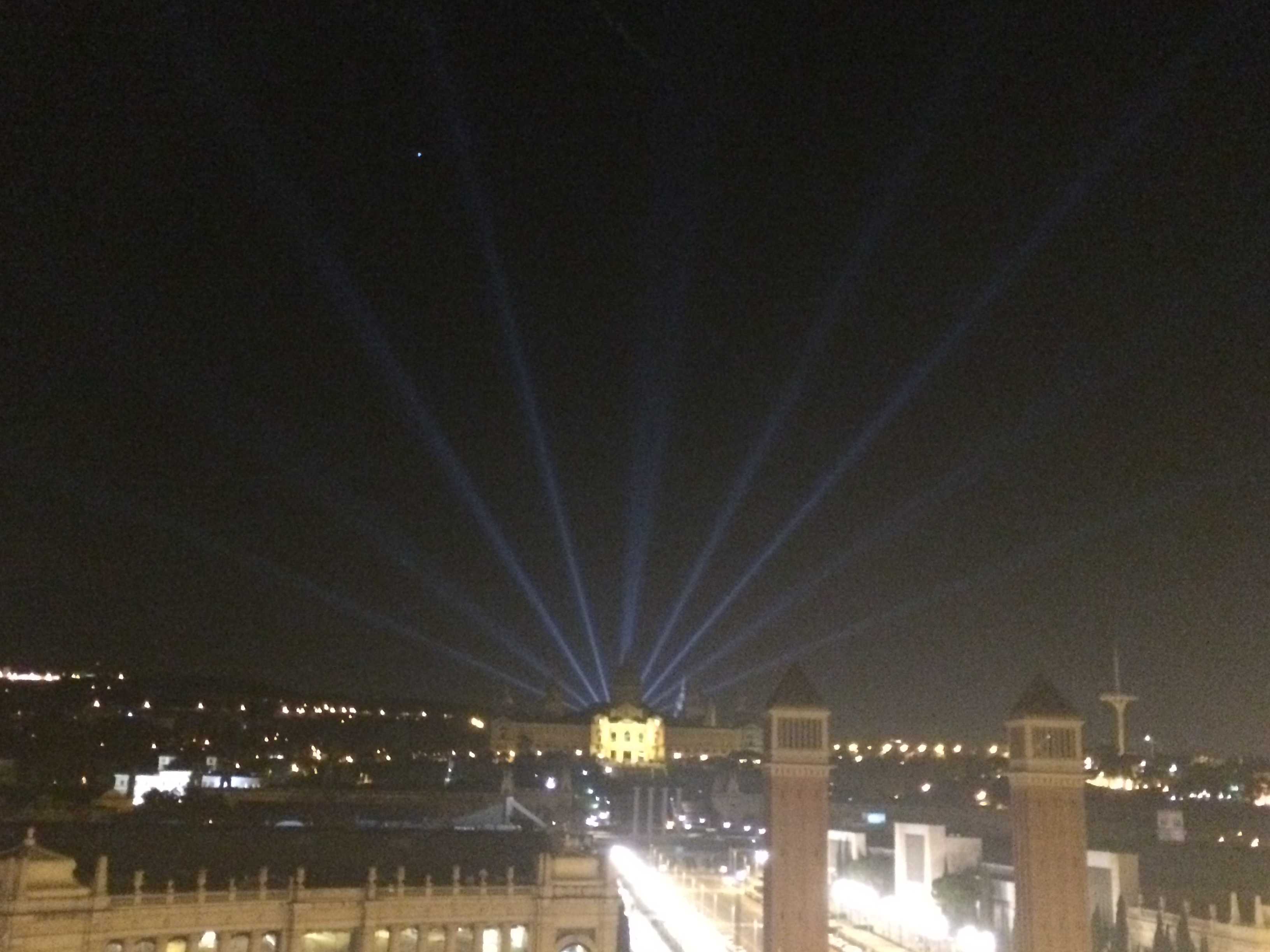 Day 5- Monday, February 16, 2015
Today Nerea, Lidia, and Carla took Laura, Naomi, and me on a field trip because there was no school due to Carnaval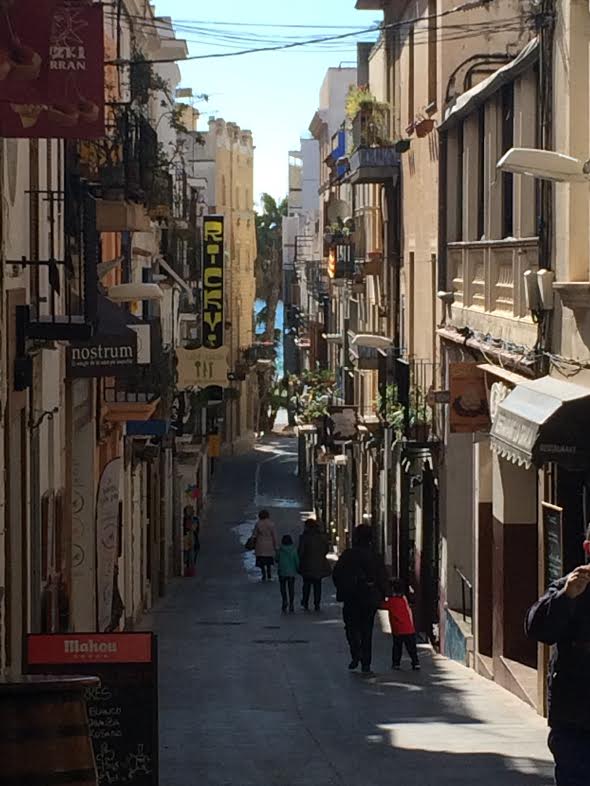 (a holiday similar to Halloween that lasts for several days). Where we were going, we had to take a forty-minute train ride. When we got off the train at our stop, we had arrived at a beach town by the name of Sitges. The streets were littered with confetti from Carnaval celebrations from the night before. The buildings had character and charm, and each apartment had its own balcony. The sights were breathtaking. The Mediterranean no longer looked like a deep, bottomless pit, but instead it was a sparkling, clear blue. For lunch we had a picnic on the beach. The day was so calm and relaxing, it felt everlasting. After hanging out for a while on one side of the beach, we walked to the other side, which featured beautiful older buildings and a plethora of shops. We stopped in a cute boutique and a few other stores before ending up in a bakery for a snack. I ordered a hot chocolate. I was not expecting what came next: a cup of melted chocolate that resembled warm chocolate pudding. It was heavenly. The hot chocolate was the cherry on top of my amazing day. To be honest, this day was probably my favorite day of the trip. I felt like reality was paused and I was walking in a dream. Cheesy but true.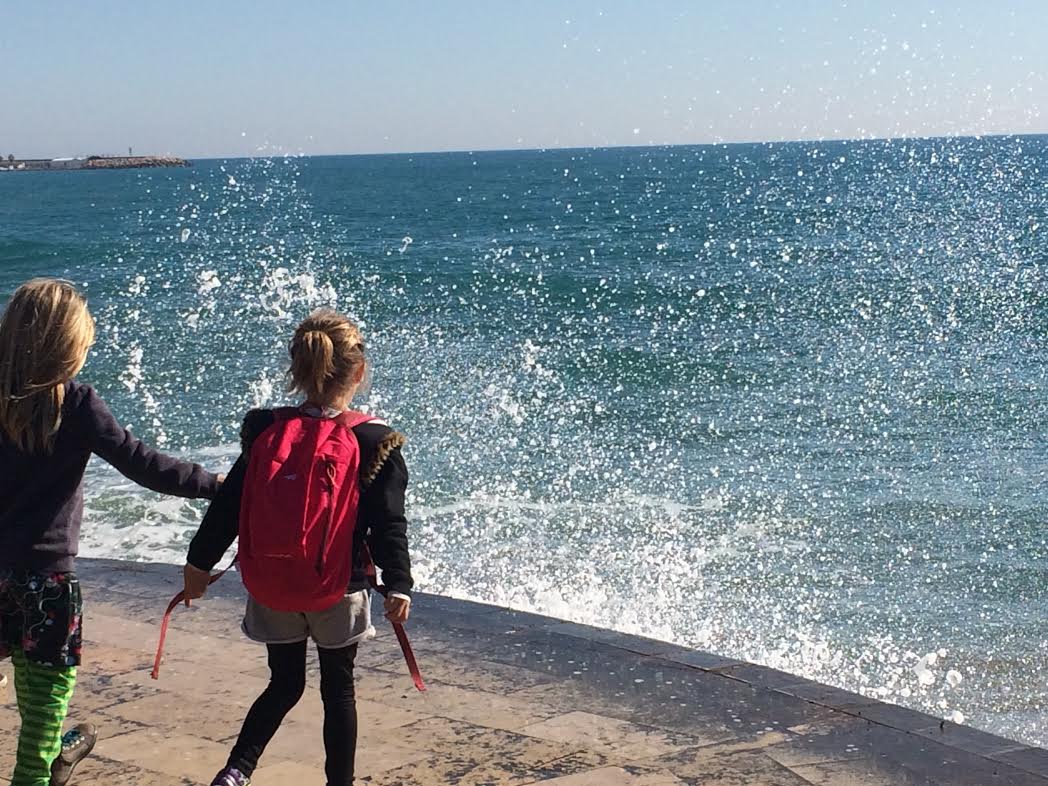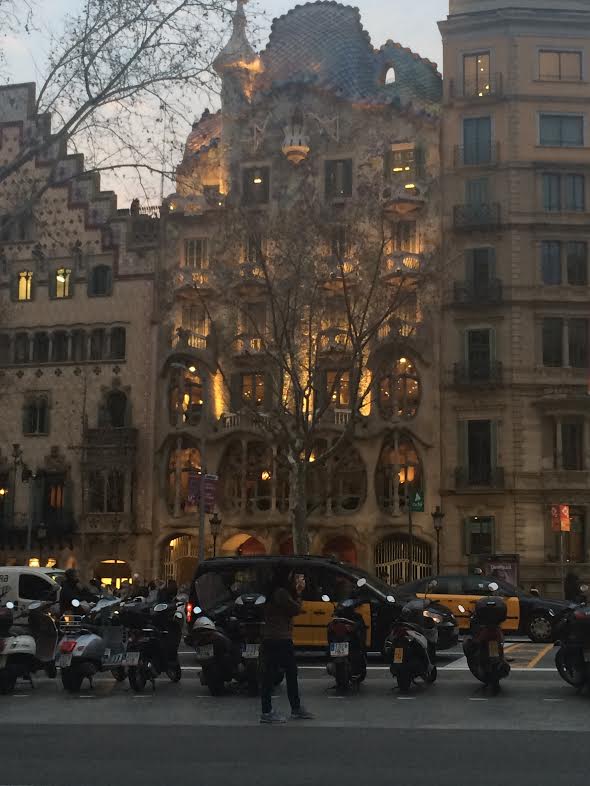 Day 6- Tuesday, February 17, 2015
We had to be at Nerea's school, La Sagrada Familia (not to be confused with the church designed by Gaudi), at 8 a.m.. The school shared a building with an elderly home, similar to the Chelsea in Fanwood, which was kind of funny. The school dominated one half of the building and the elderly home the other. Because the school was not very big in perimeter, it made up for it in height. I never actually counted, but if I had to guess, I would say there were five or six floors. From the school, we took a bus to Montserrat. Montserrat is a monastery up in the mountains. We were allowed to explore the mountain for a period of time on our own until we were to meet up again to talk to an actual monk. Talking to the monk was very cool. He told us of the boarding school that was held on the mountain for boys only, and also explained the lifestyle of a typical monk living at Montserrat. Midway through the information session, the Monk's cell phone rang, surprising everyone.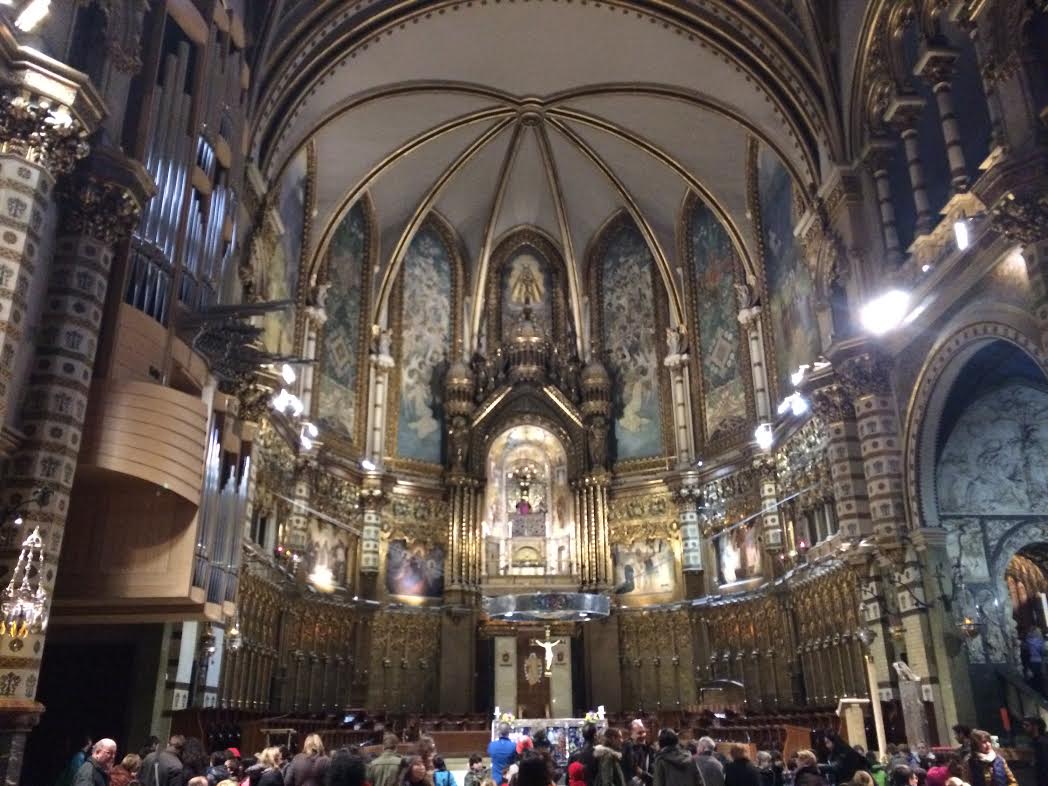 At Montserrat, they take great pride in the boarding school's choir and prioritize playing an instrument. We were lucky enough to be able to see the students sing in a big, ornamented cathedral. Despite being composed of all boys, the music was angelic, and covering many different notes on the scale. We were all in awe. After the short concert, we were again given free time. Naomi, Laura, our friend Heather, and I all decided to take a ride up to the top of the mountain. Best ten euros ever spent. The views were expansive and breathtaking, no matter which way you turned. Today was also the only day it rained on the entire trip. Because of this, the top of the mountain was dewy and cold, but bearable, especially because of the phenomenal view. We could see mountains in the distance, topped with snow, the only snow I saw on the entire trip since the temperature was usually sixty degrees and sunny. We also saw the Spanish countryside and houses.
After forcing ourselves to leave the open and vast landscape of the mountain peak behind, we took a ride back to the middle of the mountain, where the rest of the group was gathering to head back to the school. From the school, Laura, Naomi, Heather, and I were taken to the same mall near Nerea's house where we saw the movie on Sunday. The mall was an outdoor mall, with only roofing to protect from wind and rain. The mall was very nice and modern, and after all of our shopping festivities, we warmed up in "Dunkin Coffee" (Dunkin Donuts), where the donuts seemed to be better quality, despite the word "donut" being taken out of the chain's actual name.



Day 7- Wednesday, February 18, 2015
Again we had to meet at the school at eight in the morning. Today's day trip was to Girona. Upon getting off of the bus in Girona, we were greeted with yet another big and beautiful cathedral. Luckily, today fared better weather, and it was very sunny. While waiting to enter the cathedral, we basked in the sunshine and took in our surroundings.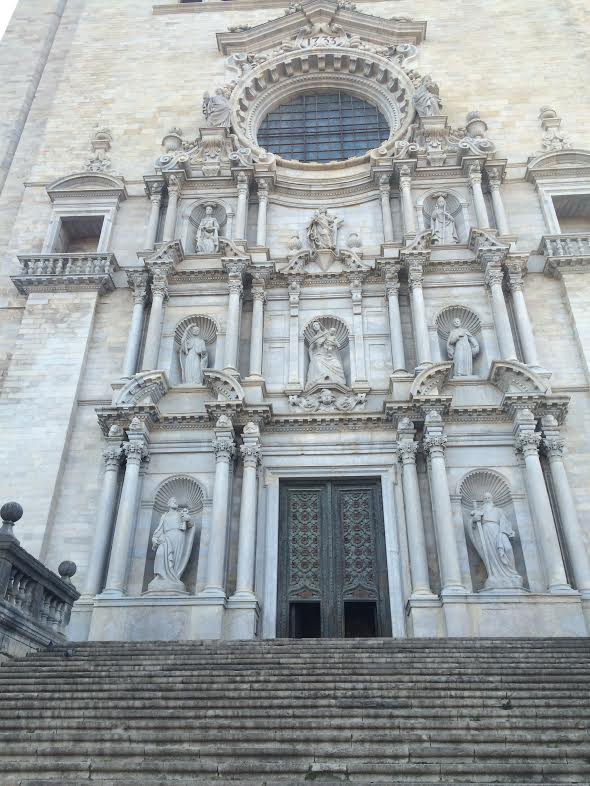 The Cathedral was dark and gothic, a little creepy, but very beautiful. The courtyard was a juxtaposition with the cathedral– light and dark; it was refreshing. Priests were buried in the courtyard, and monks apartments overlooked the courtyard. After the cathedral we were given the chance to walk around. There was a Jewish Quarter in Girona as well, which interested me because of the Jews being exiled from Spain in 1492. The Jewish Quarter is a maze of narrow, cobblestone streets surrounded by tall, stone walls and buildings. There was also a tranquil park we visited to take pictures and relax that had a stone wall, and if you climbed the steps to the top of the wall, you could see a rich view of greenery and houses.
We stopped and had lunch and then took the bus to see the Museo Dali. This museum was very outlandish and intriguing. Dali was crazy, but brilliant. Anyone could see that from some of his artworks and the way he designed the museum. At one point, we were standing on Dali's grave because he wanted to be buried in the center of the museum.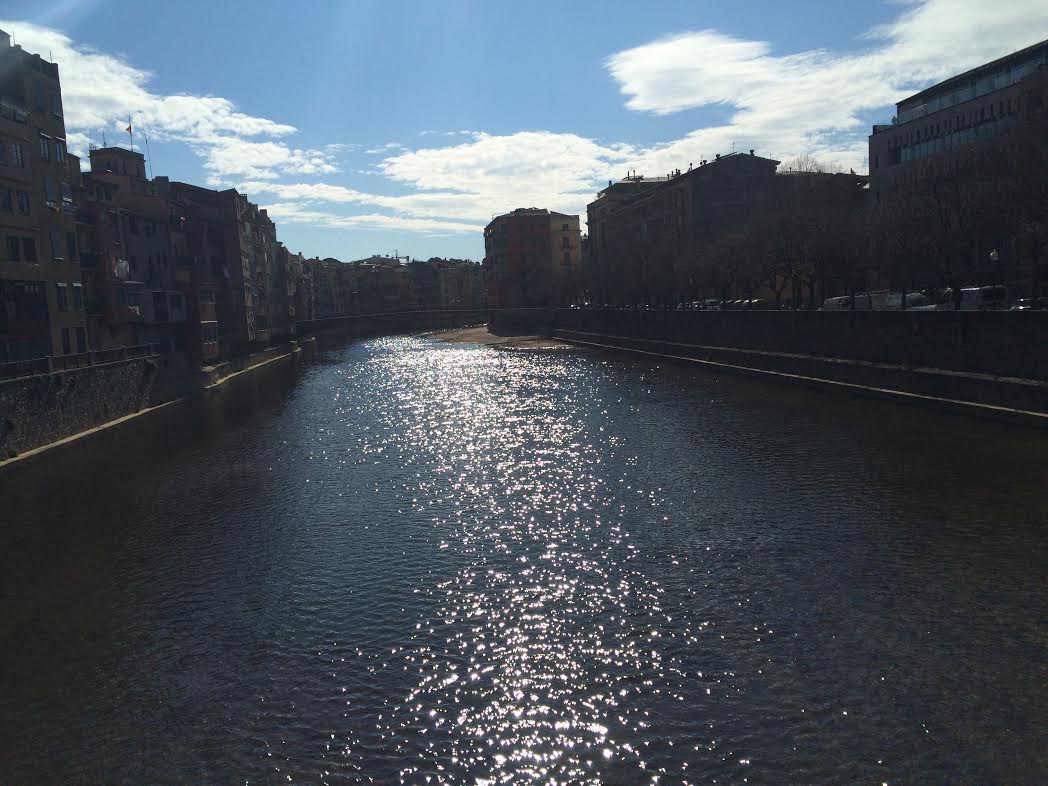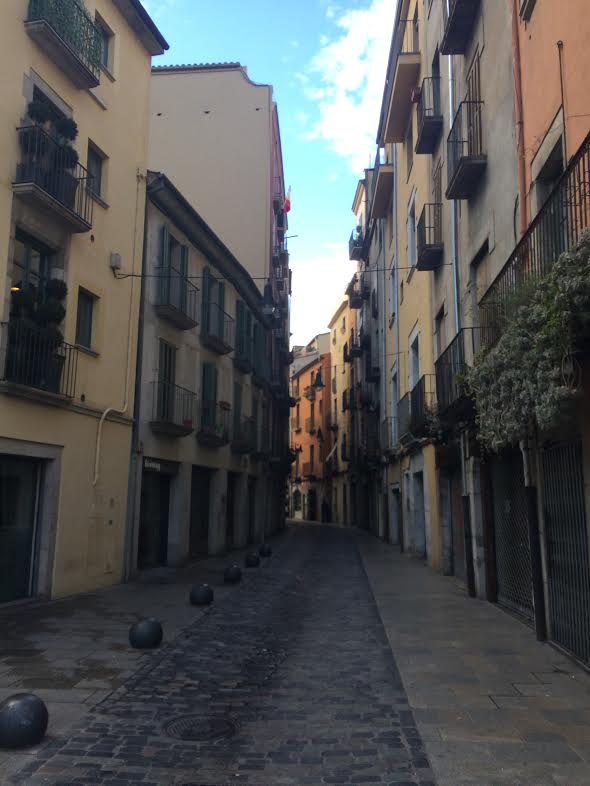 Back at the school, Nerea, Carla, and Lidia took us on a trek to Bonkers, the said-to-be tallest point in Barcelona. We had to hike up the mountain/very large hill to get to the top, which was tiring, but definitely worth it. We made it to the top just in time for sunset. It was getting darker and the city lights replaced the stars. The sky was different shades of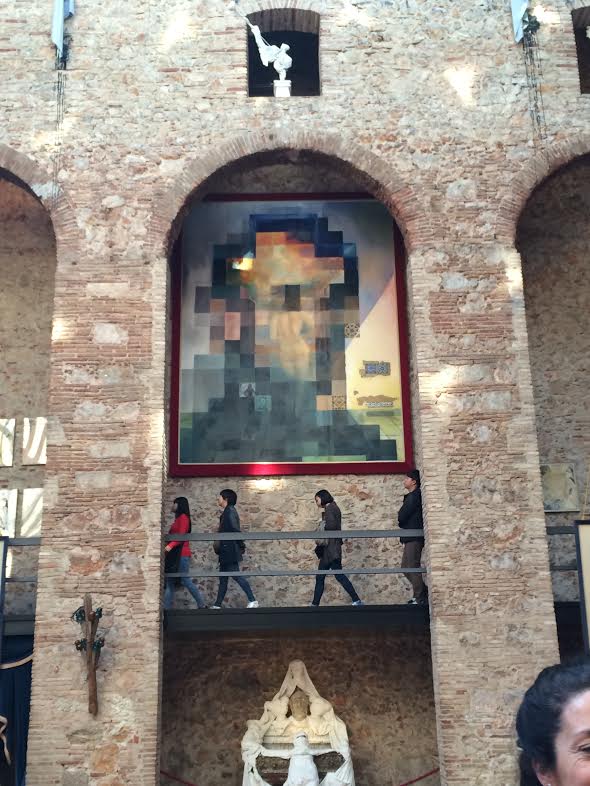 pink and blue, and nearby, different clusters of people were gathered to watch the same sunset. Someone was playing music on their phone, and the whole moment was very cool. To take a quote from the book, Perks of Being a Wallflower, "and in that moment, I swear we were infinite." Translation: we were at the peak (pun intended) of happiness and tranquility. When we had to go home for dinner, the walk down the mountain was much easier, especially because we found a bus to take us to the metro about midway down.
I loved dinners with Nerea's family. Although her parents did not speak much English, I could understand what they said when speaking Spanish, and not Catalan. Catalan is the language of Catalonia, a community in Spain that some consider a nationality, and a big part of Barcelona's culture. Anyway, Nerea's family was very funny and kind, and for all that I did not understand, Nerea graciously translated for me. For dinner this night we had a potato omelet, a classic Spanish dish, and we did not eat until ten-thirty at night– not uncommon in Spain.

Day 8- Thursday, February 19, 2015
Today we went to school for the entire day with our pen pals. We had to give a few presentations in English about life in America to students, but then we got to go to a few classes with our pen pals. I went to Nerea's Psychology and Geography classes before everyone in the program met up again to go out for churros and chocolate during the middle of the school day. Nerea had a test in Psychology and was preparing for a test the following day in Geography, so I did not get to see a normal class day in either of those classes. Despite the tests, going to Nerea's school was fascinating because I was able to see first-hand what a typical classroom in Spain is like. The Psychology teacher was very chill and laid-back. He made jokes with the students in Catalan, and translated the jokes to English so that the American students in his class could understand. Nerea said that not all of her teachers are like that.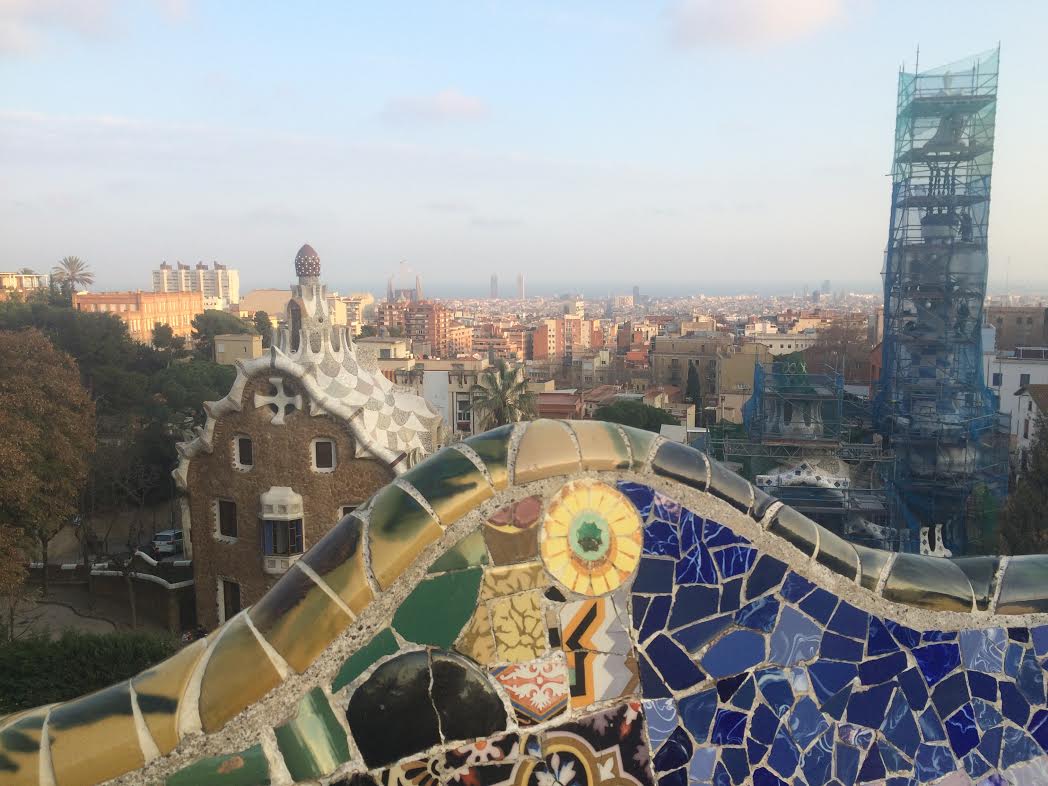 All students involved in the exchange left the school in the middle of the day to get churros and chocolate, and the Spanish students were excused from their classes. The churros and chocolate were delicious, and I was again given a hot chocolate that was basically hot pudding. We went back to the school after our mid-morning expenditure, and I went with Nerea to her Philosophy class. Her Philosophy teacher was also her Psychology teacher, and it was a fun class to listen to. The teacher asked the question, "how do you know that you aren't living in a dream?" and I was engrossed in what people had to say.
After school, Nerea, Lidia, and Carla took us to Park Güell, or Gaudi Park. We took a metro to the park, and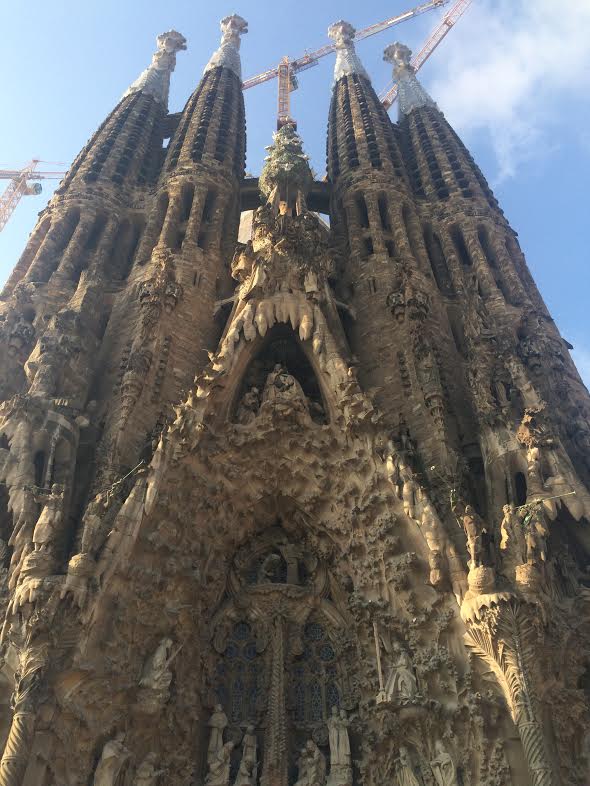 when we got off, Carla noticed that her phone had been pickpocketed! It was very upsetting and shocking. Up until then, pickpocketing in Spain had been a myth to us Americans. What was even weirder was that a native had been pickpocketed, rather than one of us clueless Americans. Carla ended up having to leave before arriving to the park to report the theft to the police in order to be compensated for her phone.
As with most places we visited, Park Güell offered expansive views, but it also offered Gaudi-designed buildings, benches, and Gaudi-designed everything (side note: Antoni Gaudí was a Spanish Catalan architect, whose designs were and still are very famous.) We walked around for a while before having to head back to the school for an exchange program dinner and ceremony.

Day 9- Friday, February 20, 2015
For our final field trip, we went to see the actual La Sagrada Familia–the very famous cathedral designed by Gaudi. Outside the cathedral, the walls were covered in sculptures depicting biblical stories on the history of Jesus. Inside the cathedral it was big and open, with light shining through the beautiful stained glass windows. Visiting La Sagrada Familia was the perfect wrap-up for our trip. It encased Spain's religious beliefs in one building, allowing us to learn a lot more about Catholic beliefs and values.
After visiting the cathedral, we went to the center of Barcelona and went shopping and got lunch. Laura, Naomi, Heather, and I went to a delicious and "trendy" restaurant where you could order tapas or a meal. We shared chips and guacamole, margarita pizza, and empanadas–all very delicious. For dessert we ordered chocolate mousse and raspberry cheesecake, not typical Spanish food, but still a perfect last lunch in Spain.
Lidia, Nerea, and Carla took us back to the center of Barcelona after school to do last-minute souvenir shopping before we all went back to Nerea's apartment to have our last dinner together. Nerea's family was going out to dinner, and left the house to us. Despite the impending gloom of our departure, our last dinner together was relaxed and fun, like every other day on the trip.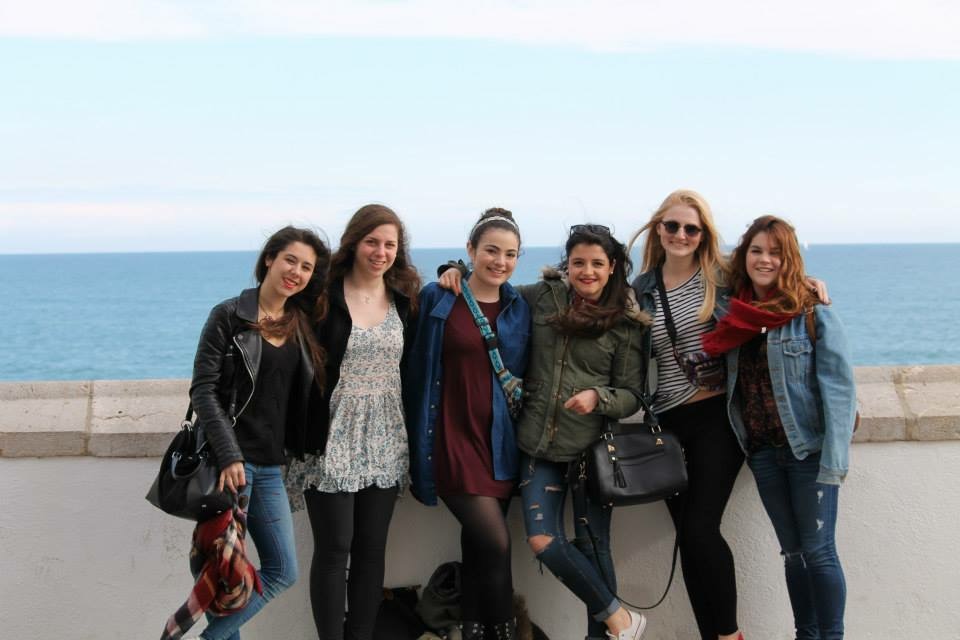 Leaving all of the Spanish kids was very sad, but especially leaving Nerea because we grew even closer than we were last year during her stay in New Jersey. From the trip, I gained a lot of information on Spanish culture and history. The trip gave me a chance to relax and live in the moment, rather than be worried with schoolwork or engrossed in something on my phone. This trip was amazing and I am so happy that I participated. Hopefully I will see Nerea again soon, but until then, I will miss Barcelona very much. ¡Adios!