Freshman girls shine on varsity basketball team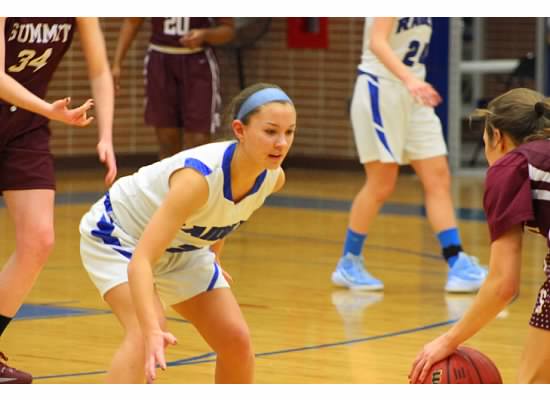 This season, two freshmen, Nya Downing and Brianna O'Brien, made the Girls Varsity basketball team, less than one year after graduating middle school.
 
Although playing as a freshman athlete on a varsity team may seem intimidating, Downing and O'Brien have shown flashes of brilliance in their young high school careers. So far this year, these players have not acted like freshmen, but like seniors ready for one last shot at a state title.
 
After 15 games, both players have stuffed the stat sheet. Downing is second on the team with 6.5 points per game. She credits her scoring to her mother, saying, "my mom motivates me to keep playing basketball at the high school level, and just be another girl to make it on the thousand points board." In addition to being a presence as a shooter on the floor, Downing leads the team with 121 rebounds, 30 more than anyone else.
O'Brien is always "swishing and dishing" as Knicks great Walt "Clyde" Frazier would say. She is currently third on the team in scoring and is tied for third in the assist department. Although O'Brien can be a menace on the court, she didn't get to this level without hard work. "I transitioned from middle school basketball to high school basketball by training and physically and mentally preparing myself," she said. "The transition has been difficult at times due to the pressure to perform at a high level.  However, with practice and games I have built confidence to succeed."
 
Even though the season may not be going as planned for the Raiders, with these two bright spots on the team, the ceiling looks high for the next three years, especially with O'Brien's attitude. "The love of the sport is what keeps me motivated to play at a high level," said O'Brien. "I feel even in a win or lose situation, my team will support each other and keep striving to do better." Not to mention, Downing looks ready to compete on varsity for potentially four years. "I believe I earned a spot on varsity. I wasn't just put there, I worked hard to make the team and now stay on."
 
Being selected for the varsity team makes Downing and O'Brien feel "accomplished" and "honored," respectively, but their play shows they more than earned their varsity letter.