On the Record with William "Bill" Austin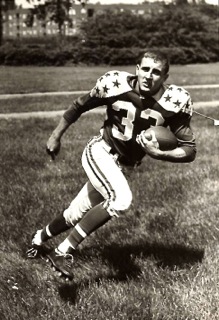 Photo Courtesy of William Austin
By Peter Warren
William "Bill" Austin was inducted into the Scotch Plains-Fanwood High School Hall of Fame on Nov. 18. After graduating from the high school in 1955, Austin went to Rutgers University where he was an All-American football player and honorable mention All-American lacrosse player. He was also a Heisman finalist during the 1958 season when he led the Scarlet Knights to an 8-1 record and a number 20 ranking. Austin was later drafted by the Washington Redskins. After his football career, he became a successful businessman, becoming the president of the Great Bicycle Company and CEO and chairman of a committee of Raleigh America.
What is it like to be inducted into the SPFHS Hall of Fame?
I was quite surprised, but very pleased to be remembered in this way by SPFHS almost 60 years after I graduated.
What was high school like when you were here at SPFHS?
Obviously it was very different, but in certain ways the same as today. Academics were demanding and focused on preparing one for college. Sports were tough but a lot of fun and without today's demands. Dancing at lunchtime was terrific.
What is your favorite memory of high school?
Singing as a member of the Three A's and an F, a quartet that sang with "The Moonglowers," the school band. And of course graduation.
What was it like being nominated for the Heisman?
[I'm] deeply honored and realize it would not have been possible without the support of my teammates.
The 1958 Rutgers team lost only one game against Quantico, a game you did not play in. Did you want to play in the game and do you regret not playing in the game?
Sure, I wanted to play and was very disappointed that I was unable to. I broke two bones I my hand in the previous game, had to wear a hard cast and was not allowed to play. Coaches and doctors were afraid that I could have permanent damage. The cast was removed after that week, and I was able to play vs. Colombia [the next game on the schedule].
In your career at Rutgers, which game was the most memorable?
Princeton, opening day, September 1958 at Palmer Stadium in Princeton. We had not beaten them in 10 years, and I said at the team banquet in the spring "after we beat Princeton, we'll go on and win every game." We beat them 28-0 and I ran for two touchdowns and passed for two.
Which was a bigger accomplishment for you, being an AP First Team All-American or a Heisman finalist and why?
It's hard to separate the two since they are so inter-connected. I guess the All-America honor because all the other backs have made it into the National Intercollegiate Hall of Fame.
Were there any qualities you learned from your experience at SPFHS that were indispensable to your success as a CEO?
The importance of learning the basics of the particular arena you're in, working hard as a team to achieve a clearly defined strategy and trusting all members of the team to do their job.