Interview: Hall-of-Famer Peter Schultz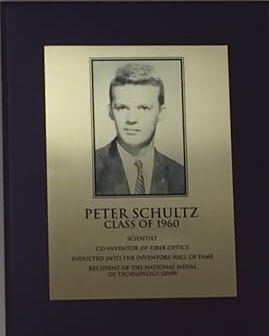 By Peter Warren
Peter Schultz was a member of the 2014 SPFHS Hall of Fame Induction class. Schultz, a 1960 graduate of the high school, was the inventor and refiner of the fiber optic with Robert Mauer and Don Keck. The fiber optic is used in telecommunication systems and is the basis of the Internet. Along with inventing the fiber optic, Schultz has over 20 patents and numerous awards. He was given the National Medal of Technology in 2000 for his work with the fiber optic by then-President Bill Clinton. Other notable awards include being inducted in the National Inventors Hall of Fame in 1993 and a member of the Rutgers University Alumni Hall of Fame.
Q: What is it like to be inducted into the SPFHS Hall of Fame?
A: I am very proud of the honor and pleased that the school where I first learned the principles of science recognized where it led me.
Q: What is your favorite moment at the high school?
A: I have several: first, I was very happy and surprised when in my senior year I was inducted into the National Honor Society and got to wear a gold tassel on my graduating cap (it especially made my mother very proud of me). Second, I became high scorer in Union County playing soccer for SPFHS. Unfortunately, I soon after broke my wrist on a rough play and was out for the last few games.

Q: When you were asked to work on the fiber optics project, did you think the work would be so successful and used as much as it is today?
A: When I was asked to work on fibers I thought it was a really long shot to try to make them pure enough and perfect enough to transmit signals over long distances. At the time they could only transmit laser signals a few feet. After six years of work, we succeeded in making them transmit signals several miles and then many miles.  To this day, all fibers used for communications are still based on the same materials and processes that we invented. I thought at the time they could certainly play an important role in improving communications, but had no idea how big that improvement would become.

Q: You have over 25 patents. Other than the fiber optics, what other patents and successful experiments are you extremely proud of?
A: I helped develop the windshields used on the space shuttle and the special astronomical mirrors used for space exploration. It was exciting to be a part of those developments too.

Q: What was it like being awarded the National Medal of Technology?
A: It was a highlight of my career. I was thrilled to be standing in the Oval Office and presented with such an award personally by the President. I never imagined as a young scientist starting out that I would achieve such an honor in my career.
Q: How does the induction into the SPFHS Hall of Fame compare to your other awards?
A: Of course, it is also very important, especially since it was at SPFHS that my interest in science really began. If it wasn't for the opportunities I had at SPFHS, I could never have taken the career path that I did. The strong education I obtained was good preparation for the years ahead in college and beyond. I am forever grateful for that. It is a real honor to be recognized by the school where it all began and I hope it inspires other young students to try their best. You never know where it might lead you.