Public school athletes transferring to private schools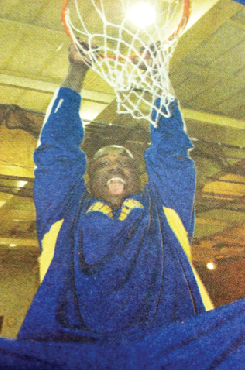 By Robert Fallo
   Sports prodigies usually never line up on a field, court, or rink for a public high school. In the case of Scotch Plains-Fanwood High School, three athletes, Derrick Caracter, Lance Thomas, and Rashan Gary, gave a public school a chance.
   All three of these athletes were or are (for the case of Gary) highly ranked national recruits. In addition, all three of these former students could be considered the best athletes in recent school history. Caracter went on to the NBA. Thomas currently plays basketball for the Oklahoma City Thunder. Gary is now enrolled at Paramus Catholic (a nationally ranked high school football juggernaut) and has garnered over 20 Division I football scholarships, most notably from Alabama, Florida State, and Ohio State. Gary was most recently named NJ Defensive Player of the Year by nj.com.
   Unfortunately, none of these star athletes graduated from SPFHS, or were even enrolled after their sophomore year. Caracter played only his sophomore year while both Gary and Thomas attended SPFHS through their freshmen and sophomore years.
   Leaving a school should not be controversial, but when these star-studded athletes leave a public school for a private school with a better athletic program, it begs a sizeable question. Do private schools recruit public school star athletes although doing so is illegal?
    "I think it's ironic that the top end sports stars tend to go to these non-public schools," said SPFHS Athletic Director Ryan Miller. "I haven't been able to come up with any concrete evidence and have failed when tried, so I can't state that there is evidence of recruiting. But I can say that it's highly ironic that top end stars end up going to certain programs."
    After attending SPFHS, all three of these athletes played for colossal programs. Caracter transferred to St. Patrick's, winners of five NJ state championships who produced NBA stars such as Kyrie Irving and Al Harrington. Thomas decided to attend a Saint Benedict's school that has a basketball program consistently in national rankings and giving way to NBA talent such as J.R. Smith. As previously mentioned, Gary's new school, Paramus Catholic, has the resume this moment to be considered the best high school football program in the nation.
  Although Miller did not have any "concrete evidence," varsity basketball head coach Daniel Doherty does. "Lance [Thomas] did say during his freshman year that a private school was constantly calling his home," said Doherty. "We were going to report it to the NJSIAA if it continued."
    On the other hand, principal Dr. David Heisey believes there was "no evidence of recruitment" for the athletes that left SPFHS. Despite saying this, Heisey admits that high school recruiting is a "nationwide issue."
    All these athletes have something in common, but there was no evidence of recruiting as the reason why they left. High school recruiting may be a problem in the country, but as of now, not at SPFHS.