Functional Performance Therapy service yields potent results for student athletes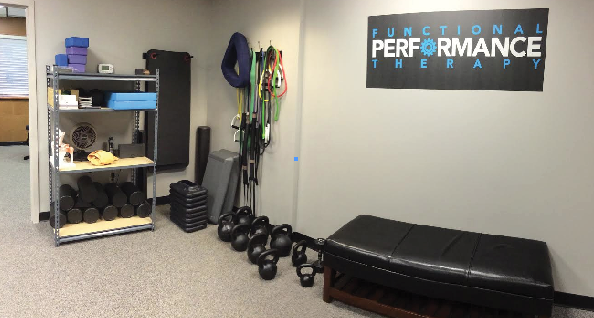 By Paige Heiden
   Functional Performance Therapy (FPT) opened a new facility a year and a half ago at their chiropractic practice in Fanwood, New Jersey. Dr. Danielle Damelio and Dr. Justin Rabinowitz run a business designed to give athletes effective recoveries from their injuries. FPT is not a traditional physical therapy or chiropractic setting. Rather than simply focusing on a body part that is injured, Damelio and Rabinowitz treat clients in a more unique way, by correcting the causes of the problem. These two doctors investigate patterns in movement and the way body parts function, working on areas around and in addition to the actual injury. According to their website, www.fptnj.com, "by assessing movement patterns and function, the doctors not only get rid of pain but also deliver strategies that provide long-lasting relief."
When and why did you become interested in sports injuries and this career?
    Justin: I was an athlete all my life, growing up, playing all sports, and focused on baseball and football in high school. In college I played baseball, so sports have been a part of my life as long as I can remember. From an early age, I knew I didn't want to do the typical job and wanted to work with athletes in some form or another. My other interest was sports injuries and human biomechanics. Even before I knew I wanted to do something medical, I was really interested in the mechanics of sports. I knew it was something that came natural to me as I would often help teammates when I saw a mechanical flaw while they were hitting. I realized that these improper mechanics were leading to injury. I think I intuitively realized that learning the medical side of things could "complete the circle" of knowledge to learn cause and effect.
   Danielle: I always knew I wanted to be in the health profession since childhood. I was a competitive gymnast and was always hurt in some capacity so saw many different types of doctors.  I always received the most relief from manual medicine and was always more drawn to a more natural approach to health that did not rely on pills and surgery.  I never found someone to fill the rehabilitative and preventative role, though, as we have filled it at FPT, and feel that had I been exposed to this type of care, my athletic career would have been longer and healthier.
What are the biggest personal accomplishments you have both had in your careers?
   Justin: As a student, my peers knew I had an interest in sports and would always ask me if my goal was to work with a professional sports team. I always said it wasn't my main goal but if it happened, it would be a nice thing. What I said I really wanted to do was be able to work with a college because I felt I could have more of an impact on the athletes at that level. While in school, I thought that maybe one day I would have that opportunity but probably not anytime soon. We (Danielle and I) got to spend the season as the consulting chiropractors with the Rutgers University Gymnastics team. It was a great opportunity and something I never could have imagined doing so early in my career.
   Danielle: Personal accomplishments have been to be able to work with professional athletes of the National Football League, National Basketball Association, National Hockey League, Olympic track and field, professional skateboarders and Motocross, professional Beach Volleyball as well as Rutgers Gymnastics.  My biggest accomplishment, as cliché as it sounds, is being able to successfully run my business that I started from the ground up and to say that I truly have found a career that I love and do not view as a job.
How does Functional Performance Therapy differ from traditional physical therapy? How is FPT a better option?
   Justin: The other thing that sets us apart is that we spend the vast majority of our time one on one with the patient for up to one hour for a new patient exam and usually anywhere between 20 and 40 minutes on a follow up appointment. We know that in the current state of health care, that one on one personal attention is a thing of the past. However, we have the attitude that we treat every patient just like we would want our own family to be treated. And we really live by that. I send my family members to be treated by Dr. Danielle and I often treat her family.
    Danielle: After coming for treatment, most people refer to us as physical therapists because of the style of treatment they receive. People are conditioned to think that if you do exercise, it must be a physical therapy place. We are actually doctors of chiropractic and very proud of it. Traditionally, chiropractors have been the ones to adjust or manipulate the spine and physical therapists are the ones who do exercise. The most important misconception I could clear up is yes, we are chiropractors. But we do other things than just adjust. That is not to say that we do not do classic chiropractic manipulation. We certainly do it when we feel it is the right treatment. Similarly, we will do soft tissue or massage type work when necessary and even classic strength training. It is truly patient-specific and situation-dependent. We do what the patient needs.
What are the most common injuries you deal with? Do you see patterns in injuries with athletes who play the same sport?
   Danielle and Justin: The cool part about working with athletes is that the injuries are always something different. We still see many 'classic chiropractic' cases of back and neck pain, however we run the gamut of other injuries literally from head to toe. Some examples: ankle sprain, knee meniscus, shoulders, labrum tears. The overuse injuries are a huge problem in youth sports today. We could talk about it for days as research more and more shows that doing the same thing year-round inevitably leads to injury. Ironically, a sport like football, which has its own concerns with the concussion issue, actually has the least amount of overuse type injuries because kids usually just play 12 games per year and that's it. This is in stark contrast to something like soccer, baseball, or distance running as many of these athletes go from fall to winter to spring to summer doing the exact same activity with no rest and no change in activity. This is generally a recipe for disaster and overuse type injury.
Describe some of the treatments you offer to patients.
   Danielle and Justin: Our treatments include: manual soft tissue work, instrument assisted soft tissue work, therapeutic and kinesiological taping, chiropractic manipulation, functional exercise and rehabilitation, and therapeutic ultrasound and electric muscle stimulation.
What are your goals for the future?
   Danielle and Justin: Our goal in the future is to continue to expand and grow the practice so that we can help as many people as possible. Both of us suffered from injuries as youth athletes and strive to give the type of service we did not get at the time. Nothing is more satisfying to us than getting a patient back to doing the things they enjoy and for athletes, doing them at a high level.