Successful alumni inducted into prestigious SPFHS Hall of Fame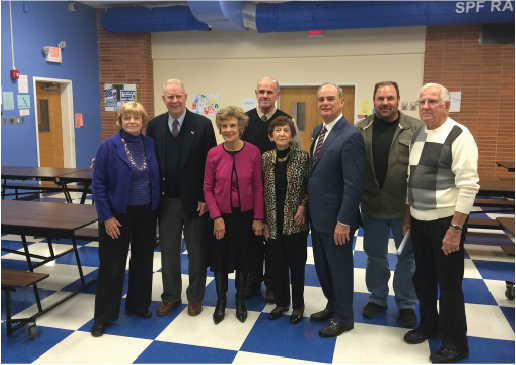 by Peter Warren
    On Nov. 18, the Scotch Plains-Fanwood High School Alumni Association inducted five accomplished alumni into the school's Hall of Fame.
   The five inductees were All-American football player, Heisman finalist, successful businessman, and 1955 graduate Bill Austin; co-inventor of the fiber optics and 1960 graduate Peter Schultz; local detective and 1962 graduate Carl Sicola; Emmy and Tony Award-winning actress and 1945 graduate Sada Thompson; and Vietnam war hero and 1948 graduate Colonel Richard Wood. Of the five inductees, only Wood attended the event. Both Sicola and Thompson are deceased, while Schultz was away in England on business and Austin was attending to a personal matter.
   The nominators of each candidate gave a speech on the accomplishments of their nominee. Sada Thompson's classmate and good friend, Barbara Lea Couphos, gave the speech about her; Gene Schiller presented about Richard Wood; SPFHS Hall of Famer Marie Leppert gave the speech about Bill Austin; Principal Dr. David Heisey gave the speech about Peter Schultz; former governor, SPFHS Hall of Famer, and master of ceremonies Donald DiFrancesco presented about Carl Sicola.
   Couphos' speech on Thompson was filled with career highlights and memories of her good friend. She also talked about the rave reviews Thompson was given during her career. Thompson played the mother of the main family on the 1970s television show "Family" and was also acclaimed for her performances in "Twigs" and "The Effect of Gamma Rays on Man-in-the-Moon Marigolds."
   Up next was Schiller, whose introduction speech on Wood was factual. He talked about Wood's high school life and his career in the military. While serving in Vietnam, he was awarded a Silver Star for leading his understaffed troops against the North Vietnamese and forced them to retreat.  He then introduced Wood, who came up to the podium to give his speech. An emotional Wood gave a pleasant acceptance speech, spending most of it thanking his friends, family and co-workers. He ended his speech simply and from the heart. "It is with great pleasure that I take my place among the members of the Scotch Plains-Fanwood High School Hall of Fame," said Wood.
   The presentation about Austin by Leppert focused as much on his All-American football career as his successful business career. After his football career ended, Austin became an important businessman, working for multiple bicycle companies. "[Bill Austin] evidently turned out to be a fantastic executive as well as a football player," said Leppert.
   Dr. Heisey then presented a speech on Schultz. Heisey and Schultz had first met when Schultz visited the school years ago and have kept in touch ever since. Heisey spoke about his encounters with Schultz and why he felt he is a deserving member of the Hall of Fame.
   After Heisey's speech, DiFrancesco read an induction speech by Schultz that he had sent from England. "Thanks to my Scotch Plains-Fanwood High School education, I was well-equipped to handle college and went on to earn my PhD from Rutgers as well in 1967," said DiFrancesco,  reading Schultz's speech; "The rest is history." After earning his PhD, Schultz was a co-inventor of the fiber optic, which is  important in telecommunications and the basis of the Internet. He is also a successful executive in the optics industry.
   DiFrancesco's speech about Sicola, who was his classmate and friend, was very touching. Sicola was a man of firsts and also a man of the people. He was one of the first individuals to work undercover for the Hudson County prosecutor's office, one of the first detectives to specialize in narcotics for the Union County Prosecutor's Office", and helped organize multiple clubs at the high school including DECA and the Student Leadership Conference.
   The event took place in the cafeteria, was well attended and lasted for a little more than an hour.
   Leppert, an SPFHS Hall of Famer herself, hopes this is the beginning of a long, annual tradition. "Dr. Heisey and I are hoping that now [the induction will be done] every year, which was the original intention," said Leppert. "It should be annual."