Ice Hockey Team Preview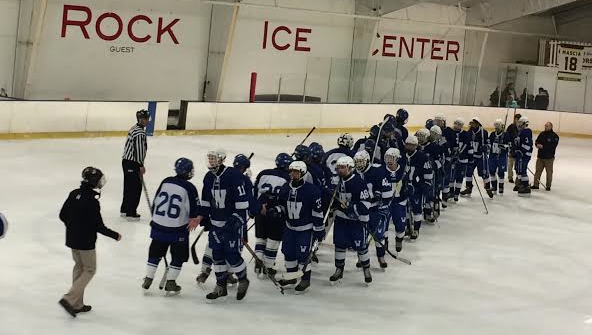 Last Years Record- 6-16-2
Coaches- Matt Gunther and Matt Giannacio
Home Venues: The Rock Ice Center in Dunellen and Warinanco Park (Roselle)
Key Players- Forwards John Bruckman (captain), Davey Leong (captain), Jared Figueroa, and Nick Cassara
Big Games- vs Westfield on Dec. 7 (6-4 win)
at Westfield on Jan. 28
at Governor Livingston on Jan. 30
Team Preview- The Ice Hockey team has only been a varsity team for nine years, but they have made their mark around the school. Fans are always drawn to hockey games through the good times and bad. The team finished 6-16-2 last season, and graduated leading point scorers Eric Hogan and Tyler Hardgrove. The team will be led by seniors Davey Leong and John Bruckman, who hope to bring production on offense this year . "The team has looked solid so far, and we are looking to build off of successful early season play," said senior goalie Mike Illanovsky. The hockey team will be playing different teams this year than they have in previous years, which will hopefully give them a more successful record. There division is composed of teams such as Oratory Prep, Governor Livingston, and Dayton to name a few. They are already off to a roaring start with a 6-4 victory against archrival Westfield.
Bottom Line- After early season wins against Westfield and Pennington Prep, the team will be able to contend for a county title if they can continue their strong play in the third period.
Team Input- "It's no secret that we play our best in the third period while we our behind. The team has a lot of potential and leadership. If we can play all three periods like the third period we will be a team to watch," said senior goalie Michael Illanovsky.