Seniors prove their worth on and off the field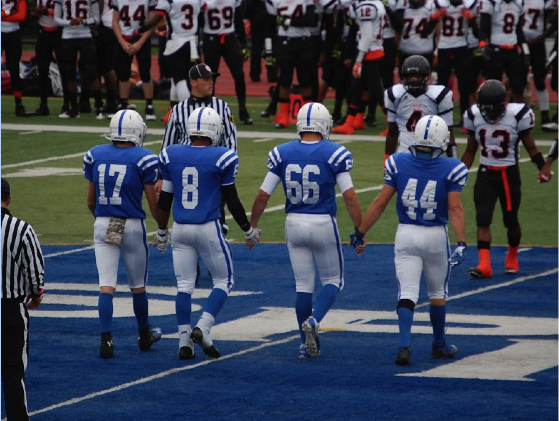 by Robert Fallo
   People who have heavy influence in a locker room can prove to either help or hurt a team. This year, the senior class for the varsity football team has proven that they can hold a team together.
   Although the team was predicted by NJ.com  to finish second to last in their new division, the Raiders have been playing like a playoff-caliber football team so far. The Raiders are looking to make the playoffs for the third straight season.
   Determination is a word that senior team captain Andrew Ciccarino often uses to describe the seniors. "We have been playing together for five to nine years and we know this is all we have left," said Ciccarino.
   Not only have the seniors made an impact on each other, but also they have impacted underclassmen on the junior varsity level as well. Since March, both football teams have come together to meet in the weight room and at practice. Through all the events, bonds between seniors and underclassmen have become tighter. "Seniors depend on underclassmen for a lot of things," said Ciccarino. "And for that reason there is no reason to disrespect them or make them feel unwanted."  Ciccarino has set a good example for the team this year, ranking second on the team with 57 tackles through six games.
   Not only have "the seniors made the underclassmen better football players, but they have made them better people," said sophomore and JV football player Hunter Marshall. "They have taught me about leadership, responsibility, and how to be accountable for what I do."
   An example of senior leadership instilled in underclassmen is that of senior running back Kobe White. White is third in rushing yards in the Watchung Divison with 735 through six weeks. "The maturity level in our class is outstanding," said White. "Compared to last year the maturity level has skyrocketed."
   Aside from aiding underclassmen in becoming better people, the senior class is as hungry as ever to be winners. "We've all come together as a family and fight for one thing," said White, "Which is winning and ending the year being successful."
   State championships might not be decided until December, but the senior class doesn't need a trophy to prove that they have won the respect of everyone on the team.