After School Snacks in Seven Steps or Less
photo by Alexa-Jada Nelson

Breakfast Quesadilla: Put down the breakfast sandwich and pull out the spatula!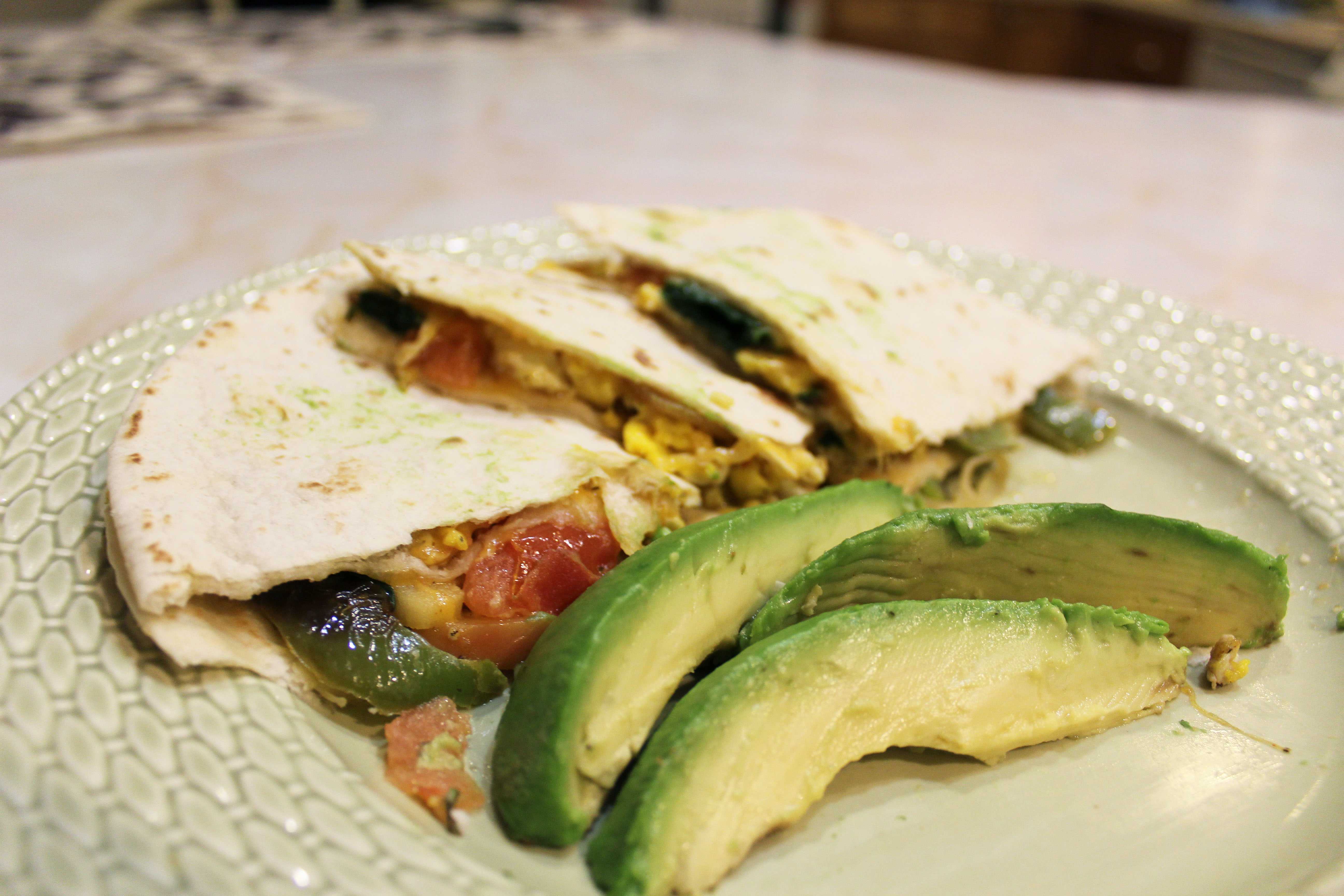 You will need:
2 Flour Tortillas
¼ a Tomato
¼ of an Onion
Spinach
Two eggs
¼ of an apple
2 slices of bacon ( turkey bacon, sausage)
⅓ cup Mexican Shredded 3 Cheese Mix
Frying pan
Olive Oil
Salt and Pepper
Instructions:
Prep:
Preheat oven to 350 degrees Fahrenheit. Chop vegetables and apple in small chunks. Set aside in a bowl.
Cooking:
Heat pan on medium heat. Add a handful of spinach and water that covers the spinach. Put a cover over the spinach, raise stove to high heat. Let the spinach steam for five minutes. Drain excess water and set spinach aside on a plate.
(You can skip these steps if you want the spinach raw or don't like spinach)
Dry the pan. Put on medium heat and pour in about two teaspoons of oil.
Once pan is heated, fry the eggs, adding salt and pepper to taste. Put eggs on the plate with spinach. Cook the meat then set aside on a plate. Add the apple/vegetable mixture to the pan, fry, then set aside on a plate.
Put foil in a pan and put a tortilla on it. Layer cheese, then the fried ingredients, then more cheese. Top off with another tortilla. Bake until the cheese is melted and the tortilla is lightly toasted, about 5-7 minutes. Enjoy!



Netflix and Chili: Don't be basic; use a bread bowl instead!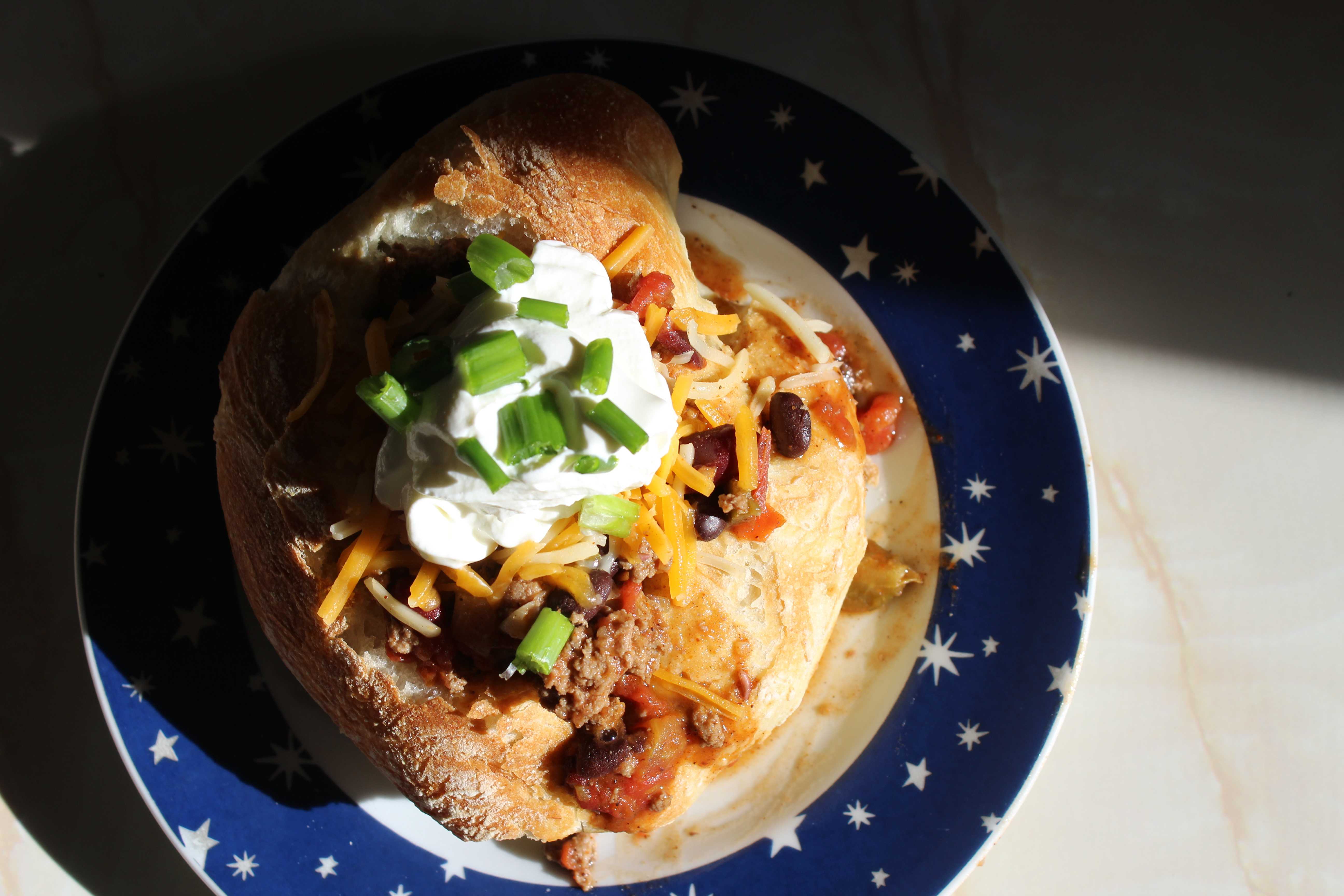 Recipe inspired by GimmeSomeOven.com
You will need:

1 lb. ground beef or turkey*
3 (15 oz.) cans diced tomatoes with green chiles
2 (15 oz.) cans beans, drained (black beans, kidney beans, a combo, or whatever you like)
1 small white onion, diced
2 Tbsp. chili powder
Cayenne pepper (optional)
Sturdy bread (i.e. sourdough)
(optional toppings: shredded cheese, chopped green onions, sour cream, cilantro, etc.)
DIRECTIONS: In a large stockpot, cook ground beef or turkey over medium-high heat until browned, stirring frequently.  Drain the excess grease. Add remaining ingredients and stir to combine. Bring to a boil, then reduce heat to medium-low, cover, and simmer for 15 minutes or until the onion is cooked and softened. Prep the bread bowl by taking a roll and taking out the "stuffing". Pour the chili into the bowl and add additional toppings.
CAUTION: Leave enough stuffing on the bottom and along the sides so the chili won't soak through.




Chocolate-Covered Almonds: Almonds are good. Almonds with chocolate are divine!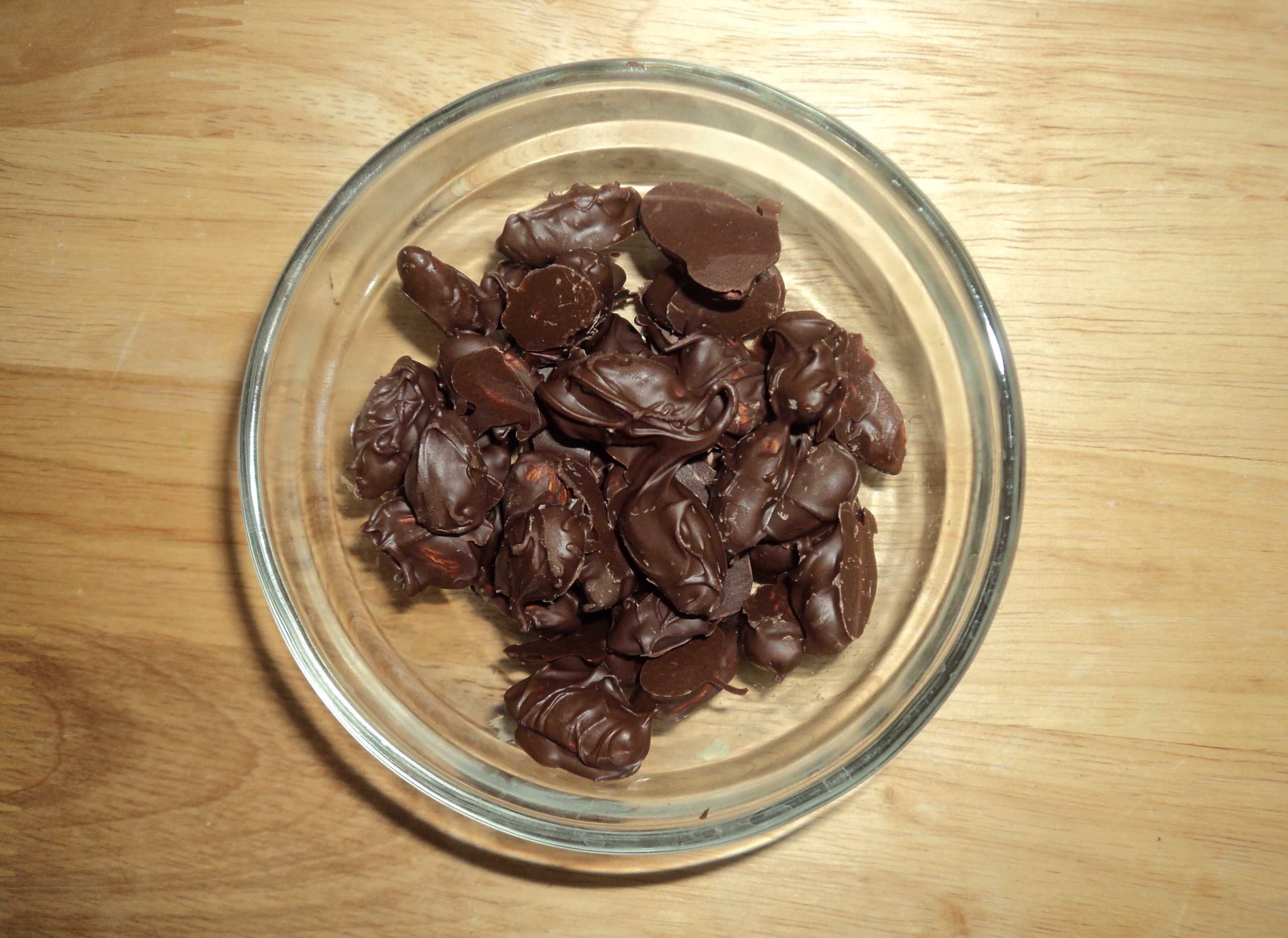 Recipe inspired by sallysbakingaddiction.com
You will need:
Almonds (Raw)
Chocolate Chips (Milk, Dark, or White)
Sea salt, optional
Medium bowl
Baking sheet
Medium saucepan
Instructions:
Prep:
Align baking sheet with wax paper
Cooking:
Fill saucepan ¾ with water and put a medium metal bowl over it. Put the stove on high heat. Pour the chocolate chips into the bowl and let the chocolate melt for 10 minutes. Turn off stove when melted.
Put almonds in the chocolate and make sure they are coated. Take out almonds one at a time with the fork and place them gently onto the wax paper.
Sprinkle almonds with additional toppings then allow the almonds to set (put baking sheet in the fridge to speed up the process).



Saltine Toffee Bark: The perfect combination of sweet and salty to satisfy your cravings.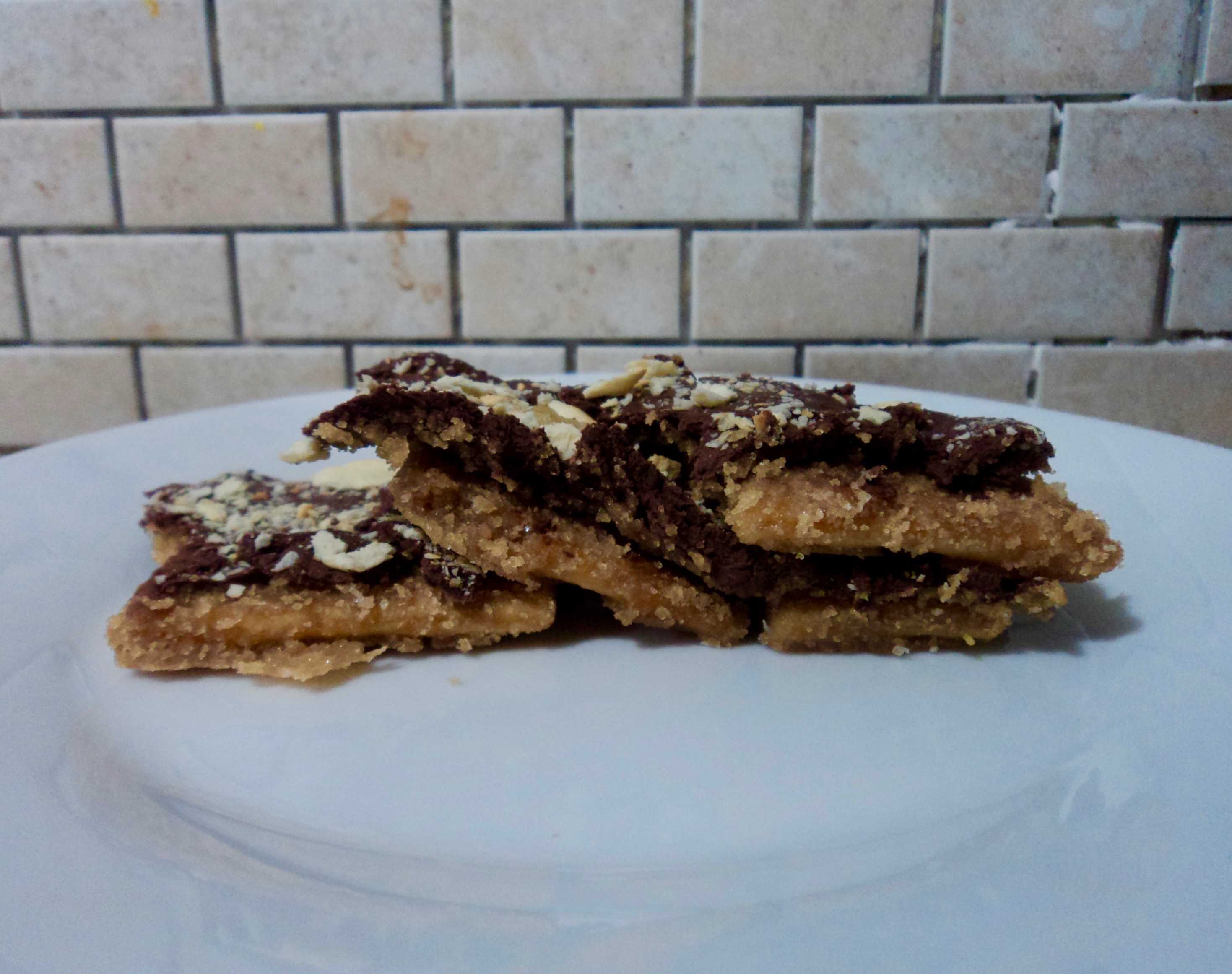 Recipe inspired by about.food.com
You will need:
1.5 sleeves of saltine crackers
1 stick (4 oz) butter
1 cup packed brown sugar
2 cups chocolate chips
Baking sheet
Small saucepan
Spatula/knife
Instructions:
Prep:
Preheat the oven to 350 degrees. Prepare a baking sheet by lining it with aluminum foil and grease it.
Cooking:
Arrange the crackers in a single layer on the baking sheet so that there are no empty spaces in between them. Crush any remaining crackers into small crumbs and set aside for now.
Place the butter and brown sugar in a small saucepan over medium-high heat.
Stir while the butter melts, and bring the mixture to a rolling boil. Once boiling, carefully pour the sugar-butter mixture over the crackers on the baking sheet in an even layer, trying to cover most of the crackers.
Bake the toffee crackers at 350 degrees for five minutes, until the toffee is bubbling all over. Carefully remove the pan from the oven and allow to cool for one minute.
Sprinkle the chocolate chips on top of the hot toffee, and allow them to sit for one minute to soften and melt. Once softened, use spatula or knife to spread the melted chocolate over the entire surface of the toffee in an even layer. While the chocolate is still sticky, sprinkle the top with the reserved crushed crackers.
Refrigerate the pan to set the toffee and chocolate for about 30 minutes. Once set, break into pieces by hand, and enjoy!



Iced Coffee: Why pay for overpriced coffee when you can make your own? Save yourself a trip to Dunkin' in the morning and make your own iced coffee.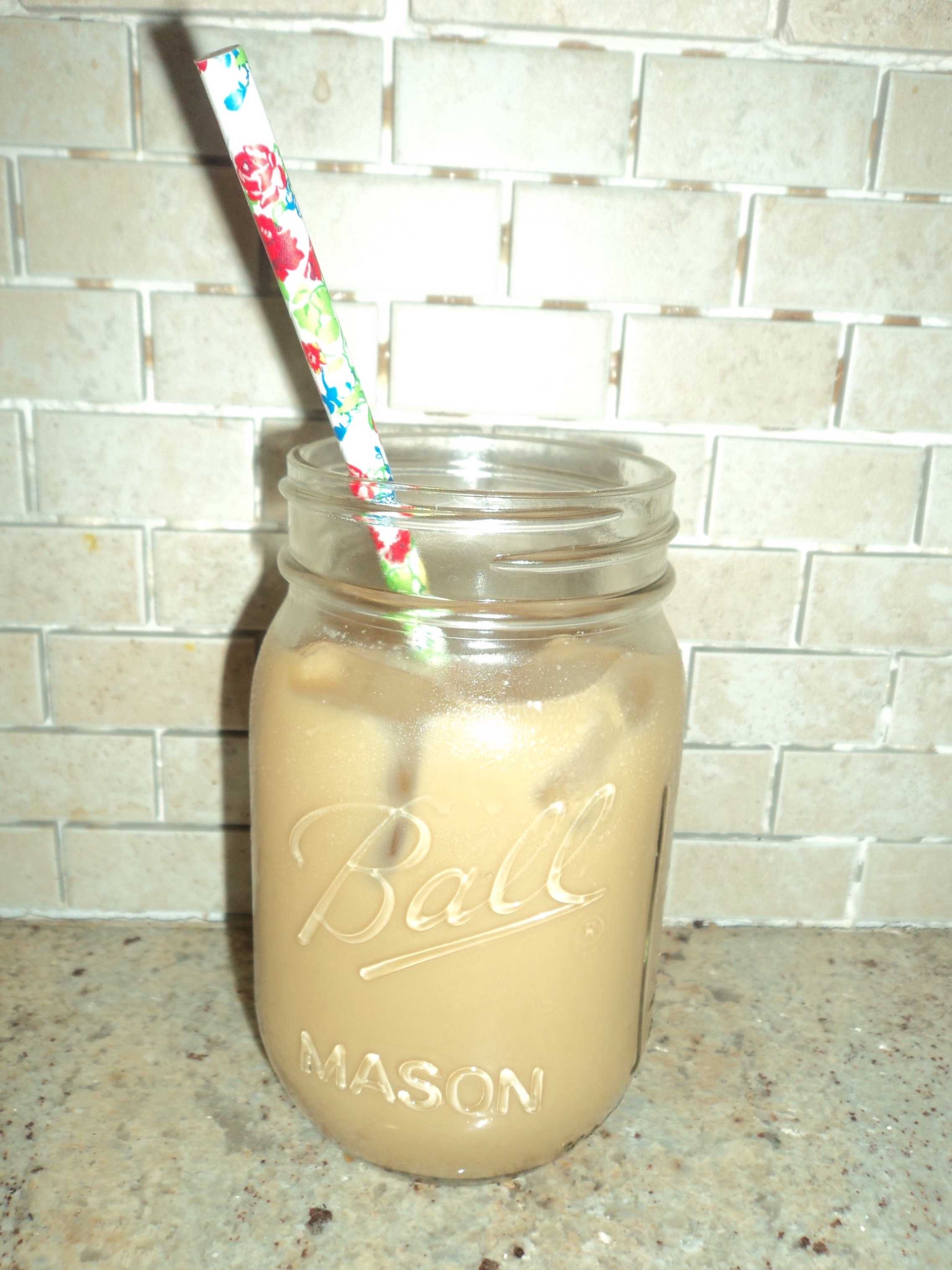 Recipe inspired by allrecipes.com
You will need:
Coffee
Coffee ice cubes
Milk
Sugar
Cup/glass
Ice tray
Instructions:
Prep:
To make Coffee Ice Cubes: Brew coffee and pour into a clean ice tray. Freeze until solid.
Cooking:
Fill a tall glass with coffee ice cubes. Pour in the cold brewed coffee. Sweeten to taste with sugar. Add milk as desired.
To Make Cold-Brewed Coffee: Place the coffee in a glass jar, add the water, and stir to combine. Cover and set aside at room temperature for 12 hours or overnight.
Strain the coffee through a large-size paper coffee filter, a fine sieve, or a strainer lined with cheesecloth. Cold-brewed coffee can be refrigerated in a covered jar for up to 24 hours. This recipe can be doubled.