Freppes Brings Out Exceptional Tex-Mex Cuisine for the Community
Freppes Tex Mex in Plainfield, NJ brings out an influential mix of Mexican and Southern American features. Of course, there is the usual meal containing tacos and burritos, but there are other delicacies such as chimichangas (fried burritos), and tortas (sandwiches) which captures the true essence of Tex Mex cooking.  
"Freppes is different from a normal Mexican restaurant because our food is not only Mexican but also includes American influence," senior Ryan Chaillet-Grande said. "Not only that but many of our food options can be customized to the customers' liking."
If you're a student here at Scotch Plains Fanwood High School, or a local community member, Freppes Tex Mex in Plainfield, NJ, is the ideal spot to indulge in these delicious recipes. 
Not only is the food that stands out the most about Freppes, but the hospitality that each customer experiences when entering the restaurant is splendid. SPFHS has a great reputation at Freppes as many of their employees are also students here as well. 
"Working there is a very fun experience," Chaillet-Grande said. "It's weird to call it a job because it really doesn't feel like it a lot of the time. I for one enjoy meeting new customers every week, and working with many of my friends is also a very big plus." 
The staff alone believe that the food is top-notch and delicious. Each employee makes an effort to try to sneak in a bite while they have the time to.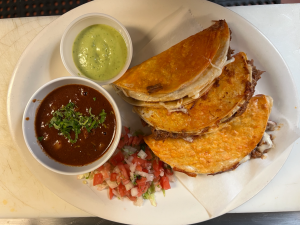 "The thing I like most about working at Freppes is the food," senior Ben Cohen said. "I always get food whenever I am not working and it is always really good. I also come in all the time off the clock and get dinner." 
Looking at the menu there are countless options to choose from that can fit the likings of everyone. Freppes has Tacos like the Tacos Birria or the Tacos Al Pastor, they have Fajitas, multiple seafood dishes, appetizers. You can even combine multiple options together in their Combination Platters.
"The best thing to order are the Spicy Chipotle Cream Chicken and Shrimp Dish as well as the Tacos Al Pastor," Cohen said. 
Restaurant debates will never go away. I get that. That's why it takes my family five hours to decide on dinner because we can't decide on where to order in. However, Freppes Tex Mex defies the odds. It outplays all of the other Mexican restaurants near and far because it is inclusive, has a respectable menu, most importantly, flavorful. 
"People should come eat here because there aren't any Tex-Mex places around here, at least good ones," Chaillet-Grande said. "Not only for the food but as well as the welcoming staff."
"I think that Freppes has a very authentic menu and atmosphere," Cohen said. "This is why I think it is one of the best Mexican restaurants around." 
Grab your friends, family, and coworkers. Come on down to Freppes Tex Mex in Plainfield, NJ to enjoy a delicious, exceptional lunch or dinner with some authentic Tex Mex cuisine.