Korean Fried Chicken restaurant offers tasty and unique experience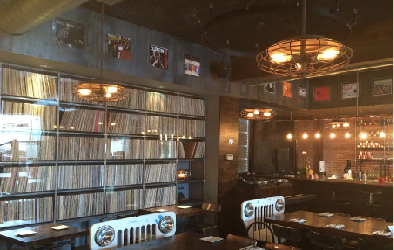 by Connor Danik
Recently opened in downtown Westfield, Roosterspin offers Korean cuisine with their famous fried chicken as the featured item of the menu. With tasty food that appeals to all taste buds, Roosterspin is a great restaurant in which to relax and eat with friends and family.
The atmosphere at Roosterspin is mellow and relaxing. With the records of Duke Ellington and Ella Fitzgerald hung up on the wall, and the smooth voice of Frank Sinatra echoing in the background, the restaurant gives off a soothing ambiance. "I think the thing I liked most about Roosterspin was the atmosphere," said senior Kalen Pagano. "The simple, but elegant design made me feel relaxed immediately."
The fried chicken is their speciality and the star of the menu. The chef deep fries it twice to burn off the fat, which makes the skin extra crispy on the outside and juicy on the inside. Each piece of chicken is then brushed with a choice of soy garlic or hot and spicy sauce. The chicken is cooked fresh to order and may take up to 25 minutes to achieve its crispy perfection. The hot spicy sauce is delicious, but can be overpowering to those who do not enjoy spicy foods. On the other hand, the soy garlic sauce gives a sweet tang that adds a different dimension to the chicken. "The garlic and spicy chicken was both delicious," said junior Sammy Sadel. "However the garlic type were my favorite because the spicy wings were so hot it made me tear up."
Roosterspin is unique from other fried chicken restaurants as it does not offer chicken breast. Instead it offers a mix of wings, drumettes, and drumsticks. The regular portion offers 12 pieces while the large offers 24. A meal does not come cheap at Roosterspin; portions cost $18.00 and $24.00 respectively.
One appetizer that is delectable is the Roosterspin fries. The fries are wedged and thick cut with rosemary sprinkles topping it off. To complement it, the fries come with a spicy mayo and bacon mustard sauce on the side. The only negative aspect is the price. The fries cost $9.00 but the addition of two complementary delicious gourmet sauces makes the price acceptable. In addition to the fried chicken and fries, Roosterspin offers sushi with three unique rolls as well: a spicy tuna roll, a spider roll, and a snow corn roll.
While Roosterspin is a relatively expensive eatery, the quality of the food speaks for itself. Offering tasty items such as fried chicken and exquisite sushi rolls, the restaurant will continue to attract students and the community. The restaurant has a welcoming ambiance and lively atmosphere that enhances the eating experience.
"The prices are a little steep for a student, but it's good quality food and I will definitely go back soon," said senior Erica Berkowitz.