Frozen 2 storms into theatres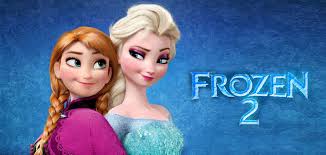 Fans of the Frozen franchise flooded theaters the past few days to witness the sequel for their own eyes. Hitting the big screens Nov. 22, people of all ages shared an excitement for the movie that many shared a love for since 2013. This movie shared brand new songs and a new story line that had the Disney Magic movie goers know and love.
Students at Scotch Plains-Fanwood High School took part in the viewing of Frozen 2.
"It definitely wasn't what I expected but it was pretty good," sophomore Ava Chin said. It was kinda confusing in the beginning but as the movie went on, it made more sense. There were a lot of good songs and I liked the story line."
The movie includes an all new soundtrack with songs such as Into the Unknown, All is Found, Whiteout, and more.
"I like how they gave the male a whole ballad about his feelings because it stops the idea of toxic masculinity for the little boys watching the movie," movie goer, Peri Roper said. "I'm glad it gave all the characters an ending where they truly felt happy and not just okay with where they were."
However, some people did not enjoy this movie. Opinions are mixed, is Frozen 2 better then Frozen? Was a sequel needed at all?
"I think that it's a good movie, not anything spectacular, it's a Disney sequel," junior Evan Libby said. It's a lot different from the first one, it's more fantasy and less Disney princess. The songs were good. Into the unknown was what they tried to make the new let it go."
Frozen 2, a success or another unnecessary sequel? One thing is for sure, Disney never fails to include that lovable Disney magic.