The Help stars wander onto the small screen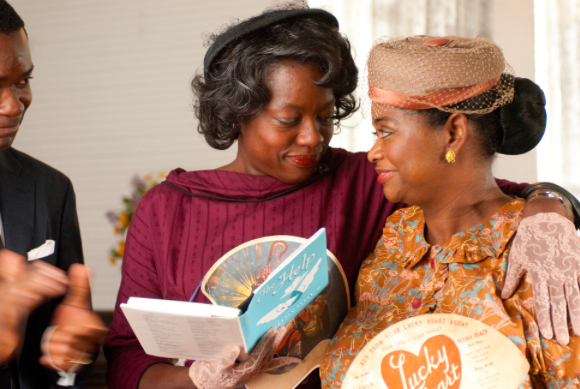 by Hannah Simon
Octavia Spencer and Viola Davis, best known for their roles in the critically acclaimed film The Help, make their move to the small screen. The Help was nominated for four Oscars and four Golden Globes, with Spencer taking home the award for best supporting actress. Davis was nominated for best performance by an actress in a leading role for both awards. Recently, both well-respected co-stars moved from the big screen to the small screen's most anticipated new shows of the fall season. "I thought The Help was a great movie and I thought the acting was good by Spencer and Davis," said junior Paige Crandall. "I think both [actresses] bring the same quality of acting to their new shows, which makes them even better [to watch]."
Spencer and Davis are not the only ones to make the switch. Matthew McConaughey and Woody Harrelson are now starring in HBO's True Detective. Anna Faris stars in CBS' Moms, and James Spader stars in NBC's The Blacklist. Television is a booming industry, and Hollywood's biggest actors are beginning to realize that fact.
In fall's top new shows to watch, Davis' How To Get Away With Murder and Spencer's Red Band Society top the charts. How To Get Away With Murder airs every Thursday night at 10 p.m. on ABC. The show features Davis as an intimidating and intense law school professor. With many twists and turns, How To Get Away With Murder includes numerous affairs, a multitude of murders, and many unanswered questions.
Red Band Society airs every Wednesday night at 9 p.m. on the Fox network. It is based around a group of teenagers living in Los Angeles' Ocean Park Hospital and the adults who guide them. Spencer appears as a blunt, sassy, but caring nurse in the pediatric wing of the hospital.
Spencer takes more of a comedic role in the television show, as she did with Minny Jackson in The Help. This parallels Davis whose intense role in How To Get Away With Murder reflects that of the more serious role that Davis played in The Help as Aibileen Clark.
Is it a coincidence that both co-stars moved down at the same time? Probably not. "I don't think it's just a coincidence. These are the golden years of television and with Netflix allowing for widespread audiences, they realized TV is a great market to jump into instead of movies," said Crandall.
It is no surprise that Davis and Spencer got swept into two of this fall's most popular shows. They are both talented actresses with even more promising futures to look forward to.
If you are looking for a new show to watch this season, or want to wait until you can binge watch new shows on Hulu or On Demand, Red Band Society and How To Get Away With Murder are both worthy of a lazy night on the couch.