Colleen Hoover: The Face Of Modern Lit?
*spoilers for It Ends With Us and potentially other titles*
"Lily, you fell down the stairs."
I remember the gut wrenching feeling I had when I first read those words. The line comes from Colleen Hoover's book It Ends With Us, which had gained popularity in the past two years following its release six years ago. Hoover wrote It Ends With Us, a story that deals with domestic abuse, inspired by her mothers relationship with her father. Hoover makes the reader fall in love with Ryle at the same time as Lily, which makes the betrayal much more painful to read.
On Oct. 18, Hoover's latest release It Starts With Us —a sequel to It Ends With Us— came out, which has drawn more attention to Hoover.
Hoover, Booktok's reigning Queen, has taken the internet by storm in recent years. In the last few weeks, articles have been published by The New York Times and The Guardian about her.
Hoover, or 'CoHo', as she has been dubbed by her enormous fanbase, specializes in psychological thriller, romance and contemporary novels. On the New York Times best selling fiction list for combined print and e-book, Hoover has two titles listed: It Ends With Us and Verity. On the paperback fiction list, Hoover has three titles: It Ends With Us, Verity and Ugly Love.
"She very specifically writes about the emotional power of relationships and the worries and fears I think, especially girls have about relationships," said English teacher Kyle Townsend.
Hoover wasn't always a writer. She once pursued a career in social work before writing her first book, Slammed, in 2012 and self-publishing it when she was 32. She was already married and had three sons at the time. Hoover also co-owns The Bookworm Box. 
The Bookworm Box is a service that was started by Hoover and her sisters back in 2015. It is an autographed book subscription service that has a physical store located in Sulphur Springs, Texas. Books on the store shelves are donated and signed by the author, which then go to the purchasers who can get a signed copy by their favorite author.
Sophomore Sonya Shah spoke about her thoughts on the author.
"[Hoover] brings something different to [her stories] and genre of books," says Shah. "She tries to be [unpredictable] and writes a sort of 'different' type of novel than other authors."
Occasionally Hoover succeeds in trying to be unpredictable, but after you read a few of her books, it is easy to tell what is coming. A handsome man that seems perfect, but later it turns out he has done something terrible. The main character often forgives but sometimes, only sometimes, does she kick him to the curb. Hoover has come under fire before for claims of her 'romanticizing' and 'desensitizing' people to abuse and violent scenarios.
"As an English teacher who wants people to read who wouldn't otherwise read, I'm more open to people reading [her books], as long as they're able to have good discussions, either with their parents, their teachers or their friends about boundaries and relationships and being careful about those sorts of potentially abusive situations," Townsend said. "Ugly Love [and other titles] are not a good model for [young] girls to think about how to react when someone treats them nicely and then doesn't. And I don't know that they always get that when they read the book."
As It Starts With Us hits more shelves, readers should be wary of the content of the book —including trigger warnings and sensitive material. More information on her other novels can be found on Hoover's personal website.
Leave a Comment
About the Contributor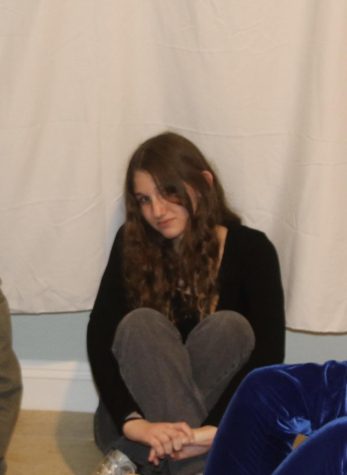 McKenna Dwyer, Staff Writer
McKenna is a sophomore staff writer for The Fanscotian. She is involved in multiple clubs at SPFHS, including French Club and Care for Kids, and she has...