"Addams Family" heads back to its roots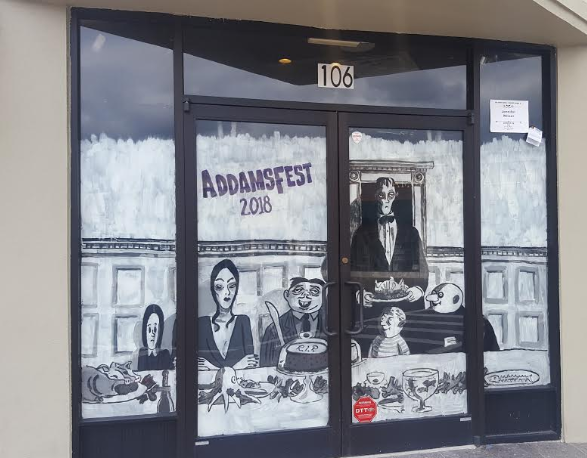 Does the name Charles Samuel Addams sound familiar? That would be because he was the cartoonist who created the famous characters known as the Addams family, and a Westfield native.
In honor of the cartoonist and his legacy, Westfield hosted a celebration called Addamsfest. The main events took place from Oct. 26-Oct. 28. However, starting on October 5th, Westfield families were decorating homes and Westfield businesses began adorning their shops with Halloween decorations. Visitors could also see Addams Family and Halloween Paintings in Westfield store windows.
Along with the window paintings, shop owners have been putting Addams family quotes on their windows. Japanese Restaurant Inspiration Roll used the Morticia Addams quote, "You're dearer to me than all the bats in all the caves in the world" and "What is normal for the spider is chaos for the fly" for their window.
Addamsfest kicked off on October 27 with an opening ceremony in Mindowaskin Park. Westfield Mayor Shelley Brindle spoke at the event and presented a skeleton key to the town for the occasion.
There were events for both families and adults. For kids, there were the Addams Family Fun Zone, Pugsley's Trunk or Treat and the Addams Family movie at the Rialto Theater. For more mature visitors, there were the masquerade ball, art hall, the musical Rocky Horror Picture Show at the Rialto Theater and the Paranormal Investigations at the Reeve House.
Local schools joined in on the fun as well. Emily O'Connell won the Westfield High School cartoon contest, with a cartoon depicted 6 insects sitting around a table like humans.
In addition, the town put on a house decorating contest and first place for the Haunt Your House competition was 440 Downer Street. Its decorations included Keep Out and Beware Spiders signs, spider webs, and giant spiders on the front of the house. There was also an art exhibit, which showed off Addams Family artwork.
Overall, the first ever Addamsfest was a success and adults and children alike enjoyed all of the festivities that were arranged.
For more information about the recent Addamsfest, go to www.addamsfest.com.