SPF Marching Band performs in Jets pre-game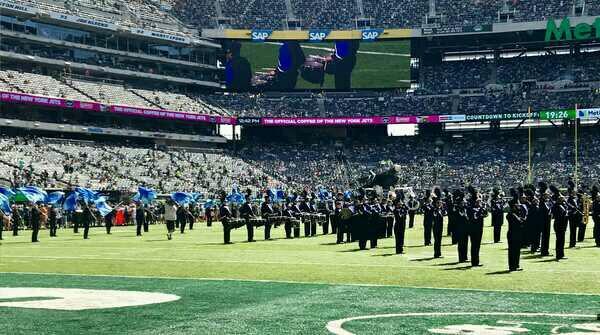 On Sunday, September 16th at MetLife stadium, both Jets and Miami Dolphins fans alike, watched as the Scotch Plains-Fanwood High School marching band took the field in the pregame.

The SPF marching band marks the first high school marching band to ever perform for the Jets. The marching band were excited when they heard of this special opportunity from band director Durand Thomas. With the roughly estimated 84,000 spectators on the stands, students knew that they needed to give it their all.

"I don't think we've ever performed for that many people," Mr. Thomas said. "So I think that's something that the students are going to remember for quite some time."

Accompanied by parent chaperones, marching band and their staff arrived at MetLife stadium. After 150 students passed through the check-in process, they performed their modified stand-cheers for the Jets and Miami Dolphins fans. Marching band escaped the hot blazing sun as they went inside a tent, greeted with refreshing water and light snacks.

The marching band rested in their tent until it was time for them to leave for the stadium.

Once the marching band was done performing, they went back on the buses to change into normal street clothes and back into the stadium once again, to enjoy the rest of the game.

Although the band had to adjust to a whole new environment and audience, the group
prevailed through the roadblocks and were successful in wowing the spectators.

"All in all, I thought it was a positive experience," Mr. Thomas said, "I think the students handled it, very, very well."

The experience also helped to bolster the reputation of the marching band.

"It gave everyone there a taste of what marching band is," junior color guard section leader Summer Carver said. " I think helped people give more respect to their local high school bands and music departments as well.  

The SPF Marching Band hopes to continue their successful season at their next competition this Saturday, October 6 at West Orange High School.