Bring Your Child to Work Day delights children, students, and parents alike
English teacher Jillian Zarr's son reminds her AP English class that the earth is not flat. He gave memorable lessons at the beginning of period three-four.
On Thursday, April 26, teachers throughout Scotch Plains-Fanwood High School took part in "Bring Your Child To Work Day." Among the busy high schoolers, young children could be found walking through the hallways and sitting in classrooms, delighted grins on their faces.
A large number of teachers participated in the day, bringing children of all ages to school. One such teacher is history teacher Erin Sassaman, who brought her three-year-old daughter, Julianna, with her on Thursday. Many teachers, including Sassaman, found ways for their young children to be involved in the classroom, such as handing out supplies.
"She seems to [enjoy coming]," Sassaman said. "She likes the really long hallways for running."
Another one of the many teachers bringing children to work was gym teacher Lauren Mazzarella. Her ten-year-old, Nicholas, and six-year-old, Isabelle, joined her for the day. Mazzarella describes her son as an athlete, explaining how he enjoys spending the day in the gym. Isabelle, however, loved participating in yoga last year so much that she has signed up for yoga classes. Going to work with her mom helped her discover a new interest.
"They get to see [that] maybe this is the career they'll want to choose when they're adults," Mazzarella said.
Having so many cute children around definitely brightened the day of many high schoolers—but there was one "child" that stood out against the rest. Instead of a human child, math teacher Michael Hergenhan came to school with his corgi, Tucker, in tow. This adorable dog was the focus of much attention across the student body. He could be found on many students' Snapchat stories. Even students that did not have Hergenhan's class were stopping by to say hello.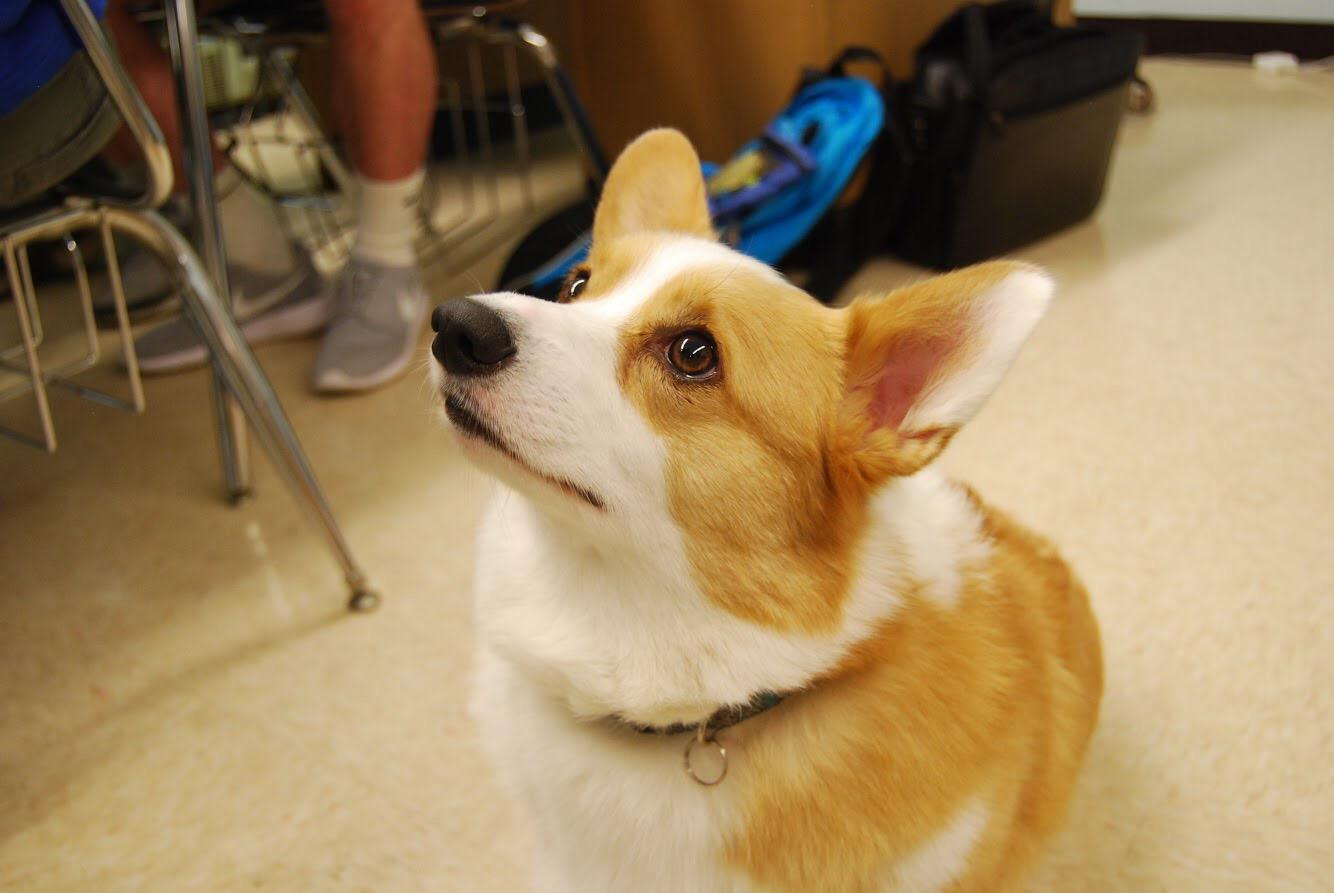 Tucker the corgi joined Hergenhan for the school day. Student, teachers and children alike loved his presence.
However, for the rest of the actual children present, "Bring Your Child To Work Day" was a great opportunity to see what their parents do during the day and learn more about different careers they may want to pursue in the future.
"I wanted [my daughter] to see that Mommy does other things during the day when she's at school," Sassaman said.
Overall, children got to spend a fun day with their parents, getting to also see them as both teachers and parents. High schoolers also had plenty of fun meeting and hanging out with the kids, adding an exciting aspect to the kids' day. To be able to share the experience is truly special.