Divinity LA Bracelets: the Charitable Trend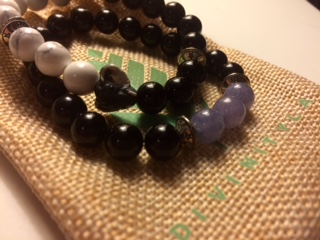 Based in Los Angeles, Divinity LA sells handmade bracelets that are not just beautiful, but also donate to amazing charities. Every bracelet supports a different cause and gives a portion of the profit to a related foundation.

Made from precious stones, each bracelet is meant to share its own unique, positive message, whether it be strength, creativity, self-awareness, or compassion. Divinity LA strives to create bracelets that are meaningful to their customers.

Donating some of the proceeds from the jewelry is another way they promote their mission to spread positivity. The aim is to not only improve the lives of the customers, but also to improve the world.

The charities that receive donations vary greatly and support several different causes, including, but not limited to, endangered species, cancer research, bringing families out of poverty and providing fresh water in developing countries. A complete list of every foundation and the work they perform is available on the Divinity LA website.

At approximately $15 to $16, the bracelets are reasonably priced, especially because of the fact that some of the profit is donated.

To view the variety of bracelets available, anyone can look at the images on the company's instagram or official site, www.divinityla.com. Single bracelets are pictured, as well as suggested pairings of bracelets that may go well together.

These products are both attainable and beneficial for everyone, as the company ships worldwide and supports charities all over the world.