Top five best (and worst) high school English class books according to students

From struggling to pronounce the rhyming words of Dr. Seuss to becoming addicted to the Harry Potter series to conquering the foreign and flowery language used in a Shakespearean sonnet, reading has always been an integral part of the school day. For many high school students, reading is a positive experience and for others, reading is a chore that can be quickly substituted by a late-night Sparknotes binge. Over 40 books are assigned and read by an SPFHS student during their four years of English classes, but which of the 40 are the best?
A survey was sent out and completed by 50 SPF students in order to determine the popularity as well as infamy of some of the books assigned in English. Out of the 50 survey participants there were 23 seniors, 11 juniors, 11 sophomores, and five freshmen.
Here are the top five high school English class books according to the data collected in the survey: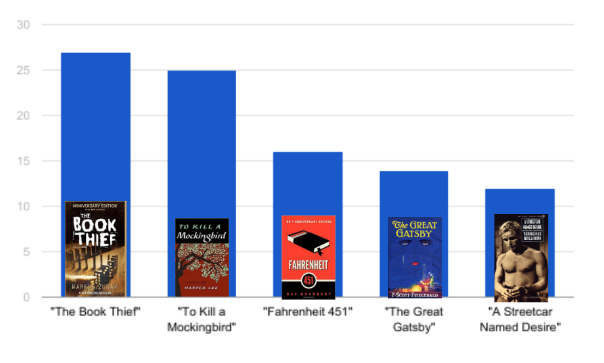 With 54% of the vote, the freshman year classic The Book Thief by Markus Zusak reigns supreme. The story is takes place in Germany during World War II and it follows a girl named Liesel who learns to read in secret with a Jewish man. The intrigue of the book comes from its narrator, Ddeath, as he guides readers through the war and the life of Liesel.
When asked why their favorite book was their favorite, anonymous survey participants all agreed that an action-packed plot, relatable characters, and easy to comprehend, valuable lessons are all characteristics of a great in-class book. One student commented that his/her favorite book was relevant to their life and that they learned a lot from the story.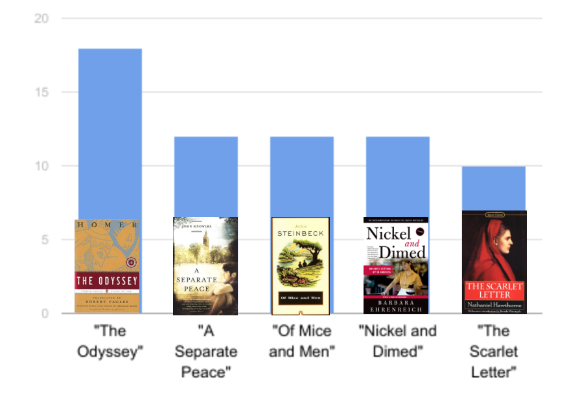 With 36% of the vote, Homer's The Odyssey was dubbed the least favorite book among students. Students explained that they found their least favorite book to be "uninteresting," "difficult to understand," or even "dark and depressing."
Literature is an extremely important subject, so how can students be more engaged? According to the survey, 58% of students said that they prefer reading novels in English classes than poetry, so what novels would they like to see? Here are some suggestions from anonymous students:
Twelve Years a Slave

, Solomon Northup (three votes)

Lord of the Flies

, William Golding (three votes)

Jane Eyre

, Charlotte Brontё (two votes)

Books by the "Russian Greats" Leo Tolstoy or Fyodor Dostoyevsky

Books by Kurt Vonnegut

Beloved

, Toni Morrison

Elijah of Buxton

, Paul Curtis

Eat, Pray, Love

, Elizabeth Gilbert

Flowers For Algernon

, Daniel Keyes

Go Ask Alice

, Beatrice Sparks

Grapes of Wrath

, John Steinbeck

Othello

, Shakespeare

Pride and Prejudice

, Jane Austen

Macbeth

, Shakespeare

The Color Purple

, Alice Walker

The Fifth Child

, Doris Lessing

The Iliad

, Homer

The Mystery of Edwin Drood

, Charles Dickens

The Cannon

, Natalie Angler

The Messenger

, Markus Zusak

Watchmen

, Alan Moore

Little Women

, Louisa May Alcott
Many of these suggestions are literary classics that are not part of the current English curriculum. A lot of these stories contain the theme of empowerment for both women and minorities – an important subject that many students are passionate about today. Many of the book suggestions are plays, showing that students may find a novel in play-form to be engaging.