Boys lacrosse beat Cranford, 13-3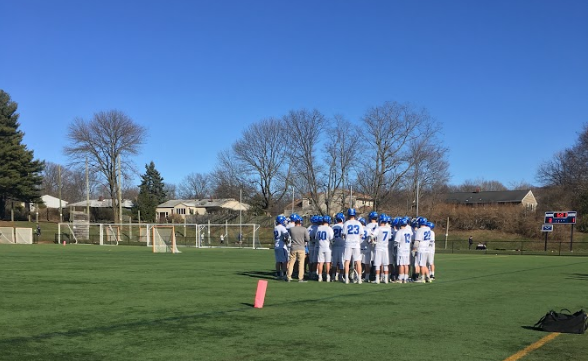 The season for Boys Varsity lacrosse is already off to an awesome start with a win 13-3 against Cranford on March 29. The game was played at home on the Wexler Field.
The win came in the fourth edition of "Cole's Cup", which is an annual game played versus Cranford to honor a former Raider goalie and cancer survivor Cole Weber.
Senior and Rutgers commit David Walker won 12 of his face offs throughout the game. Seniors Robert Gordon and Richard Nardone were each able to score three goals. Senior Riley Guma was able to save the team from Cranford making a goal a total of fourteen times throughout the game.
Senior Greg Oross who plays "attackman" on the team had a strong opinion on their play yesterday.
"Even after our great win yesterday, I still think we need to clean our team up a lot," Oross said. "We lost a lot of players since last year and we still have a lot to work on as a group."
Guma, an NJIT commit, now has the net full-time for the season. Seniors Anthony Magnotta, Marist commit, and Jake Kloepfer, Frostberg State commit, are also going to be defense for the entire season.
Stay tuned for the next Raider Lacrosse game away against Princeton on Saturday morning. Go Raiders!