Winter choral concert is a smash

On Wednesday, December 21, the SPFHS choirs performed for friends and family in the annual winter choral concert. The students' talents were showcased in various groups, including Chamber Choir, Las Cantadoras, Men's Choir, Sensations, Select Choir, and, finally, Concert Choir.
Led by Choral Director Jan Allen, the performances were as impressive as ever, filling the auditorium with talent throughout the night. Allen explained that, overall, she was very happy and proud of the students during the concert.
"Everything just came [together] with confidence and clarity," she said.
Among these students, numerous soloists stood out with their outstanding voices. Gifted instrumental accompanists were also highlighted, including sophomores Sarah Gorman, Jeffrey Brenner, Sarah Barshap, and Stephen Oduro, juniors Sarah Miller and Sophie Pritchett, and seniors Sarah Dolan, Christina Lamagna, and Elliot Sayles, .
Chamber Choir commenced the showcase, singing the National Anthem, followed by two songs, one being in latin, "Ubi Caritas," by Ola Gjeilo. The Chamber Choir consists of 16 students and their voices combined in a breathtaking sound to begin the evening.
The women's Choir, Las Cantadoras, and Men's Choir, were next, and they maintained a multi-langual theme. Featured soloists, Sara Miller and Shannon McCreesh, were especially noteworthy during their challenging songs in Las Cantadoras. Men's Choir brought much talent to the stage, too, and displayed the voices of soloists Peter Canavari and Conor Flood.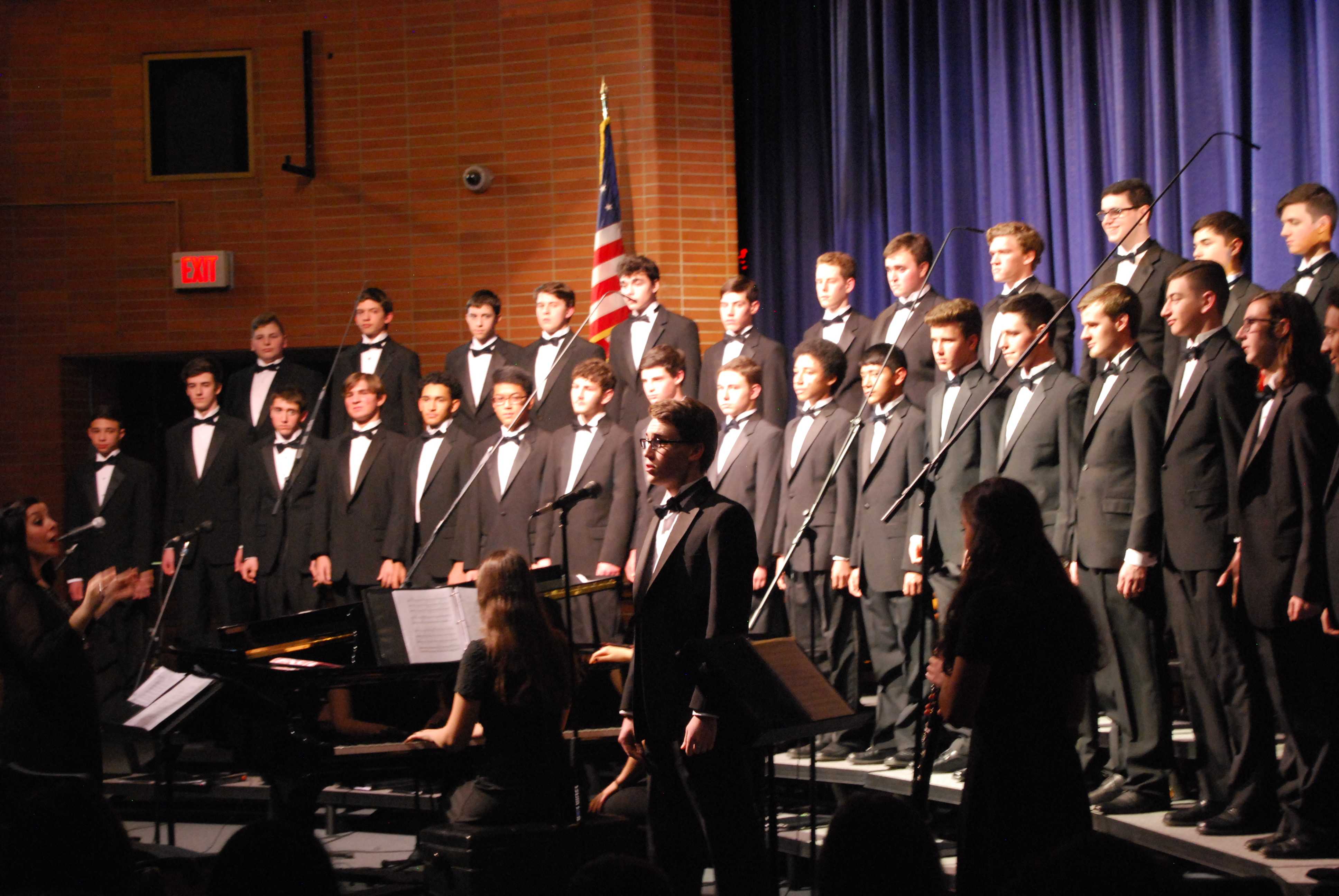 However, the style of songs drastically changed once Sensations performed. The high school's a capella group brought a more modern feel to the night by singing arrangements of well known pop songs. These included several hits from this year, and songs from earlier years. There were many soloists for these selections, such as Nicole Dencker, Tali Abraham, Abigail Flanagan, Ryan Abramowitz, Sarah Dolan, Samantha Sprechman, Francesca Jones, Meghan Ryan, George Ulerio, and Lorie Rosado. The songs featured Paolo Bayotas' beatboxing skills, as well. It was incredible to watch the way these students were able to sing without the backup of any instruments and rely completely on their voices.
The Select Choir came next, bringing the audience back to themes similar to the first few choirs. They sang "Alleluia," "My God is a Rock," and finally to say "Happy holidays," "A Merry Christmas." The loud and joyous "My God is a Rock," a religious and inspiring song, also brought to light the talents of featured singer Julia Guarneri.
To tie the rest of the night together, all the choir students came together for the Concert Choir performance. They began with "Betelehemu," which featured a large group of talent. There were three solo singers, Ryan Abramowitz, Cristabella Fortna, and Kyle Magee. The song also added the percussionists. Allen explained that this was one of her favorite performances.
"I was especially excited we did this piece with concert choir," Allen said. "It had movements with it, and we had only learned them about two weeks ago and everybody nailed it. It was perfect, and I was pretty excited about that."
The concert choir continued with an adaption of the Robert Frost poem "Stopping By Woods on a Snowy Evening." They followed this with less well known arrangements, though equally as beautiful. They then sang the well known "Santa Claus is Comin' to Town," which spread the choir's energy into the audience. Several students were featured again in this song.
In order to close out the concert, Allen invited up alumni to sing "The Lord Bless You and Keep You" with the choir. Many members of last year's graduating class could be spotted embracing their underclassmen friends and excitedly joining them for one more song. At the end of the night, the talent of the choir students at SPFHS was more apparent than ever. Audience members were astonished by these amazing young voices and all the students that performed should be proud of what they have accomplished.