Project Adventure 2016 is a Success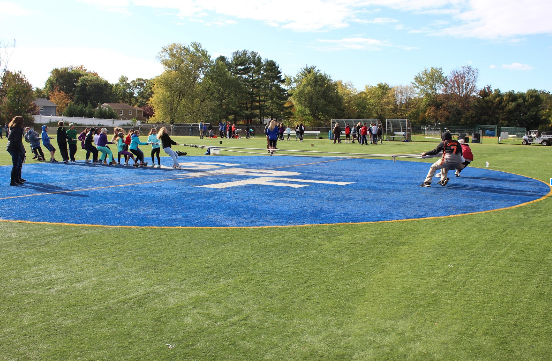 On Oct. 25, 2016,  200 students from Park Middle School visited Scotch Plains-Fanwood High School for the team-building program known as Project Adventure. The program allows students to work with each other, under the guidance of about 40 high school students and a handful of physical education teachers from SPFHS.
Even though the wind was blowing and the air was sharp, the participants had smiles on their faces as they worked together to solve tasks as complex as the "human knot"–where participants hold hands in a haphazard pattern and have to untie themselves without letting go of each other–or as simple as a fun game of tug of war.
"The kids have a really good time," physical education teacher Ashleigh Boyce said. "We encourage them to work together and they're actually a little bit nicer to each other because they have to work together as a team."
Throughout the day, a high school students assisted the physical education teachers by instructing the kids on what to do at each station.
"I really liked working with the middle schoolers," said senior Grace Fanning. "I also liked seeing my teachers from Park Middle School. It was a nice little blast from the past."
Handling all of the kids and making sure they were focusing on the activity was a bit of a challenge, but all of the volunteers enthusiastically helped the children work together cooperatively to get a task accomplished.
Project Adventure is more than just a group of kids coming to the high school to play games.
"It adjusts the [middle schoolers]," Boyce said. "They're going to be doing lots of teamwork here at the high school, so it helps them get acclimated with it."
Judging from the smiles on the kids faces, Project Adventure was a success. Even with the bitter weather, the kids had a fulfilling day learning how to work together as a team.