Koegel's "21st Birthday", Mole Day, and Homecoming
 Friday, October 21, was quite an eventful day for SPFHS. Here's a recap of everything that happened:
Koegel's "21st" Birthday: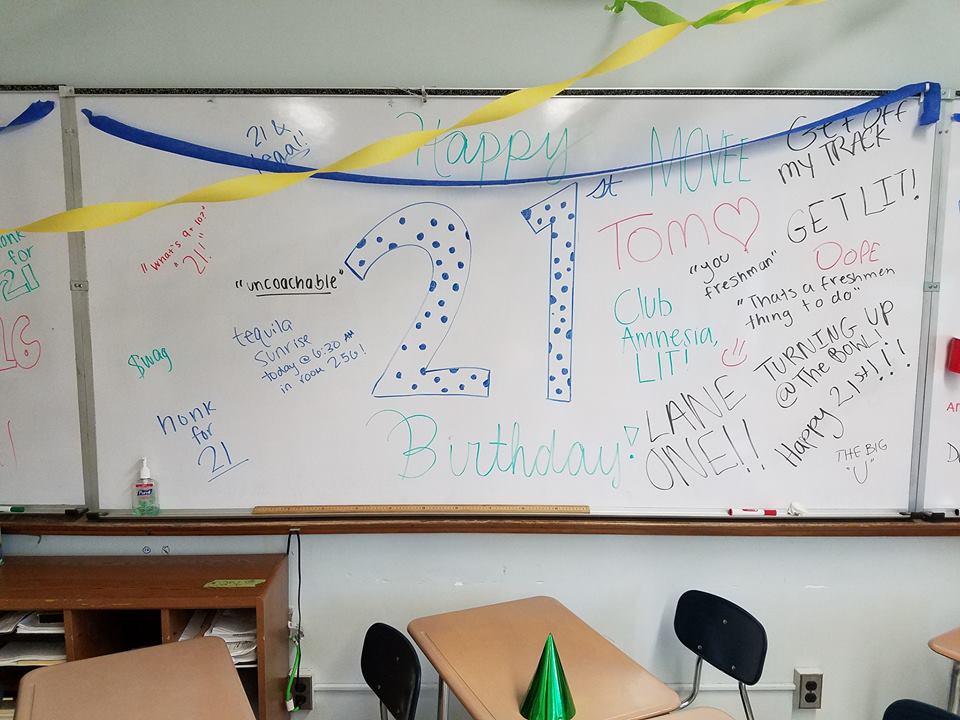 As Jeffrey Koegel's students walked into their math classes today, with surprise and confusion on their faces. The doorway had curtain of pink streamers hanging down. Balloons were littered around the floor. "HAPPY 21st BIRTHDAY" was written in bubble letters across the white board. All these were clear indicators that a serious party had gone down in the classroom.
Every year, the Cross Country team goes into Koegel's classroom to decorate in celebration of his time at the high school.
"I was here early and I went someplace else to do work and usually they say some kind of scam thing.," Koegel said. "[Today], one of the girls emailed me and said she needed emergency math help and she needed me to come to my classroom right away. So I emailed her back and said 'Emergency math help? That's a new one!" So I pack my stuff up and the door was open a little bit and the lights were out and somebody was a lookout. As soon as someone saw me coming, they closed the door and they yelled 'surprise' and  'happy birthday."
Koegel thinks that there was one of two reason why the cross country team decided on "21st Birthday" as this year's party theme. 1, his 21st teaching at the high school. 2, during a practice, he told them about making sacrifices for cross country, and how on his 21st birthday, during his senior year in college, he went to bed at 9:30 because he had a cross-country meet the next morning.
"They said, 'Well, since you went to bed at 9:30 on your 21st birthday, we figured you could have a 21st birthday party,'" Koegel said. "It was funny, some students were wondering if I was actually 21."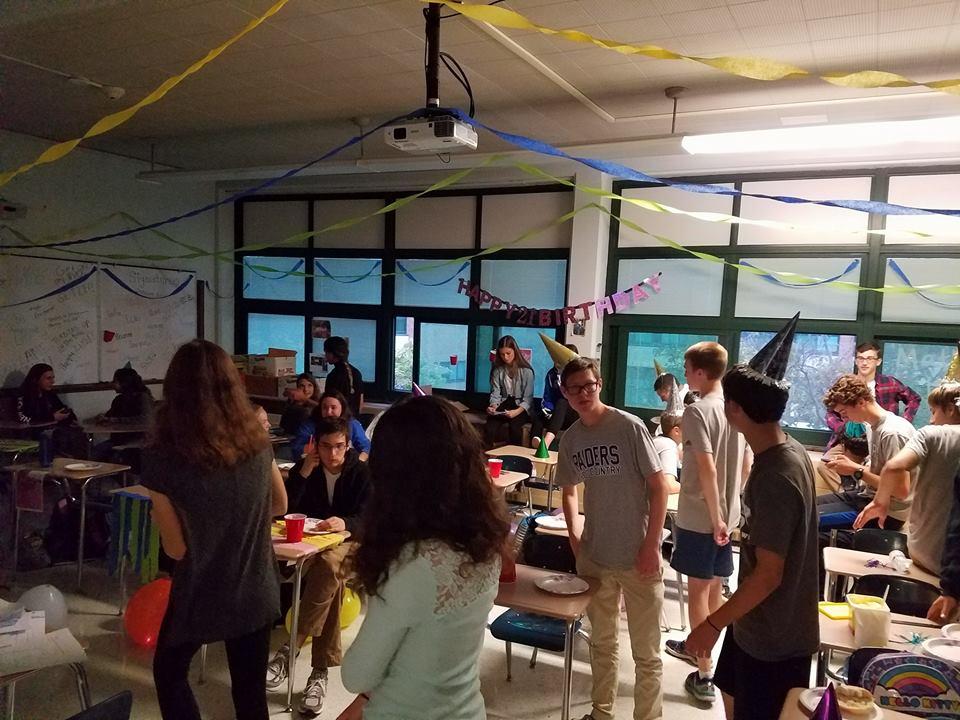 Koegel is one of few veteran teachers at SPFHS. His knowledge and teaching skills are second to none, and the inside jokes and stories he tells during class makes math a more enjoyable experience for his students. To honor his birthday and his time at the high school, here are five famous Koegel quotes:
"You didn't learn everything in Alegebra 2!"
"Pay attention to detail!"
"Don't use the lattice method!"
"We don't use the p-word. We substitute."
"The square root of x DOES NOT EQUAL X, IT EQUALS THE ABSOLUTE VALUE OF X."
Mole Day: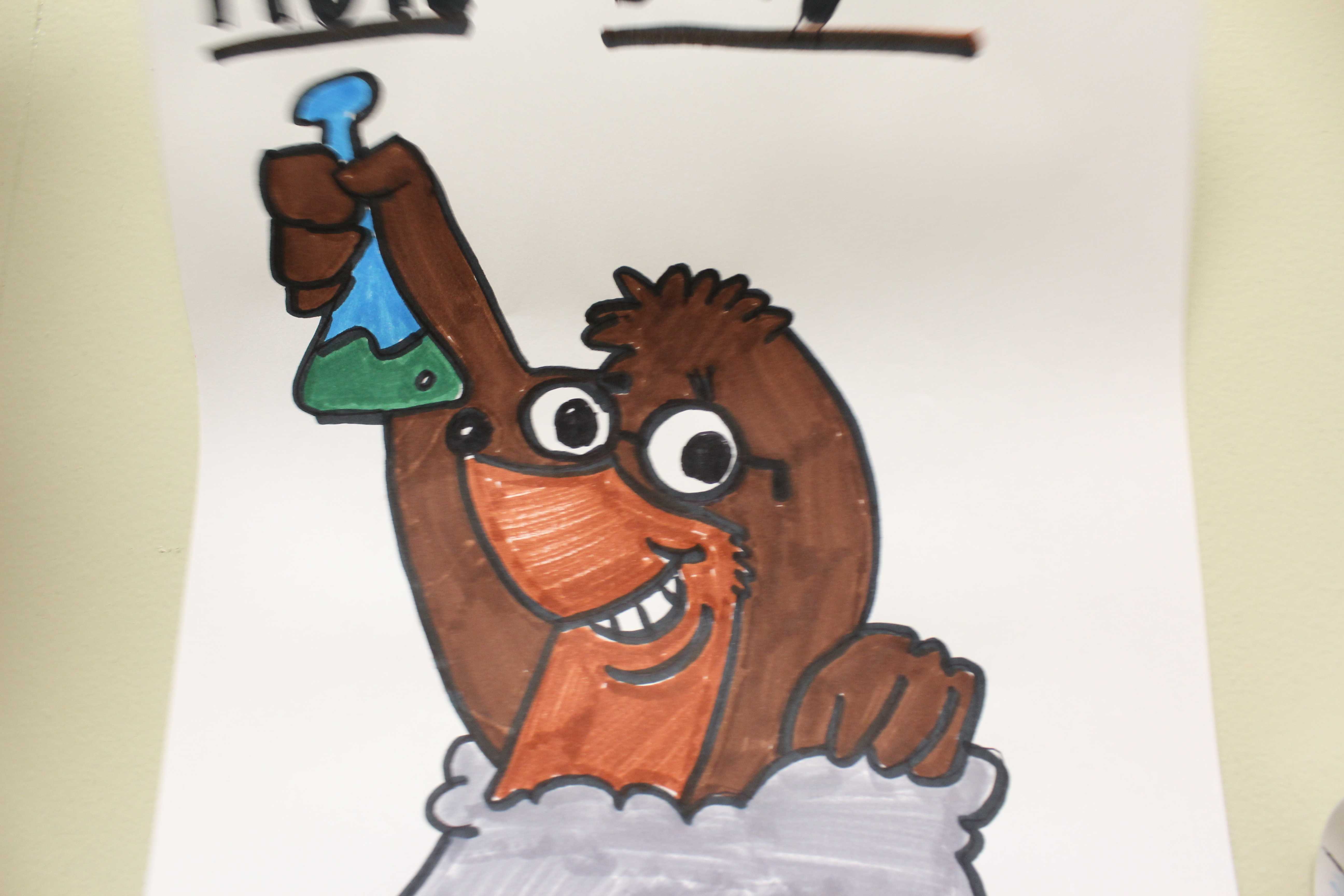 1 mole = ? Chemistry students celebrated Mole Day early this year by making and wearing Mole Day t-shirts with "6.02×1023″ and Happy Mole Day written all over them. Why do they have a random number on their t-shirt? That random number is Avorgardro's constant, a fundamental component of chemistry studies today. Named after the man who discovered the number, Amedeo Avorgardro was major contributor to molecular theory in the 18th century. He determined that 1 mole of any substance was equal to 6.02×1023 atoms.

As a way for students to get extra credit, chemistry teachers  encouraged their students to fill any container with water (dye it if their feeling fancy) and have faculty and students guess how many moles were in the container. Once the students calculate how many moles are in the container, they choose the closest winners, who will then get their celebratory Mole Day-Themed pencils.

Students made Mole Day t-shirts in class and at home, but these were not just ANY t-shirts– chemistry was involved to create them. The students took permanent markers, made designs by forming many dots into words and shapes, then carefully pipette-ed rubbing alcohol over the dots. Immediately, the pigment from the dots spreads and a wheel of faded colors frame.

Matthew Krip's afternoon AP Chemistry class were (safely) blowing up metals, which is always exciting. Michael Abadir's afternoon AP Chemistry Class played Chemistry Bingo, and the excitement in their yells and cheers was evident that Mole Day was a success.

Homecoming:
Homecoming nominees were announced during the morning announcements on Wednesday, and the students voted for their favorites on Thursday.
The nominees for Homecoming King: Max Lusk, Ian MacPherson, Hunter Marshall, Spencer Vaughn, Peter Warren, and Peter Yarem.
The nominees for Queen: Sophie Brause, Rebecca Citarella, Andrea Leitner, Lorie Marie Rosado, Brianna Sorrentino, and McKella Sylvester.
Students rushed to the football field right after school to see who won Homecoming King and Queen.
The members from the Raiders Marching Band played some high-octane selections to get the crowd pumped and the nominees stood in the center of the field, their white sashes draped across them as they waited to hear the results.
The Blue Diamond Step Team, which has grown to over 20 members, gave a powerful performance in their black shirt and blue jean ensemble that left the crowd cheering.
Now the moment everyone was waiting for!
The Student Government Association leaders Alexa Hudak and Gia Parés presented the winners.
The 2016 SPFHS Homecoming King is: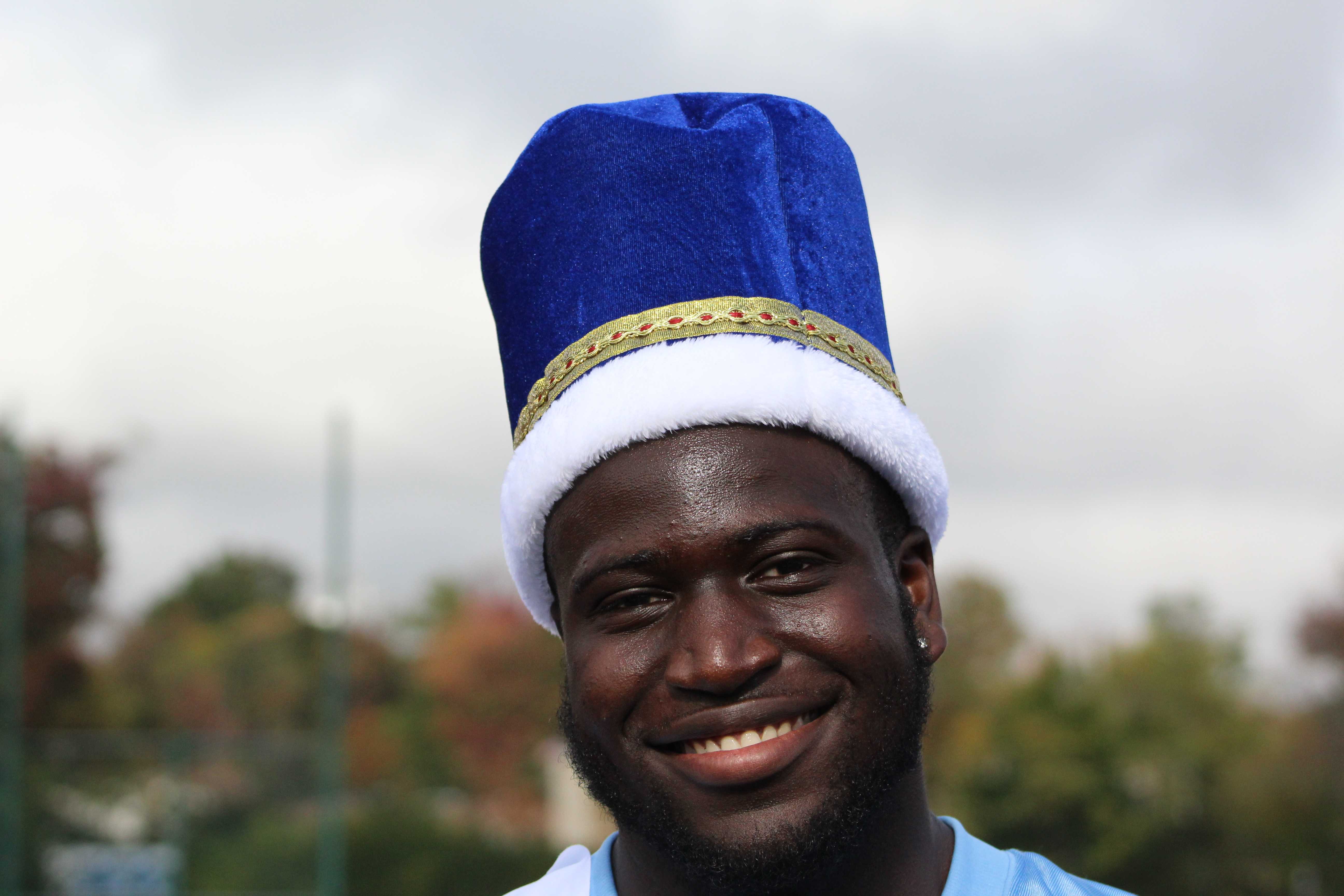 HUNTER MARSHALL!
The 2016 SPFHS Homecoming Queen is: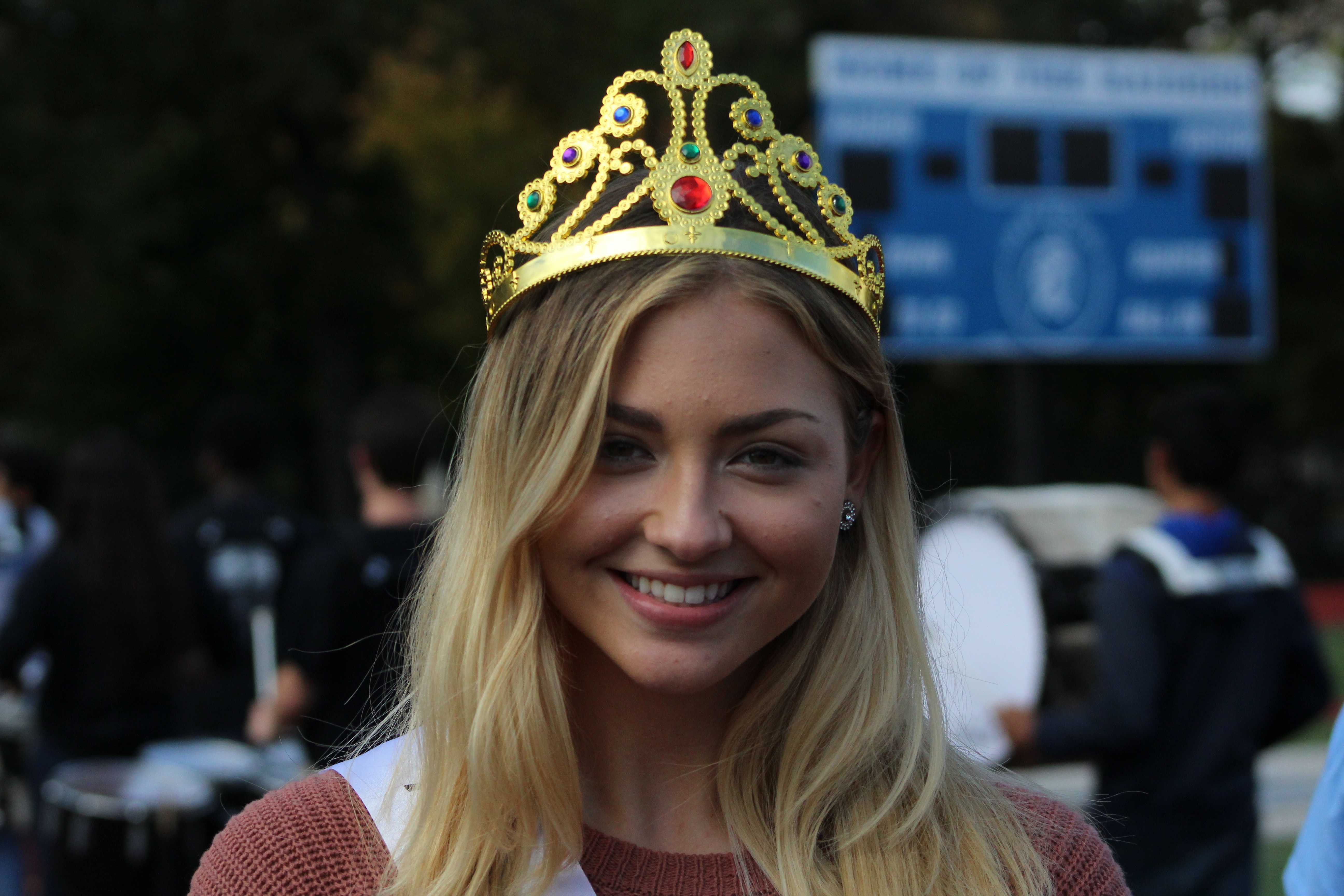 BRIANNA SORRENTINO!

Friday was, in general, a day of celebration and school spirit for SPFHS! Check out the gallery below for more pictures of today's events.