Miss New Jersey visits SPF
"You need to represent all of the points of the crown: style, service, scholarship, success, and STEM." All photos and videos are by Ciara Nicdao-Richardson
Lindsey Giannini, Miss New Jersey 2015, made an appearance at a senior health class on April 8, to emphasize how important it is not to text and drive. Giannini is a client of gym teacher Laurie Call's mother and wanted to put her platform to good use to talk to students about the dangers of texting behind the wheel. Here is a Q&A with Miss New Jersey:

Q: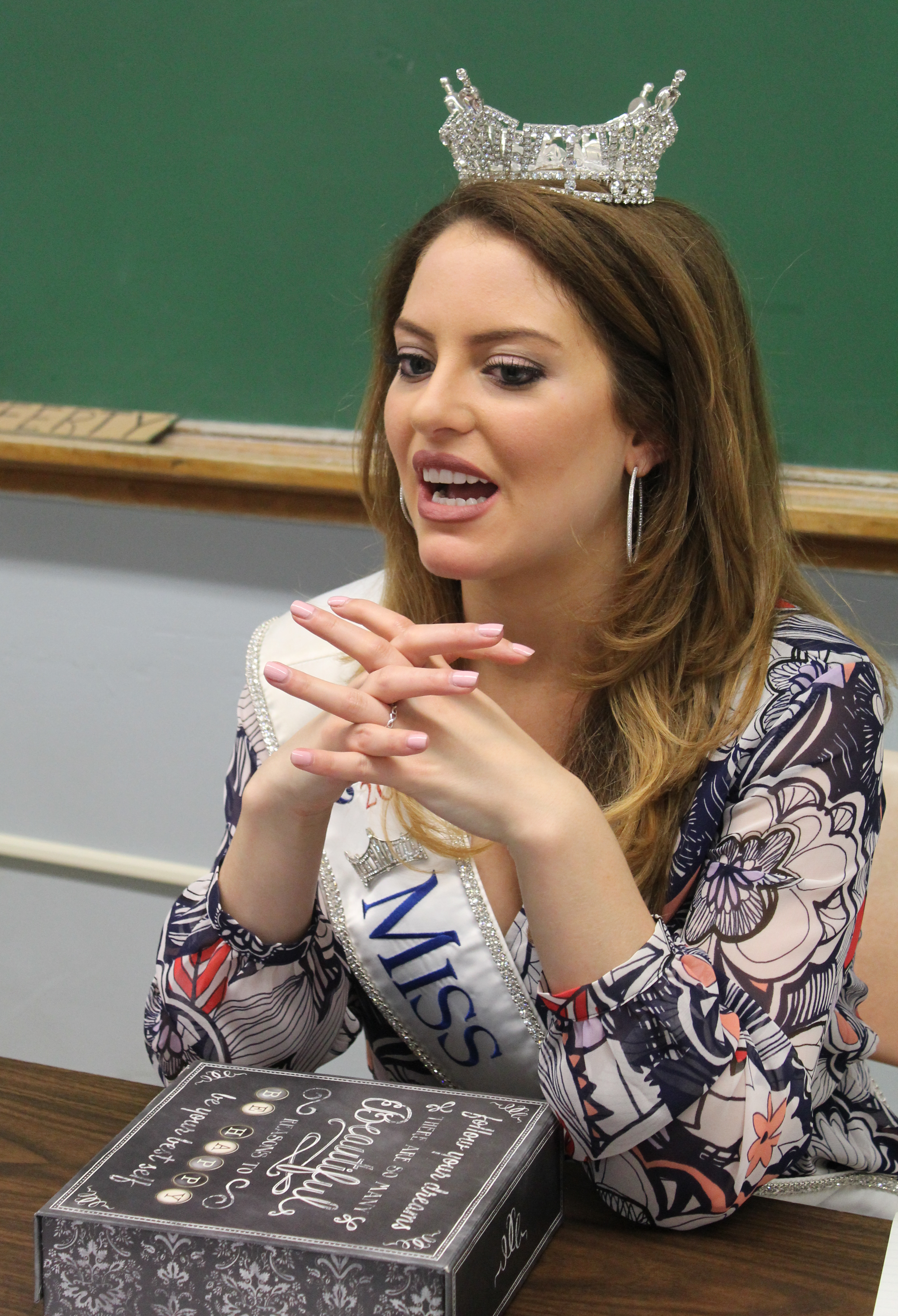 What is the selection process like for Miss New Jersey?
A: First you have to win a local pageant. So you have to go against other girls competing for that local title. My local title was Miss Central Coast. And I competed against 17 other girls just to go to states. Then you go to states, then you compete against the other locals for the state title and whoever wins the state title goes to Miss America.

Q:What's life like as Miss New Jersey?
A: To be Miss New Jersey, I go  to all of these appearances and meeting all these people but I have to have a handler. Not only that, I have full time business manager who completely sets my schedule,  and sends me an email  about everywhere I'm going in that month. So, being Miss New Jersey is a full time job.
Q: Do you think being Miss New Jersey will help you get a job?
A: I know it will because hopefully I'll get into sports reporting and broadcasting. Speaking in front of large audiences has helped me and it's really an education that money cannot buy. I already have things lined up for me when I am not Miss New Jersey in June.
Q: What's your favorite part about it?
A: The appearances and getting to meet you guys. And I hope I can brighten your day a little and make you guys think twice about something. Or just inspire one little girl who says, "I want to do that when I'm older." Or just bring a smile to people's faces.
Q: How do you balance school and Miss New Jersey?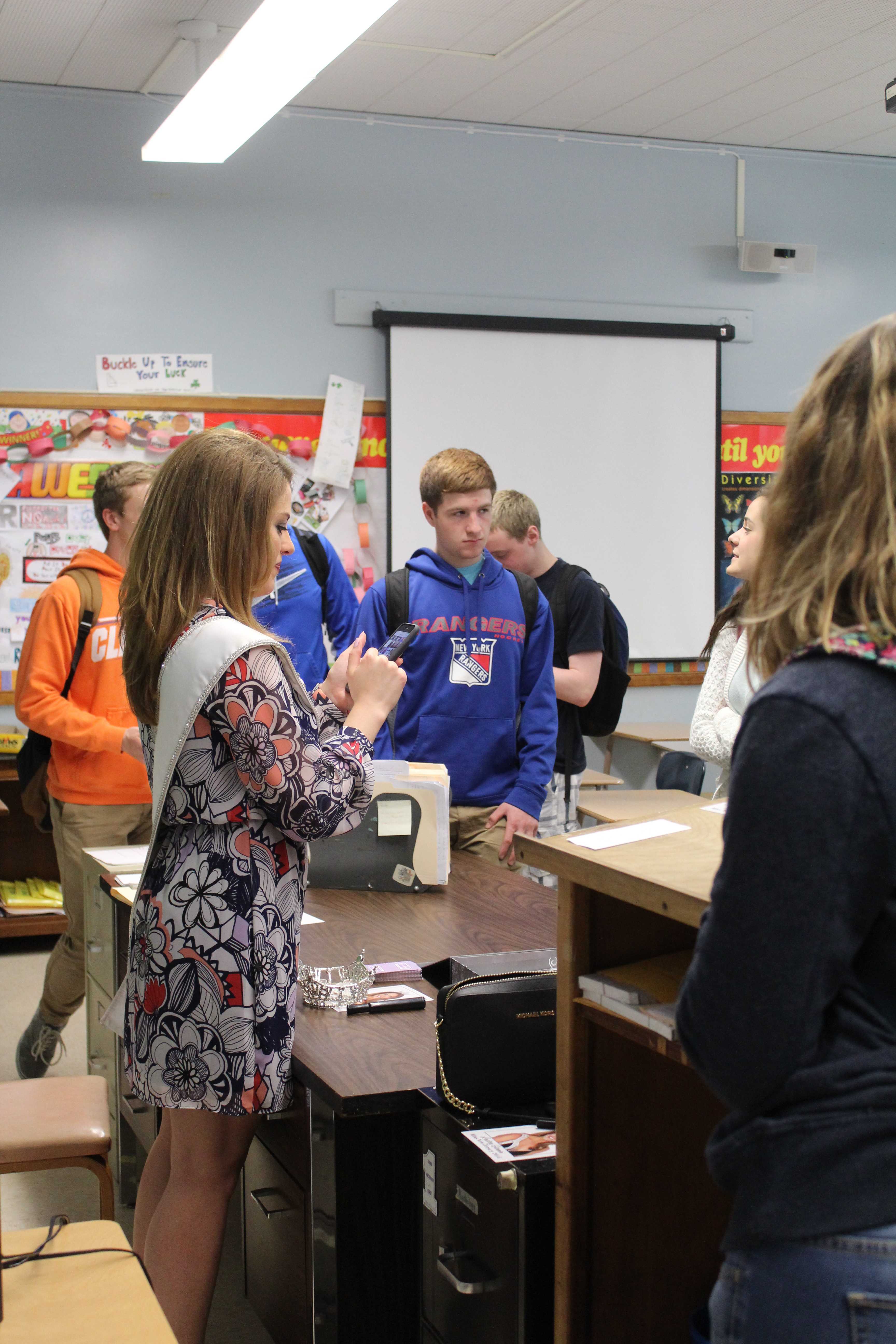 A: My first semester, I took two online classes. I should've graduated this year, but I won Miss New Jersey. So I took two online classes and my professors were wonderful. But it was so hard to do. So  I took a semester off and I will be graduating in December. I took a little time off so I could fully do my job as Miss New Jersey because this is a once in a lifetime opportunity. You can only be Mis New Jersey once.
Q: Did you participate in teen pageants?
A: I didn't. We have a teen organization called National Miss America Teen Pageant and that's for 13-17 years old. It prepares you for the Miss program but I started when I was 17 and went right into Miss.  I competed for Mis New Jersey when I was 17 and didn't win until last year.
Q: How has Miss America impact your self esteem?
A: Our pageants is just never a beauty pageant. To me it's female empowerment. And I never had a better self esteem and self confidence then the one that I've gained and  learned and how to harness through the Miss America organization.
Q: Do you think 'Miss Congeniality is an accurate representation of Miss America?
A: The one part is true is the friendship. People think that the girls in our organization are catty, but I have made some of the best friends in my life just competing for Miss America. Miss California, Miss Arizona, they're going to be in my wedding and we're going to be friends forever. It's just this opportunity where you get to meet girls just like you and have goals all over the nation, so that part of it true. But some of the other stuff, not so much. We are a scholarship organization, people think we're a beauty pageant. We're a scholarship pageant first.



Q: What do you represent by wearing the crown?
A: You need to represent all of the points of the crown: style, service, scholarship, success, and STEM.
Q: What do you think about the representation of women of color in Miss America?
A: Last year, our Miss New Jersey, Cicely Taylor-Jones  was African-American. And Miss Americas have been very diverse. We've had our first Indian Miss America 3 years ago Nina Delhvari and she was one of the best Miss America's we've ever had. And we had many women of color win, so I think it's a wonderful organization that celebrates the diversity in women.