So you've been accepted to college…
graphic by Rachel Lambert
From the first day you step into high school, you are aware that parts of your life are about to change, and, sooner than later, you start hearing the dreaded word: college. As your time in high school increases, so will the use of THAT word. For many students, everything you do in high school leads up to applying to, hearing back from, and deciding on a college. There seems to be so much pressure to make the right choice, too; everyone tells you that this the start of your future, and this decision will be the basis of the rest of your life – whether you believe that to be true or not.

Within the next few months, you will receive each school's decision. Then, the decision is on you. How are you supposed to make such a big decision? With all the pressures from those around you, you're worried you'll make a wrong choice.

If possible, narrow down your choices, and re-visit (or visit for the first time) those schools. Stepping foot on the campus for the first time since receiving a decision will give you a gut feeling – good or bad – about the school. If you can't re-visit, write down concerns you have about the school, and call or email an admissions counselor. Ask yourself, 'What is holding me back from attending this school?" Surf through their websites, too. After you feel you have all the information you need on your schools, sit down at home and thoroughly weigh your options. What are the pros and cons of each school? What would your life be like as a student there? Do they have your desired area of study?

When you feel like you have made a choice, wait a few days and see if you find yourself questioning your decision. Talk to a trusted adult about what you're thinking. You want to be sure that you choose a school you absolutely love, no matter what anyone else thinks — be proud of your school! After all, you will be calling it home for the next four years.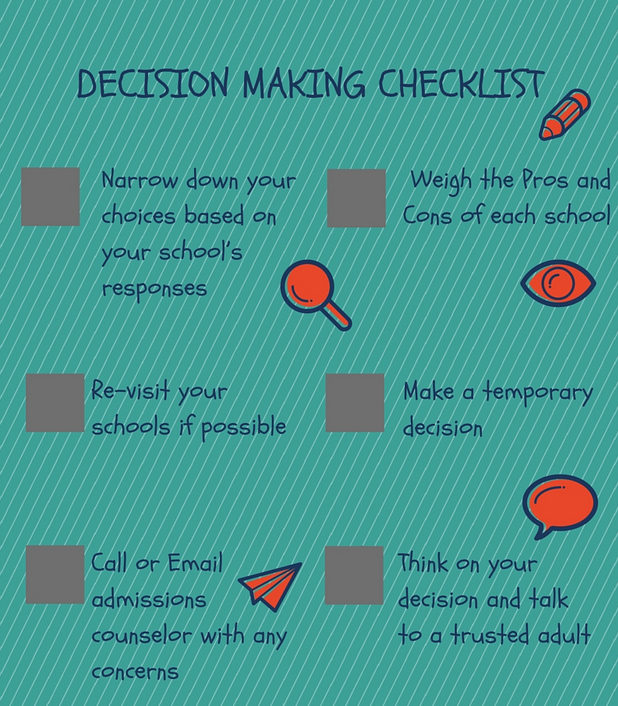 Some seniors, on the other hand, have chosen their college already. If you're among that group, I say, congratulations! Now, not to alarm you, but there are still a lot of decisions to make. The good news is, though, that you have already made the biggest decision of this whole process. The upcoming decisions can be fun, and some will also involve thought towards academics.

First comes the fun stuff; Buy some apparel and represent your school! You've worked so hard in high school and on your applications, treat yourself to some gear and let everyone know about where you're headed next year! If you're thinking ahead, you can even start thinking about shopping for your dorm room, if you'll be living on campus. Speaking of dorm rooms,  you may also want to start the search for a roommate.

When it comes to roommates, consider joining your school's Facebook group (if you already have Facebook) for the Class of 2020. Most schools have it – just search it on Facebook. There is where you can find information/announcements about your school, and in it mostly everyone who is, or may be, going to your school will post a little blurb about themselves. You can start meeting new friends and chat with people who you think you would get along with.

Whether or not you have Facebook, though, be sure to check your emails frequently to keep up to date with any news from your school. Also, be sure to sign up for an accepted students day, so you can meet everyone in person! Some find that it's better to have a roommate picked randomly (based on survey answers), which is what would happen by default anyway. Keep in mind that roommate policies vary by school, so be sure to check the information specific to your school.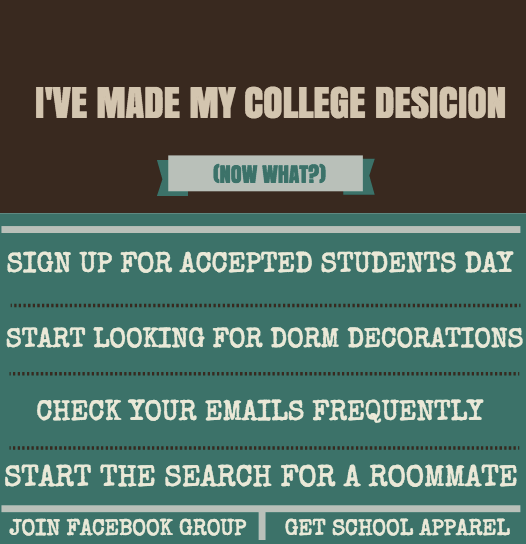 Finally, financial aid is a topic that parents/guardians will likely be concerned with when it comes to attending college. Learn more about Financial Aid here.