Instrumental groups perform at "Pops Concert"
photo by Eliza Kuperschmid

Last Wednesday, the instrumental ensembles played in the Pops Concert, showcasing music of all genres. Percussion Ensemble, Rhythmsense, Concert Band, Moonglowers, Symphonic Band, SPF Jazz and Wind Ensemble all performed at the first instrumental concert of the year.

Each group played 2-3 selections. A new addition to this year's concert was the use of multimedia. Durand Thomas directed Concert Band as they played a medley of John Williams compositions, while a screen lowered to show a video montage of Williams' movies. Scenes from "E.T.," "Harry Potter" and "Star Wars" flashed by, accompanied by their theme songs, in a truly immersive and unique performance.

Thomas also utilized technology for a more poignant performance. Playing John Lennon's "Imagine," the band director had students write down reasons the song resonated with them, and displayed these answers on the screen as the band played the iconic tune.

"I thought the kids did a great job," said Thomas. "They performed very well, there was a lot of energy and a lot of emotion. From the beginning of the school year till now there's been a steady increase in musicianship and technical ability and that really came through at the concert."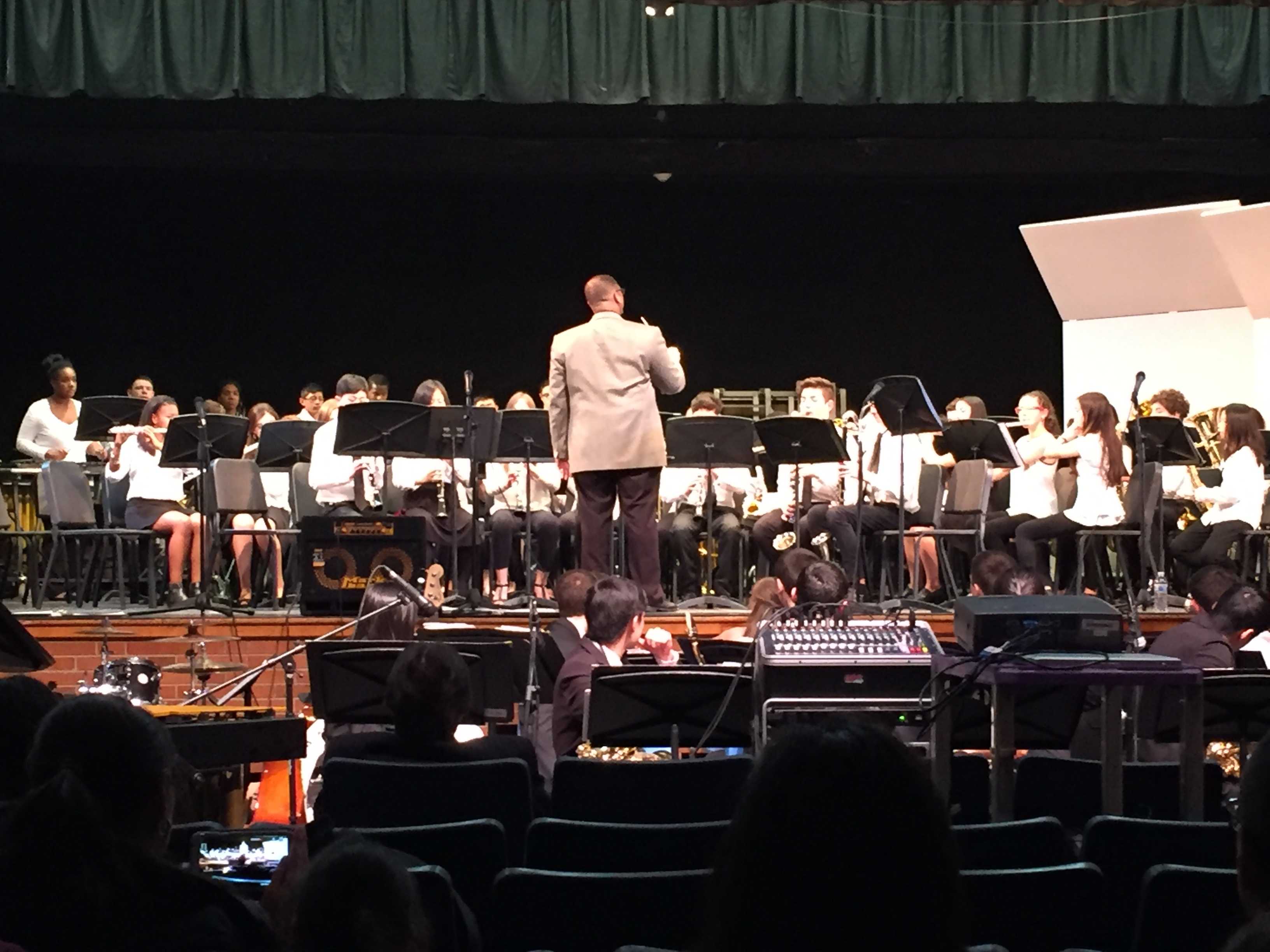 photo by Eliza Kuperschmid
Moonglowers, New Jersey's #1 championship jazz band, played selections in between groups setting up on stage. They unveiled their new "Four Seasons Medley" which was popular among the audience.

Another selection that excited the crowd was Wind Ensemble's performance of hits from last year's musical, Grease. The medley contained favorites like "Summer Nights," "Greased Lightning" and "Born to Hand Jive."

Elliot Sayles, a junior in Wind Ensemble and Rhythm Sense, enjoyed playing the Grease medley and said, "I can see the audience and I can see them clapping and singing along, and it just brings a smile when you're looking at them."

Sayles recognizes the influence of the music teachers in the district and feels grateful for their tutelage.

"I feel like they really understand us and they don't just get mad at us when we do something wrong or if we don't understand, they really help us to figure out our playing technique," said Sayles. "They've really helped me become a great percussionist today."
"I think there's future opportunities to go forward with what they did last evening." -Durand Thomas, following the Pops Concert
Thomas feels the various ensembles have a lot of potential and is looking forward to working with students in the upcoming year, capturing "future opportunities." The harmonious sounds of the SPF music department's instrumental groups can next be heard at the SPF Jazz Festival on February 26.


photos courtesy of Matt Axelrod