Froyo World: a delicious addition to the Scotch Plains downtown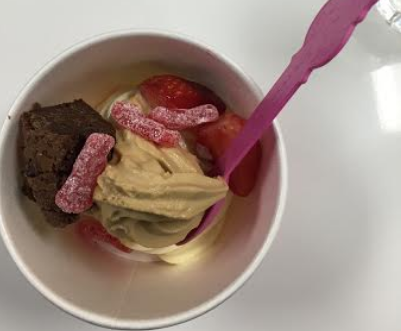 photo by Alexa-Jada Nelson
Downtown Scotch Plains's most recent addition, Froyo World, offers a variety of frozen yogurt flavors as well as other sweet treats. Its clean and colorful atmosphere fills a much needed space in town.

Along with the standard chocolate and vanilla, there are some pretty interesting yogurt choices. The tiramisu, hazelnut, salted caramel, and cake batter all caught my eye and I'm ashamed to say, I filled my cup with all four. The topping station was a bit overwhelming, but in the best way possible. From cereals to crumbled candy pieces, it felt like there wasn't anything I couldn't put on my froyo. The vast amounts of sugar-filled toppings to choose from felt ironic considering the healthy nature of the treat. But I'm not complaining.

After loading up on hot fudge and Reese's peanut butter cup bits, I was ready to weigh my massive cup. At 49 cents per ounce, I hadn't been shy. Before sitting down to enjoy my froyo, I decided to order a waffle, which had previously been recommended to me by some friends. I'm so glad I did. The froyo, while being available in some pretty cool flavors, was just froyo in the end. But the waffle? I could easily say it's the best one I've had in a long time. It accompanied the frozen yogurt perfectly.

If you're ever in the mood for a sweet treat, I would wholly recommend picking up a friend and paying Froyo World a visit. Do yourself a favor and order a waffle too.