Trending Now: The Blanket Scarf
photos by Ciara Nicdao-Richardson
A new year, a new season! It's 2016, and it's time for a New Year's resolution, right? Why not step up your fashion game with the latest trend of this season?
Though the temperature finally beginning to drop, you don't have to opt for sweats. With seasonal change comes wardrobe change! This week on the Fashion Blog I'll be reviewing the latest fashion trend: the blanket scarf. It's a statement piece that will definitely spice up your wardrobe and keep you warm. This winter, let the halls be your runway.

Blanket scarf (n.)
A scarf so big you could use it as – you guessed it! – a blanket.

A blanket scarf/poncho is an essential accessory to keep you warm and cozy. A blanket as a fashion statement? Genius idea! They come in a variety of colors and patterns – red, yellow, plaid – you can find them in most stores. Pair them with skinny, boyfriend or bootcut jeans and you will be on your way to becoming a fashionista. There are so many ways to wear them and no matter how you wear it, it will keep you nice and toasty.
Here are three examples of how to wear one:
1) Wear it as a regular scarf: Wrap it around three or four times around your neck, then tie it in the front so you have a knot.

2) Wear it as a shawl:  Just toss it over your shoulders and you'll be super comfortable.

3) Wear it with a belt: Known as the belted shawl cape. The belt makes the scarf/poncho even cuter.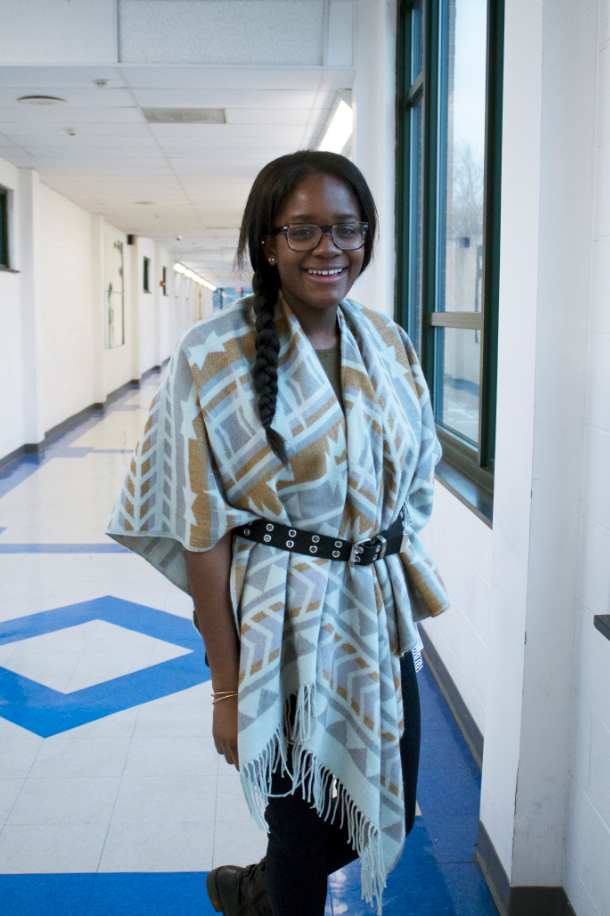 Meet the Model: Faith Ekwofia
C: What do you think about this new trend?
F: I really like it! It keeps me warm in the winter and it's really stylish. There are also many prints that I've seen people wear.
C: Do you like the different ways you can wear one?
F: Yes! I can wear it for one week and nobody would notice. It's super unique which is pretty cool.
C: Thank you and I'm excited that we can finally wear a blanket in a fashionable way.