photos by McKella Sylvester

Ah, the holiday season. Filled with eggnog, twinkling lights and mistletoe. My favorite part of the holiday season is the warm sense of family (excuse my sentimentality), but the most prevalent and lasting effect of the holiday season is the gifts given and received.
Long story short: I got an Apple Watch. An Apple Watch Sport to be precise. The wearable tech gadget had an ambivalent release back in April. Some critics complained that Apple's 'new' product wasn't innovative since there were similar products already on the market. Some criticized that in order for the device to work, one would need to have an iPhone, rendering the watch completely unusable for Android users.
I say to hell with those criticisms. The Watch is the second most sold wearable tech gadget behind Fitbit, which has sold about 4.4 million units in the second quarter, while Apple's smartwatch has sold about 3.8 million units in the same quarter. The Apple Watch not only tracks my calories, but it's basically an extension of what my iPhone can do. I can call, respond to text messages, and I can even take selfies using the watch as well. Initially, I told my parents that I wanted a Fitbit for Christmas since I wanted a device to accurately track the calories I burned in a day.
However, that request was thwarted at 5:30 a.m. on Christmas morning. In a poorly wrapped white rectangular box was my 38 millimeter smartwatch. To say that I was genuinely surprised and delighted would be an understatement. In typical teenage fashion, I documented my unboxing to my 40 Snapchat friends.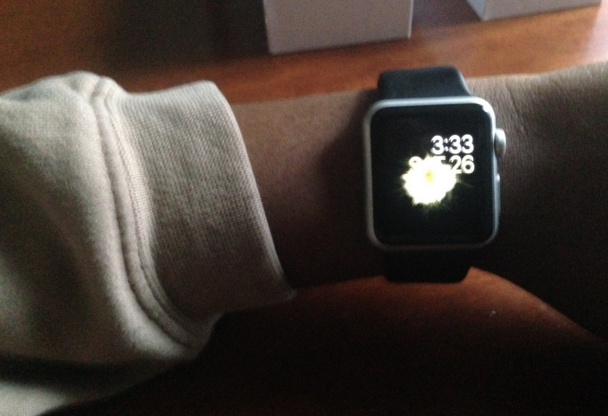 Basic setup was easy once I found the Apple Watch app on my iPhone. I had buried the Health and Activity apps in the 'Nonessential' app folder I have on my phone, (yay, I finally have some use for these applications!). Like the dutiful Apple consumer I am, I watched all of the Keynote presentations including the advertisements located in the Explore tab of the Watch app.
There are three models of the watch: The Apple Watch, the Apple Watch Sport, and the Apple Watch Edition. All three models have the same four color options as their smartphone counterpart: silver, space gray, gold, and rose gold. As shown below, I have the Aluminum finish in silver.
After inputting my height, weight, and my age, I downloaded applications that had the watch version. I found that it was cool to control my watch, both on the device itself and on my iPhone as well. What I found to be very surprising was the fact that Powerschool has an app compatible with the watch, so of course I had that downloaded, because, if I'm checking the time, then I might as well check my grades too.
The one component that is fun and incredibly addicting to use is changing the watch face. Apple provides a numerous amount of displays that can fit any style, personality, or mood. I changed the factory-set 'Utility' watch face to the 'Mickey Mouse' watch face (when I was feeling very juvenile), then a couple hours later I changed to the 'Motion' watch face.
Within 'Motion' I could choose between the butterfly, flower, and jellyfish options. Once one of these options is chosen, I'm greeted with an animated high resolution image. I finally chose the flower option, in which a gorgeous flower blooms right before my eyes whenever I flick my wrist.
All in all, it is a beautiful product and an amazing Christmas gift. What I would like to see in future models of the smartwatch and the operating system (watchOS) is a smaller bezel and a Find My iWatch application.