'Idiot's Delight' revives SPFHS fall play tradition
photo courtesy of Matthew Furino and Erin Chiappi
It has been years since a fall production has been played at Scotch Plains-Fanwood High School, but the abandoned tradition was revived with the drama club's rendition of Idiot's Delight.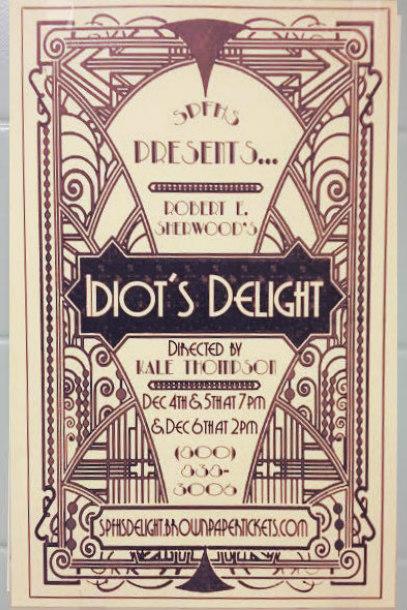 The play is set in an Italian hotel in the Alps right next to an airfield during the brink of World War II. World War I Veteran, Harry Van, played by senior Daniel Dawson, and his group of dancing women get stranded at the hotel as the borders to Switzerland are closed because of the oncoming war. Alongside Harry Van are two newlyweds, a German scientist (sophomore Nathaniel Redmount), an Italian Captain, hotel employees, and a mysterious Russian woman named Irene (sophomore Caitlin Bourke).
As the hotel guests wait to cross the border, Harry Van and the deceptive Irene realize they have met each other in Omaha, Nebraska.
The drama club chose Idiot's Delight because of its unique plot. "It was pretty exciting because [the play] was not something a lot of people would have heard of," said director Kale Thompson.
The fall play's rebirth had been but a seed in the minds of sophomore Amelia Graham and Bourke. "We thought of the idea during the summer," said Graham. "We went to Dr. Heisey and asked if we could bring the play back to the school. At the end of September we figured it wouldn't happen, but he said we could. Kale offered to direct, and then there was a show!"
Preparation for the play began in late September. "It was very intense," said Thompson. "The rehearsal process usually consists of two and a half months, however we had half of the time. The pressure was pretty significant, especially for a play of this magnitude."
Idiot's Delight was put together in only six weeks. With the complex plot, involved acting, and challenging setting–not to mention the short rehearsal time–the production was definitely demanding. Leads Bourke and Dawson and the rest of the cast had to undergo huge preparation for their characters.
(Left to right): John DeMarco, senior Ethan Graham, Rohman, freshman Peter Canevari, and Dawson. Tempers ran high in the hotel when Italy bombed France and World War II commenced.
"I asked myself, 'What would the most stereotypical businessman be like during that time?' and channeled that voice," said Dawson.
"The hardest part was dropping the Russian accent to go to the American accent and then switching back to Russian," said Bourke. "It is such a rush when you're on stage. The performances were awesome." Other cast members, including Graham and Redmount, also donned British, German, and Italian accents. Lengthy Italian lines also had to be memorized. The cast and crew's hard work definitely paid off, for the performances went off without a hitch.
The success Idiot's Delight achieved paves a way for more fall plays in the future.