Fashionable Student of the Week: Lauren Lapenna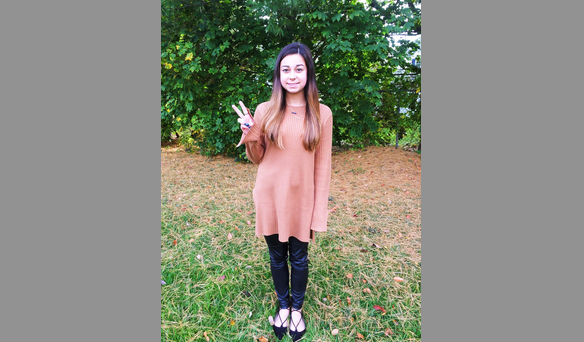 Fashion walks the halls of Scotch Plains-Fanwood High School everyday. Students show their creative personalities through the clothes they wear and the trends they set. This week, the Fanscotian has recognized a student with original style. Senior Lauren Lapenna gives insight into her fashion choices and even features pieces from a specific outfit that she wore this week.

Where did you get the items from your particular outfit?
My sweater, pants, and necklaces are from forever 21, and my shoes are from topshop.

Do you have a favorite store or ones that you visit most often?
My favorite store has to be forever 21. It's literally the best! Everything is so trendy and different but so cheap. I also love H&M and old navy.

How would you describe your sense of style?
My sense of style is mixed– I love dressing minimal, boho, and sometime a little grungy.

Do you have any celebrity inspirations? If so who and why?
My celebrity inspiration would have to be Lauren Conrad. I love her! She knows how to rock anything and gives amazing tips.

Do you see fashion being important to you in the future?
Yes, I most definitely see fashion being important to me in the future. I love fashion and I really just want to do something that I love in future. I'm not sure exactly what I want to do in the fashion field, but I most definitely want to do something in that field!

Does your sense of style reflect your personality? In what ways?
I would say my sense of style reflects my personality in some ways. I sometimes wear some daring pieces that tend to be crazy and fun. But I also can dress very simple which is my personality sometimes.

What is your favorite article of clothing and why?
My favorite article of clothing would be my black skinny jeans with the two big holes in the knees. I live in those pants. I love them because they're comfy and so versatile!  

How does your style change from season to season?
When it's colder out I love layering and being comfy but still very chic and cute! I also love using this wool black hat for a lot of my outfits. When the weather is warmer I love being very boho and fun. I love using strappy sandals.

Do you think your style has changed throughout the years? Why or why not?
My style has most definitely changed over the years! When I was younger like any kid I would grab whatever I could find out of my drawer and go. In middle school I wore typical Hollister jeans and v-necks. High school is where I really found my sense of style and what I love to wear.

How long does it take you to get you to get ready in the mornings?
In the morning if i am straightening or curling my hair it takes me about 30 minutes to be ready to go to school but if i am not doing my hair and just getting dressed and doing my makeup then about 15 minutes. I to as much time to sleep in the morning as I possibly can!