"Get Hard" underwhelms with soft plot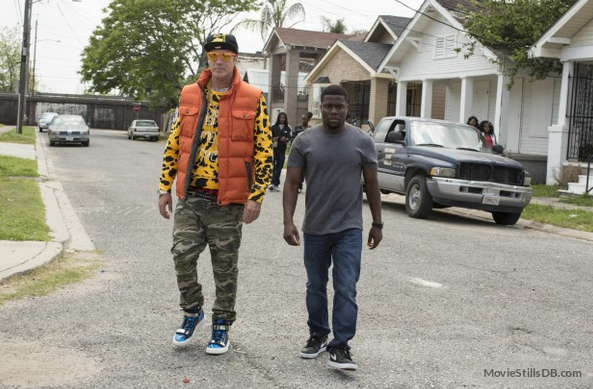 "Get Hard" combines the talents of Kevin Hart and Will Ferrell to create a mildly entertaining, yet somewhat underwhelming comedy.
The film stars Will Ferrell, playing James King. King has been arrested, and goes to his friend Darnell Lewis, played by Kevin Hart, to prepare James for life in jail. However, Darnell has never been to jail. The plot clearly isn't a focus in the movie, as is the case for most comedies. It gets the job done, and sets the actors up for funny moments.
The acting overall was okay, but the biggest upset was Will Ferrell's performance. James King was a very bland character, and Will Ferrell was once again playing another character with no common sense. His role was generic, and had very few funny moments. Kevin Hart on the other hand, was good, but still a little lackluster. His character was somewhat interesting, and did have funny scenes.
"Get Hard" relies heavily on one-dimensional characters, rather than making interesting and relatable characters. Even though character development isn't the main focus of comedy films, I found the movie still suffered because of how heavily the movie relied on stereotypes to create characters. For example, Darnell's cousin had been to jail, and was telling Darnell what life in jail was like so he could successfully prepare James. When we finally meet his cousin, he turns out to be just another gang member trying to start trouble, and there is nothing more to his character. The generic characters were another aspect that made "Get Hard" a forgettable movie.
The biggest downfall of this movie was the writing. The jokes were set up poorly and seemed forced. This added to the overall blandness of the characters, and left me uninterested while watching. Many of the best jokes relied on weird humor that is not clever, but will bring a smile to the faces of most viewers.
        Despite its flaws, this movie was fun to watch. While it is bland, it is filled with stupid humor that will at least crack a smile out of anyone. I would recommend seeing this with a group of friends, as that made the film much more enjoyable. Overall, the movie doesn't do anything to make itself stand out, but it was still enjoyable to watch.