New York area sports teams struggling; 2014 marks worst collective season since 1966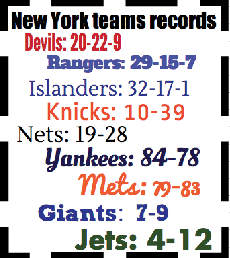 In 2014, the winning percentage of New York area teams (Rangers, Devils, Islanders, Giants, Jets, Yankees, Mets, Knicks, and Nets) was .402. This was the worst  winning percentage since 1966. It is time for something to change.
    2014 saw four out of those nine teams fire their coach: Rex Ryan (Jets), Peter DeBoer (Devils), Jason Kidd (Nets), and Mike Woodson (Knicks). Now, those teams are more likely to be playing for the first overall draft pick than the first place trophy. The only New York teams that had winning records in 2014 were the Rangers and Islanders. It is time for many of these teams to shake up their organization, starting with the management.
   General managers of the Devils, Jets, Knicks, and Nets have recently made some very questionable decisions, some of which got them fired. One thing that all four of these teams have done is look for a quick fix instead of a total rehaul of the organization.                       
   Some of these teams have gone out and obtained older players such as Damien Brunner (Devils), Paul Pierce (Nets), and Chris Johnson (Jets) that have not made significant impacts on the organizations, but have cost millions of dollars. The difference between the struggling Devils and the booming Islanders is that the Islanders admitted mediocrity but the Devils have not. The Islanders brought players through the minors and drafted well, and the Devils did not. The best way for New York sports to improve is to
admit defeat and rebuild their organizations.
   Fans often express their concern for their teams. "The Jets have not drafted well for the past number of years, so they need to go after free agents,  specifically a cornerback and possibly a quarterback this spring," said junior Connor Walsh, a lifelong Jets fan.
    New York teams also need to get younger players, which can be done through the draft and trading. In 2014, at least one New York team in each major sport ranked in the top three for oldest team in the league. For example, the Devils have the highest average age of any team in the NHL by two years. If these teams are not winning now, they certainly are not going to win as they age.       
   Even though most fans want to see their teams win today, sometimes the best thing to do is trade for draft picks, and try to replace older players with young talent. The Yankees have been notorious for ignoring this ideology in recent years. Instead of trusting their farm system, they trade their young players for washed up veterans. Trading the team's best prospect for a 38-year-old Ichiro Suzuki is not going to win a World Series.
    All in all, the state of New York sports is pretty bad, but there are bright spots. The Islanders and Rangers are two of the best teams in hockey and the Mets have a lot of young talent. The Giants will continue to plug along, and succeed every once in a while, but there is little hope for the Jets, Devils, Yankees, Nets, and Knicks. If these teams are willing to take a few years to rebuild like the Mets and Islanders did, those teams who dominated the early 2000s will be right back to where they were.