New Westfield bakery scores Brownie Points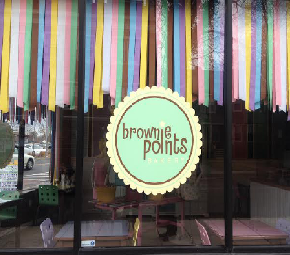 Recently opened in Westfield, Brownie Points offers classic favorites as well as original creations. Due to its unique and upbeat atmosphere, this vintage style bakery is a fresh addition to the wide selection of bakeries already present in Westfield.
   Originally located in Summit, the owners opened a new location in their hometown of Westfield in January 2015. Located on the corner of Summit and South Avenue, Brownie Points is a quick walk from Downtown Westfield. With its vintage cookie jars and colorful decor, it provides a fun atmosphere to sit and enjoy a cup of coffee as well as a bakery treat. The frosting on the cupcakes match the decor, which includes pastel colored tables and chairs, as well as paper streamers and lanterns. The bright colors along with the natural lighting add to the fresh feeling of the store. There are plenty of neat and quirky decorative pieces as well, such as mannequins with 1950's era aprons and a wide array of retro ceramic cookie jars scattered around Brownie Points. These eye-catching touches remain tasteful rather than overwhelming. "Brownie Points is decorated really well," said freshman Lauren Daniele. "I always notice something new."
   The bakery offers a wider selection than its name implies. In fact, brownies aren't even the star on the menu. That title is reserved for the Duffin, a hybrid between a donut and a muffin. The duffin is a  combination of a donut and muffin and the result is a surprisingly light and fluffy muffin that comes in a wide variety of flavors, including cinnamon, raspberry jam, coffee cake, lemon glazed, and chocolate for only $2.75.  Another popular pastry is the chocolate caramel oat bar, priced at $2.75. It is the perfect combination of sweet and salty, comparable in price but much more satisfying than a mass produced granola bar. In addition, another must-try item is the raspberry-filled crumb cake, also priced at $2.75. The tart raspberry filling complements the sweetness of the streusel topping and the fluffy yellow cake.
   Brownie Points offers traditional pastries one would expect, such as the classic chocolate chip cookie, but also puts a unique spin on others such as the oatmeal cookie with white chocolate chips and cranberries. Other highlights on the menu include whoopie pies and cheesecakes.
   Between the delicious food and the pleasing ambience, Brownie Points is sure to become a favorite in the Westfield bakery wars.