E-Cigarette usage increases among teenagers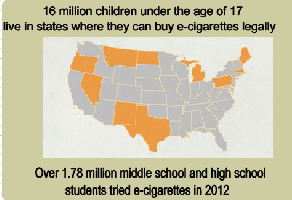 The Center for Disease Control's annual National Youth Tobacco Survey revealed an increase in the use of electronic cigarettes among teenagers, despite the drop in the use of traditional tobacco cigarettes in the age group over the past several years. The situation has raised health concerns with regard to recent findings validating the adverse effects of nicotine.
   The CDC's survey reported that the number of high school students smoking traditional cigarettes has remained stagnant between 2012 and 2013 at around 22.9 percent. This is the lowest recorded use of cigarettes in years, except that the reported number of high school students who admitted to vaping (the term for using e-cigarettes) within the last 30 days has jumped from 2.8% in 2012 to 4.5 percent in 2013.
   Health officials theorize that the rise of e-cigarettes was precipitated by the decline of the traditional cigarette. Regulations and health campaigns against tobacco cigarettes made smoking tobacco challenging and expensive; smokers seeking a new "fix" or hoping to quit turned to e-cigarettes. The lack of regulations on e-cigarettes, combined with the variety of flavors, reusability, low cost, and the potential as a cessation aid makes them a suitable substitute for tobacco cigarettes.     
   The downside to this development is that, while e-cigarettes do not produce the toxic smoke that regular tobacco cigarettes do, they still contain nicotine.
   The nicotine in e-cigarettes is contained in a liquid, which is heated to temperatures up to 350 Celsius to produce the vapors that users inhale. In small doses, nicotine is considered safe, and even used as a medication for diseases such as Parkinsons. However, higher doses cause addiction, and for adolescents, the effect of nicotine is amplified. In a study involving 7,000 test subjects aged 14-15, approximately half reported addiction symptoms after only 10-19 cigarettes.
   Health officials worry that adolescents who become addicted to e-cigarettes may revert back to tobacco cigarettes, and are considering e-cigarettes "gateway drugs," until further long term studies are conducted on the matter.
   A study conducted by researchers at Portland State University discovered high concentrations of formaldehyde, a carcinogen, in e-cigarette vapors when used at high settings. Formaldehyde is a well-known cause for lung cancer. In a separate experiment, physician Laura Crotty Alexander of the VA San Diego Healthcare System tested rats and found that bacteria exposed to e-cigarette vapors formed a protective biofilm that made it antibiotic resistant. This find suggests it could be difficult to treat bacterial infections in e-cigarette users.
   "We started these studies so that we could advise our smoking patients on whether they should try switching to e-cigarettes," said Alexander. "My data now indicates they might be the lesser of the two evils, but e-cigarettes are definitely not benign."
   The Food and Drug Administration (FDA) is currently deliberating imposing bans on the use and sale of e-cigarettes, targeted mainly towards users 18 and under. Legislators have begun to push regulations on e-cigarettes, but currently ten states still allow minors to purchase e-cigarettes. New Jersey is one of three states that restricts users from vaping indoors.