Meghan Trainor's Debut Album is All About The Hits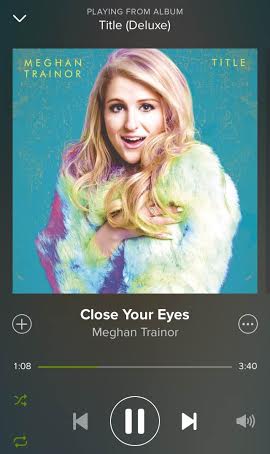 Title is a fun uplifting compilation of songs. Meghan Trainor's main songwriter Kevin Kadish did an extraordinary job with the lyrics and production of the album. Originally released as an EP, Title contains 11 songs, all similar in musical style and lyrics. As a whole, the album deserves a musical grade of A-.
 
The Best Part (Interlude): The album starts off with a 25 second a capella number paired with harmonies, showing off Trainors' vocal capabilities.
 
All About That Bass: Otherwise known as the curvy girl anthem, All About That Bass gives off a bubblegum-pop-eating-in-the-diner feel. The only part of the song that irks me is when Trainor calls skinny women 'bitches' and then gives a weak 'just kidding' line right after. Notable lines however were 'I'm bringing booty back'.
 
Dear Future Husband: Trainor continues the harmony and the bubblegum-pop sound with this track. The songstress croons about the criteria her future husband must fulfill. Songwriter Kevin Kadish gets a two thumbs up from me.
 
Close Your Eyes: My favorite line from this track is "cause I know I'm beautiful". Kevin Kadish was excellent with the production of this track. The pattern of reminiscent vintage vibe continues throughout Trainor's album along with more modern touches of 90s R&B.
 
3am:  With minimal production and relatable lyrics, 3am should be added to your post-breakup playlist. Enough said.
 
Like I'm Gonna Lose You: Trainor swaps the swanky beats and fast tempo with acoustic guitars and a duet with Grammy winning artist, John Legend. The songstress sings about loving the person that she might lose. Another track to add to your post-breakup playlist.
 
Bang Dem Sticks: This song gave me mixed feelings. Unfortunately it was poor lyrically, however the production was decent. All I got from the song is that the protagonist yearns to hook up with a drummer.
 
Walkashame: If Kadish wrote this song to subconsciously tell young adults that one-night-stands aren't worth it, then he succeeded. As the title suggests, the song is about that specific topic. I could see this song appear in a Broadway production.
 
Title: This track is my personal favorite. The chorus is incredibly catchy, especially with the harmonies throughout the song.
 
What If I: Once again, the tempo slows down considerably with this love song. To be honest, I thought the lyrics were okay, not really spectacular, and the production was very bland and forgettable.

Lips Are Moving: Lips Are Moving is another commercial success. However, the composition sounds very similiar to All About That Bass. Neverless, I liked this song just for the lyrics and Trainor's voice.