Interview: Hall-of-Famer Col. Richard Wood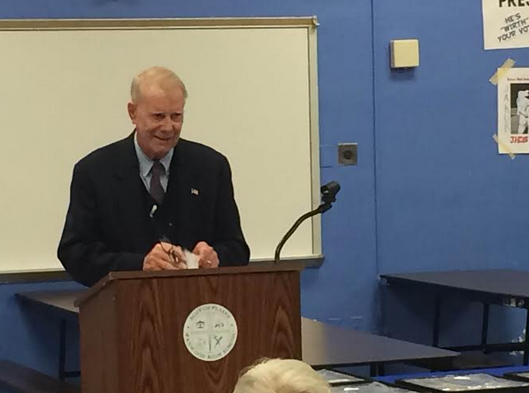 By Peter Warren
Col. Richard Wood was one of the five inductees in the 2014 Scotch Plains-Fanwood High School Hall of Fame on November 18th. Wood, who graduated from the high school in 1948, was a war hero during Vietnam and also served in the Pentagon. He was awarded the Silver Star for his actions during a battle on May 6th, 1968, in which he led his outmanned troops against the North Vietnamese and forced them to retreat after they had breached the perimeter. Along with his Silver Star, he was awarded 11 other military decorations. After his military career ended, he worked with various government agencies and founded his own consulting firm. Wood is married with two children, seven grandchildren, and one great-grandchild.
The Fanscotian: What was high school like when you attended SPFHS?
Richard Wood:  It was a much smaller school then. Believe it or not, it was a lot of fun. We had a great Principal, Bob Adams, and a dedicated faculty who focused not only on academics but also taught the lessons of life. I can truthfully say I never had a bad day in high school. As I said during my induction speech, where else could you dance at lunchtime? We danced to 78 records from approximately 12:00 to 1:00. Glenn Millers' "Moonlight Serenade" was the signal to head back to class.
TF: What skills do you think that you learned and developed here at the high school that helped you during your military career?
RW: Looking back I would probably say my interpersonal skills were "planted" during my high school years. The ability to "get along" with people regardless of their differences is very important. I quickly learned how to pick friends–very important–also I learned that family and neighbors were a significant ingredient in the mix of selecting those friends.
TF: Which military award or accomplishments do you considered to be your favorite and why?
RW: First, I am extremely proud of my military awards and decorations and accomplishments. Of all the awards and decorations, I'm most proud of the "Combat Infantryman's Badge". It symbolizes, in my opinion, the epitome of the American Soldier–he has been "there" and has gotten the "bird's-eye" view of the horrors of war. As concerns my return to civilian life it has to be the founding and building of my own Company. I am extremely fortunate to have had two distinct and separate successful and rewarding careers.
TF: What was it like working in the Pentagon?
RW: The Pentagon is probably our country's largest office building. It is a "maze" in itself; it is sometimes called "Disneyland East." It does not take long to realize what a small cog you are in the overall "picture." It was a great experience where you learn to negotiate and make important decisions.
TF: What is it like to be an SPFHS Hall of Famer?
RW: Another career highlight. To be inducted along side of Sada Thompson, Billy Austin (my Fanwood Second St. neighbor) Carl Sicola, and Peter Schultz is a tremendous honor.
TF: What was your reaction when you were informed that you were a SPFHS Hall of Famer?
RW: There are not enough words to adequately express my reaction. I'm humbled and honored.

TF: What do you want to be remembered for?
RW: That I did everything right by everybody and did not let anyone down. I hope I will leave the country a somewhat better place and that my family and friends will be proud of me.