Potential laws will make college more accessible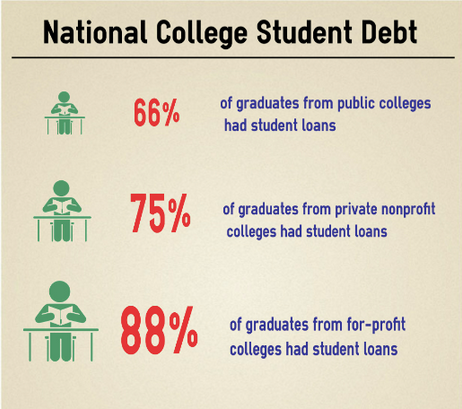 Staff Editorial
   One of the biggest concerns high school students, especially seniors, have is how to pay for college. This question is even more pressing for New Jersey students since publicly-funded colleges and universities in the state have some of the highest tuition in the country. Fortunately, the State Assembly has passed a set of bills that has the potential to significantly cut the costs of obtaining a degree at a state college.
   Bills such as A668, A2801 and A2807, if signed into law, would change New Jersey's institutions of higher learning for the better. One of the main goals of the State Assembly is to make earning a degree in the state of New Jersey more affordable and attainable. The State Assembly's actions to reduce financial pressure on college students and their families should be supported and commended.
   If passed, bill A2807 ("the freeze bill") would prohibit colleges from raising undergraduate tuition if the undergrad takes more than four years to earn a degree. A related piece of legislation, bill A668 ("shopping-sheet bill"), makes colleges provide applicants with a financial aid "shopping sheet" as part of the school's financial aid offer. This sheet would display clear information about loan options, estimated debt, and costs about the college they're applying to. Lastly, bill A2801 (credit bill) institutes a state limit of 120 credit hours for four-year schools and 60 credit hours for two-year schools.
   Proposing regulation on public institutions of higher education is a big step for the New Jersey Assembly. Some universities believe that the state government does not have the right to impose. E.J. Miranda, a spokesperson from Rutgers, said that "the freeze bill" would have "unintended consequences," such as a higher tuition for incoming college freshmen. Even if this is true, the bill would be tremendously beneficial for students who change majors in their junior year or later and must spend more than four years in college to complete their degree.
   At this point, debt is nearly unavoidable: students who drop out and students who graduate both incur thousands in debt. Sixty-six percent of graduates from public colleges had student loans. Given the potential of the bills becoming law, reversing the statistics of students leaving college is one of the Assembly's goals. At least with "the shopping-sheet bill," applicants could do a further review of their options when choosing between schools to attend. If "the freeze bill" were passed then it would save students money after they graduate.
   The national student loan debt, which is $1 trillion, surpasses the national credit card debt. In the past six years, an estimated 33,000 students dropped out of institutions of higher education without degrees.
   Not only are low income college students more likely to drop out, but many other students —regardless of socioeconomic income—prefer out-of-state colleges. This is a phenomenon known as the "Jersey brain drain."
   "Colleges have complained too long of the Jersey brain drain, and "the freeze bill" would be an incentive for Jersey kids to stay here," said Joseph Cryan (D), an Assemblyman who is one of the primary sponsors of "the freeze bill."  "A2807 will provide incentives for students to finish more quickly."
   Despite the fact that neither these bills nor any current law tells colleges how much they should charge, they provide a step in the right direction. The possible shopping sheet from bill A668 could help determine the cheaper and most financially sound school for the applicant. The freeze bill can give students who won't graduate in the standard four-year period security from tuition spike in their additional years.
   These pieces of legislation will only become law if they pass the State Senate and are signed by Gov. Christie. The Fanscotian implores both the Governor and all State Senators to support all of these bills. The cost of higher education is a pressing issue all over the nation, and particularly so in New Jersey. These bills will make higher education more accessible to the people of New Jersey, and will leave graduates in a better state of financial security for years to come.