Humans of SPF: senior Alex Karakis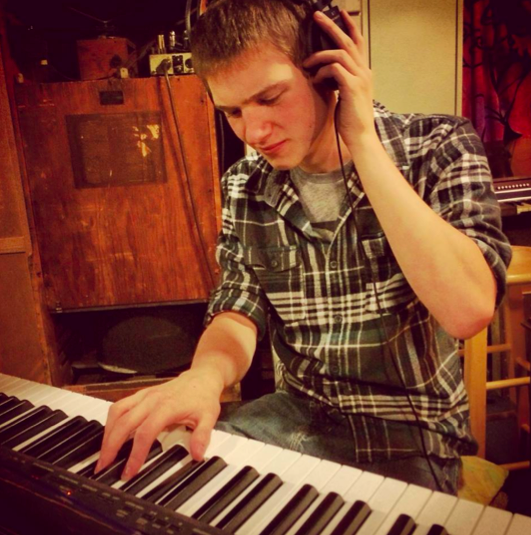 by Ally Fynn
   The students at Scotch Plains Fanwood High School lead interesting lives inside and outside the walls of the high school. Humans of SPF enables these students to share their stories. Two students were asked questions about their lives, and how their interests have given them different experiences.
  How did you first become interested in jazz music?
   AK: When I first started listening and learning how to play jazz, I remember going to see a pianist at a local jazz club early on in my freshman year. I remember watching him play without even thinking, and how he was able to just create melodies right there in the moment. That's what I wanted to do; I wanted to be able to just play whatever, whenever I wanted to. I wanted to be able to create music on the spot, which is why I fell in love with this particular style of music.
   What instruments do you play? Do you only play jazz music?
   I only play piano, and I've been doing so for 12 years. I used to play classic rock– I was really into Billy Joel 5 years ago– but now I play jazz pretty much exclusively.
  Where is your favorite place to go to listen to jazz music?
   My favorite place to hear live jazz is Smalls Jazz Club in the city. It's in the Village, and it has an incredible environment. They have so many acts, from newly discovered talents to well known greats, making it an awesome place to stop in to just relax, listen, and enjoy yourself.
   Do you have a job involving music?
   I'm not really "employed," but I play events at Shackamaxon Country Club often. Sometimes I play solo piano, other times I'll bring some friends who play drums and bass and we'll get a trio going. It all depends on what the client likes best for the event.
   How have your outside music experiences been able to help your high school music career?
   I've definitely learned so much about music, theory and musicianship from outside experiences which has enabled me to bring these elements of music to SPF to try and teach others. I have been a member of the Moonglowers since my sophomore year and practicing, listening, and collaborating with other musicians my age is what has guided me to the level I am at now, but there's still so much to learn. I doubt I'll ever be finished learning about music, or satisfied with the level I'm at. As a result of these experiences I've had many opportunities in high school to perform with various musicians and groups, each of which has contributed something to my knowledge.
   Do you plan to pursue music in college?
   Yes, I'm currently applying to music schools and conservatories.
   Do you enjoy any other types of music?
   I do enjoy other styles of music, depending on what it is. It's just not my go-to music. I want to listen to jazz because it's what I enjoy. It's not about what's expected of me or what's mainstream, it's just about what I like the most, and jazz is what I like the most.
   Are there any other interesting music facts about you?
   I was "forced" to take piano lessons from when I was 6 to about 13; I never enjoyed playing, I just did it because, well, I couldn't tell you why. It wasn't until I was 13 that I started enjoying playing the piano, and it wasn't until I was 15 that I started enjoying jazz. But now I practice for hours a day and love every second of it.