Senior Boys Compete in the Mr. Spiffy High Pageant
by Gabriela MacPherson 
   There was twerking and backflipping, singing and dancing, bowing and wowing, and a lot of laughing. But most of all, there were ten of the bravest, most school-spirited young men in Scotch Plains-Fanwood High School. This was the Mr. Spiffy High contest. And it rocked.
   What is the Mr. Spiffy High contest? Mr. Spiffy High is a pageant consisting of formal wear modeling, an interview question, a talent portion, and– for the final four contestants– a round of Scotch Plains-Fanwood High School trivia. Business education teacher and DECA (SPF's marketing club) advisor Marjorie FitzGibbon has run Mr. Spiffy High for the past five years. "We have a lot of school spirit, and Mr. Spiffy High is a great way to show that we've got some really great kids who are willing to put themselves out there … and have a good time doing it," said FitzGibbon, when asked to explain the purpose of the contest.  And put themselves out there they did. From strutting their stuff in formal wear to presenting the audience with wacky, creative performances, these young men all showed just how far they were willing to go for their school.
   "It's ultimately a giant playdate– a variety show for eighteen-year-old boys," said FitzGibbon.
   But the Mr. Spiffy High contest isn't all just about fun and games. Every year, all proceeds made from the contest go to a charity chosen by DECA. This year's featured charity was an organization called "For Jake's Sake" to benefit SPF alumnus Jacob Wustefeld, who is currently battling cancer.
   After a fierce–and hilarious–battle, senior Billy Wilkins was crowned this year's Mr. Spiffy High. For his talent, Wilkins performed a song he wrote about his journey from freshman year to senior year. Full of shoutouts to his classmates and memorable moments from the class of 2015, Wilkins' song wowed the audience and impressed the judges, proving to be one of the most memorable parts of the night.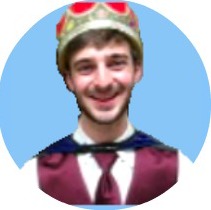 So, yes. The Mr. Spiffy High contest is a bunch of eighteen-year-old boys doing crazy things in tuxes. But it is also so much more than that. It is a chance to show just how much camaraderie and spirit is fostered in our school; and it reminds us just how much we love good ol' Spiffy High.